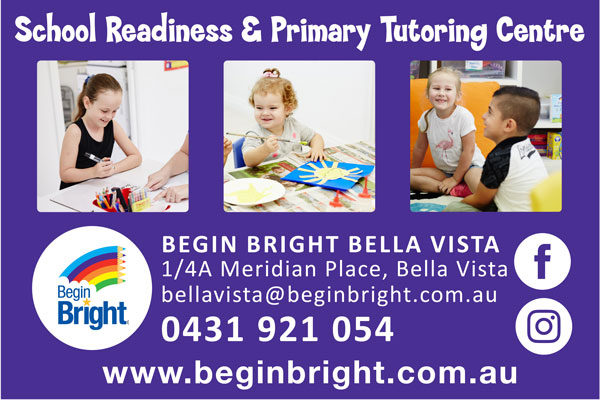 Age group – 2 years to 12 years 
Begin Bright Bella Vista helps to create happy and confident learners through our fun, interactive school readiness classes and primary school tutoring programs.
 Begin Bright Bella Vista's school readiness classes get children ready for big school with our award winning program, perfect for little learners! 
Begin Bright Preschooler and Early Primary aged programs
The Begin Bright Preschooler and Early Primary aged programs focus on supporting our youngest learners in the early stages of development and school life. Our programs assist children in building confidence and creating a love of learning, so children can flourish when they start school.
Our new Enriched Learning programs align with the Early Years Learning Framework giving young children a balanced introduction to learning as well as early exposure to maths, literacy, and social skills by engaging with well-known children's books.
Begin Bright also have our well-known Maths and Literacy programs which are designed to give focused attention to the development of these essential skills. This program is ideal for learners who are more confident with their learning and wish to progress their mathematics and literacy fundamentals.
Pink Level (2-3 year olds)
The 2 year old Begin Bright program is designed to play with purpose. While each lesson revolves around craft, songs exploring and playing, there is a main focus to introduce children to age appropriate concepts. This will give them a solid foundation for learning when they progress through the later levels of Begin Bright and go to school. This program not only concentrates on the traditional learning of colours, shapes and numbers, but also looks at understanding of concepts such as positioning of items, people in our communities and how their body works. This is incorporating academic principles with life skills.
Green Level (3-4 year olds)
Enriched Learning Program; Foundation
Maths and Literacy Program
Yellow Level (4-5 year olds)
Enriched Learning Program; School Readiness
Maths and Literacy Program
Orange Level (4-5 year olds)
Enriched Learning Program; Primary Booster 1
Maths and Literacy Program
Begin Bright primary tutoring sessions
The Begin Bright primary school tutoring sessions are tailored for the specific needs of each student from Kindergarten to Year 6. Whether your child is looking to improve or extend themselves in literacy or numeracy, we believe every child should reach their potential. Begin Bright offers a variety of class types for tutoring.  You have the choice of your child learning in an individual or small group (max. 3) session, ranging from 30-60 minutes.
All classes are taught by fully qualified early childhood and primary school teachers.
Begin Bright Bella Vista is owned by primary school teacher, Christine Hooper.  We'd love to meet you soon and show you how learning is fun, when you Begin Bright!
Location: Bella Vista   |   Contact: Christine on 0431 921 054 or 1300 234 462   |   beginbright.com.au
Special offer: Free introduction lesson for preschoolers and early learner programs.