Congratulations! Most of us have successfully schooled our children from home for 10 weeks! This is not our first school holidays in lockdown and we're sure many are looking forward to not battling with learning from home for a couple of weeks – we are! However, you might now be responsible for the daily entertainment, so we've pulled together some ideas to keep everyone busy.
What are the rules currently in NSW (as at 20 September)?
Regardless of what LGA you live in your exercise and recreation restrictions are as follows:
exercising or outdoor recreation

If you are fully vaccinated, from Monday 13 September 2021 (LGAs of concern from Monday 20 September), you can attend an outdoor gathering of up to 5 people for exercise or outdoor recreation so long as all those at the gathering aged 16 years or over are fully vaccinated.

You must have proof of your vaccination with you at all times
You must show a Police Officer your proof of vaccination if its requested.

Fully vaccinated means you have had 2 doses of an approved COVID-19 vaccination or have a medical contraindication certificate issued to you.
The five person limit on these gatherings does not include children aged 12 or under.
stay within your local government area. If you need to cross into another local government area, you must stay within 5km of your home
If you are not fully vaccinated:

you can exercise with 1 other person that you do not live with, or your nominated visitor ("singles bubble")
if you live with more than 2 other people, you can all exercise together.
With all this in mind, here are our suggestions for things to do these school holidays. It's up to you to work out whether you can legally do these things based on the current health orders.
Go camping in the backyard. If you're game, or if you can convince dad, send him and the kids camping in the backyard – their very own staycation and some bonus mum time.
Add to your local Spoonville. Here's a list of 11 Spoonvilles that have popped up in the area. If you haven't got into it yet, it's a cute, cheap craft activity that kids of different ages will enjoy. And if there isn't one near you, create one!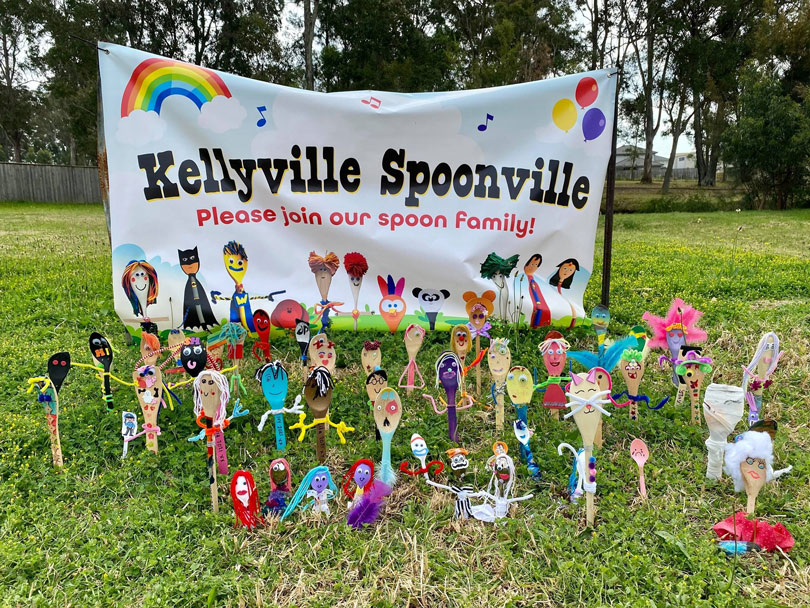 Go to the theatre! Ok, so it'll have to be online for the time being but Riverside Theatres' Spot On(line) Children's Festival, which runs from 17 September to 3 October, will keep kids entertained with a variety of online shows, including a concert by Playschool presenter Justine Clarke, as well as interactive workshops, watch parties, and online live Q&As! Find out more here.
Build a fort or a cubby. We just do it indoors with pillows and sheets but we know some of you are REALLY handy so are likely building fancy treehouses!
Join in a virtual LEGO workshop! Bricks 4 Kidz is offering virtual LEGO workshops these school holidays, providing a fun, creative and productive atmosphere for children to build unique creations using LEGO! There's a huge range of themes including under the sea, extreme ninjas, mission to space, super hero academy and more! And you can use Creative Kids vouchers too. Click here for more details and to register. 
Go for a bush walk in the Hills. There are a few lovely walks right on our doorstep. Check out 9 of our local favourites here. While you're walking, collect some items for the craft activities below.
Rock decorating and wand making – these are two simple activities to do at home. Rock decorating continues to be really popular, with local Facebook groups around to share information on hiding and finding in suburbs near you. And kids can get creative and channel their inner Harry Potter or Hermione with this wand making craft. Click here for information.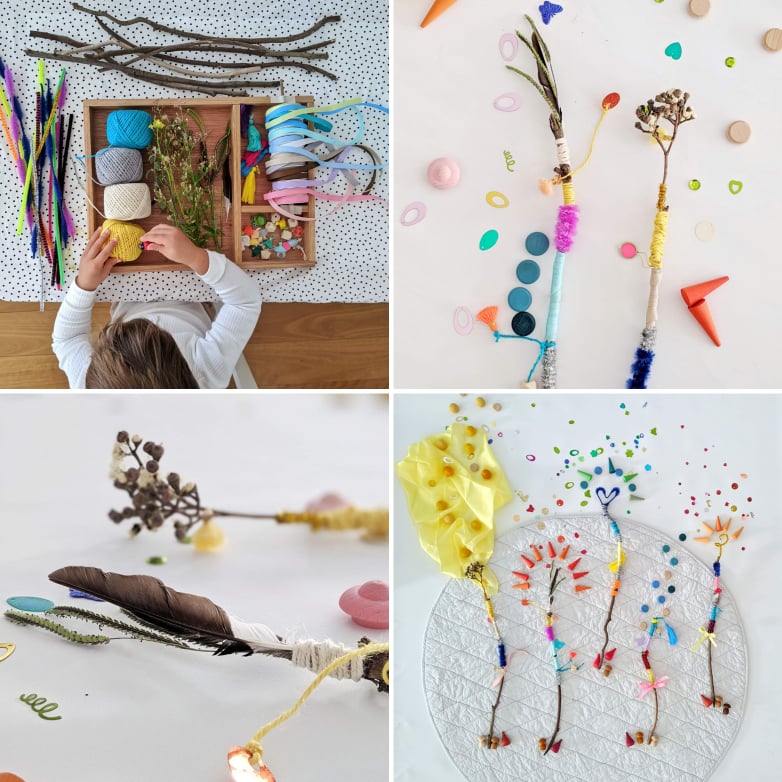 Get out on the water. If you live in the Hornsby Shire LGA you can hire a tinny at Berowra Waters (prices start at $80 for two hours) or hire kayaks. Brooklyn is also in the Hornsby Shire LGA.  
Book an online piano lesson.
Local business Melody Land Music School is offering online piano lessons these school holidays! Nurture your child's musical creativity and grow their love for music and piano playing with quality piano lessons! And you can use your Creative Kids vouchers too! To book your holiday lesson visit
www.melodylandmusic.com.au
, call 0450 090 730 or email melodylandmusicschool@gmail.com.
Enjoy the water play at Bernie Mullane
. The water play section of the park is back in action!
Find out more here
.
Sign up to one of the Hills Shire Council's free online activities. From drawing and hip hop to yoga, AFL skills and cooking, there's something for everyone. Full details here.
Go for a bike or scooter ride. Here's a list of places in the Hills for your kids to ride their bike or scooter.
Play putt putt golf. This is classified as exercise – so if you live within 5km or within the LGA of these mini golf businesses you can play. There's Dural Putt Putt Golf in the Gardens (The Hills Shire LGA) and there's also a mini golf course at Thornleigh Golf Centre (Hornsby LGA).
Get crafty with cardboard boxes! Who'd have thought that there are 10 awesome and easy things to make from cardboard boxes. These activities are great for free, cheap days at home, especially if it's too rainy to go out, or if everyone just needs a rest day. Check out the 10 ideas and how to make them here.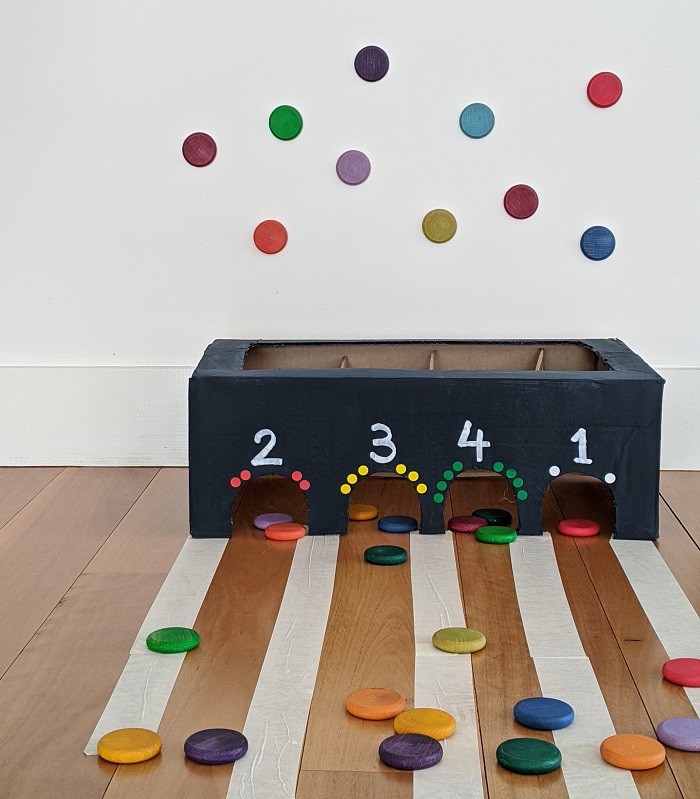 Find a new playground in your area. We love a hidden gem! Sure, these little parks often don't tick every box and because of their locations they're on the smaller side, but they're more than fine for a morning play in the sun and because they're so hidden, are lovely and peaceful. Here's a list of playgrounds you might not know about.
Go on a scavenger hunt. Here are quite a few we put together for both indoors and outdoors.
Get arty. We've enjoyed the Kids at Home videos and projects developed by the Art Gallery of NSW. You can see more here.  Toon Creations are running online workshops.  You can view more here.
Have a picnic. We've outlined the rules about for each area and vaccinated versus non-vaccinated. Take advantage of what you can do. If you can't leave your house the kids still do love a picnic, even if it's on your lounge room floor.