We love a breakfast out because, let's face it, kids are usually less tired and more likely to sit still first thing, so this is the one chance to enjoy a meal out without a babysitter needed. And we're not the only ones who prefer to head out for breakfast – this question is often asked in the Hills District Mums Facebook group. Here's a list of our favourite breakfasts to work through in 2018!
Note: Most of these cafes run with a seasonal menu so there may be changes to their dishes.
Wild Pear, Dural
Mums rave about Wild Pear, particularly for something special. Located in Dural, this café overlooks a little nursery, with indoor seating and a very pleasant covered outdoor deck. The prices aren't the cheapest but you won't go hungry as the meals are large. Our favourite breakfast dish is the Vegetarian Big Breakfast – poached eggs, grilled haloumi, peas and avocado, hash brown, smoked cherry tomato relish and mushroom. They also  do great pancakes. At the moment they are buttermilk pancakes with banana and rum pineapple, macadamias and caramelised white chocolate. We recommend you book as it's very popular.
658 Old Northern Road, Dural.
The Baron, Castle Hill
The Baron sits on the outside of Castle Towers by the bus interchange, but don't hold that against it. The food and coffee are REALLY good. Their Bacon and Egg Roll always goes down well and we love their Seasonal Breakfast Salad Bowls, in particular the Max Power.
461/4-16 Castle Street, Castle Hill.
Longshot Cafe, Beecroft
Longshot changed hands a little while ago and much loved owners moved on. But we visited recently and checked out the new menu and were very impressed! The French toast was to die for! And the coffee remains consistently good – phew!
6-8 Hannah Street, Beecroft.
Youeni Foodstore, Castle Hill
'Eat Well, Live Whole, Enjoy Life' is the mantra of this Castle Hill café and The Good Food Guide has touted it as one of the best wholefood cafes in Sydney. The menu includes the Life Extending Bowl – turmeric chickpea puree, turmeric chick peas, roasted capsicum, roasted garlic, black turtle beans, mint, coriander, parsley, toasted paprika buckwheat, raw beetroot, citrus cashew relish, lemon, olive oil. Or for those with a sweet tooth, their pancakes are pretty good with strawberries, spiced poached pears, berry cream, toasted coconut, almonds, coconut yoghurt, crunchy bits, flaxseed, calendula, coconut nectar.
2/250-254 Old Northern Road Castle Hill.
Bells Road Social, Oatlands
The old owners of Longshot Beecroft have opened a new cafe in Oatlands. The fit out and decor of this venue is spot on and the food is delicious. We loved the Egyptian Dukkah Eggs – roasted pumpkin spread, poached eggs, baby rocket, beetroot relish, crumbled feta, Egyptian dukkah and olive oil on soy and quinoa toast. Hubby has a sweet tooth so he thoroughly enjoyed the Coconut and Blueberry pancakes with vanilla mascarpone, orange syrup, toasted coconut and almonds. Both the owner Mel and the pastry chef Donna are Hills District Mums, so make sure you say hi!
1 Bells Road, Oatlands.
The Local Collective, Galston
This is a staple in Galston now and locals wonder what they ever did before Kim and Tiff came to the little suburb! There are some great breakfast and brunch options – from super healthy to decadant and sweet, and some options in between! It's a relaxed weekend vibe with a few young hip people, locals, cyclists and families. We love it!
Bacon and egg roll at the Castle Hill Farmers and Fine Food Market, Castle Hill
The honey and port cured bacon and egg roll at the Castle Hill Farmers and Fine Food Market has been voted by Hills District Mums as the best bacon and egg roll in the Hills. These markets run at the Castle Hill Showground on the second and fourth Saturday of every month.
Castle Hill Showground, Castle Hill.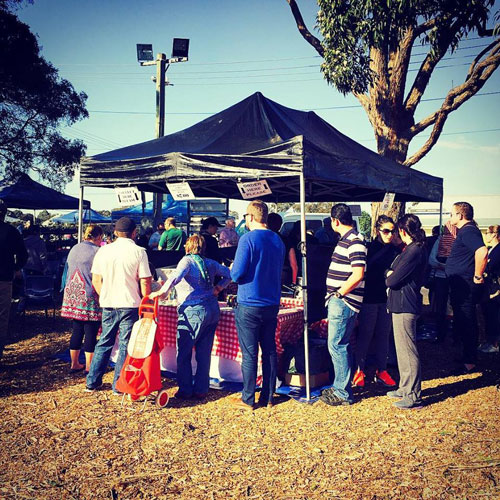 Sugar Salt Cafe, Galston
This cafe changed hands a while back and underwent a spruce up and the locals are really enjoying it. If breakfast is your favourite meal to enjoy out, then you're well catered for, with all the usual egg options and a big breakfast. There's also house made beans, Spanish baked eggs, house made porridge, a bacon stack and French toast among the dishes on offer, not to mention the pancakes if they're your weakness!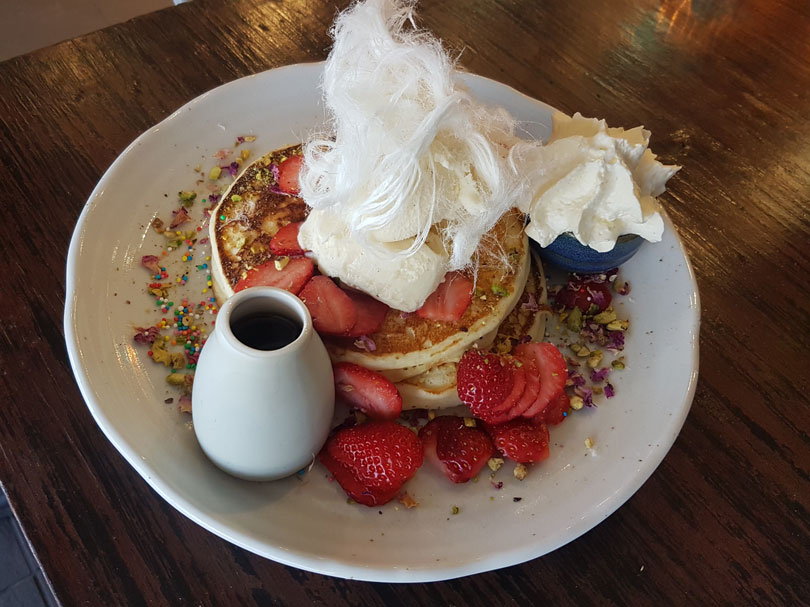 The Local Trade, Kellyville
This place has been doing a roaring trade since it opened in 2015 and it's not just because of their location directly outside the kids play area at Kellyville Village. Our favourites here are the acai bowl, buttermilk pancakes and the father-in-law loves the egg and bacon roll.
Kellyville Village, Wrights Road Kellyville.
The Corner Shop Cafe, Quakers Hill
The Corner Shop Cafe opened in March 2017 and is very much loved in the local area – it was a much needed addition. We know we are meant to be discussing the food, but firstly the cafe itself is oh so pretty. It's light, bright, spacious and trendy. Now back to the food. Breakfast consists of a good mix of sweet and savoury. Their brioche French Toast is delicious and we also love the Tummy Filler, which is their healthy breakfast bowl.
Shop 1/216 Farnham Road, Quakers Hill.
Blends and Brothers, Rouse Hill
This great café mixes haircuts and coffee and they do a good job at both. The menu is excellent too and it's right next door to a play area in the Rouse Hill Town Centre so you there's a chance to enjoy your coffee and breakfast in peace and quiet…..maybe. The menu is fresh and seasonal and you always get lots of fresh fruit or veg with your meal.
Rouse Hill Town Centre, Rouse Hill.
SOMETHING FURTHER AFIELD
Circa Espresso, Parramatta
Inspired by the laneways in Melbourne, this cafe located in Parramatta has funky decor, great food and lovely coffee! The menu is seasonal and when we visited most dishes had a middle eastern twist to them, with labneh, dukkah and sujuk all featuring within the menu. Seating is mainly for twos and there are only a couple of tables that sit 4-6 (mainly outdoors on the street).
21 Wentworth Street, Parramatta.
The Social Hideout, North Parramatta
This little cafe is a favourite with locals! There's a lovely outdoor area which gives kids room to move. Campos coffee gets you off to a good start or if coffee isn't your thing, there are some great looking juices. The nutella and banana hotcakes were insane and best to share as it was a big servce! And the husband was in heaven with The American – bacon, egg, smashed avo, hash, smokey bbq sauce and aioli on a milk bun.  We also love their F45 Granola Bowl.
2a/20 Victoria Road, North Parramatta.
The Vintage Pantry, Pitt Town
This place has a warm and cosy atmosphere and delicious food. There's shabby chic decor, a Little Pantry Menu for kids, great food and lovely coffee. That ticks the boxes for us and is worth the trip!
77 Bathurst Street, Pitt Town.