Meze Me Grove is the second offering of Darren Petit, previous owner and head chef of the hugely popular Meze Me at Rouse Hill. I'd heard a LOT of awesome things about the Rouse Hill restaurant – Hills District Mums have consistently recommended it on a regular basis, so I was pretty keen to sample the food.
Set next to the Regal Gardens nursery (and sharing an entrance from the street), what you notice first about the restaurant is the impressive house it resides in. The house has been here for many moons, as had the former restaurant that lived there. Meze Me Grove only moved in three weeks ago, so they're still tinkering with the interior but the space itself is excellent and full of potential – a lovely decked area that would lend itself nicely to a romantic dinner or a Sunday brunch with the girls. There's even a small playground they're going to refurbish – gold to parents looking for a moment's peace to enjoy their meal!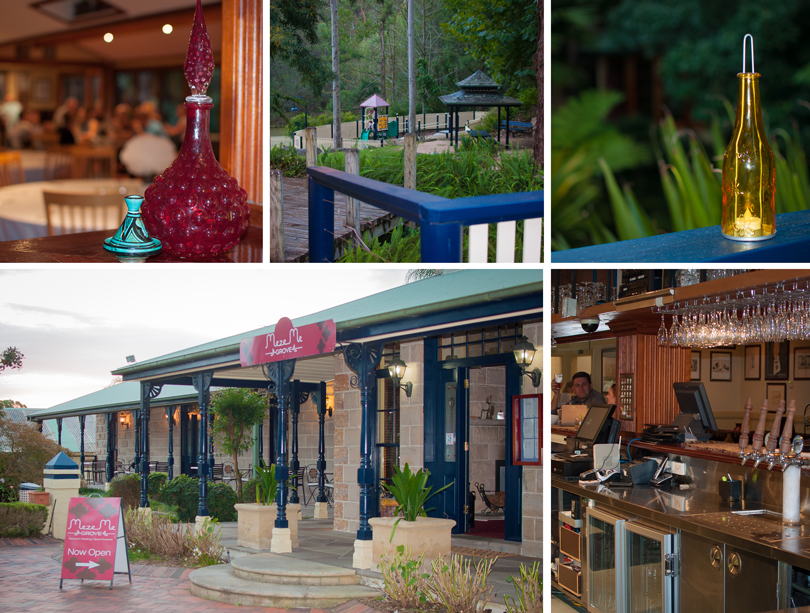 We sat inside which is spacious and good for larger groups. There's even a bar where you could enjoy a pre-dinner cocktail.  I had my cocktail at the table though and it was delicious! It was one of their two cocktail specials for the evening – a cosmopolitan with strawberry and mint. Yum. A nice way to say farewell to summer.
The staff was relaxed, friendly and thorough in their explanation of the menu and dishes. I often find with this type of cuisine – a blend of Moroccan, Middle Eastern and French flavours – it's great to go with the staff's recommendations. So that's what we decided to do and the logical place to start was the meze plate.
You can't go too wrong with a platter of goodies shared over conversation and a drink. There were your three classic dips – hummus, beetroot and babganouj – then some meaty morsels in the form of lamb koftas, meatballs and almond crumbed chicken. And to round it out some veg and salad – a delicious fresh tabouli and fried cauliflower with eggplant jam. I always marvel at the transformation of the humble cauliflower when it's shown some love and attention. Again, yum!
We decided to be sensible with mains as we knew the meze platter would be generous. Once again we went with the recommendation of a tagine and chose the lamb shank option, although this was a difficult decision as the other choices sounded equally delicious. Just means that we'll have to return to try the harissa chicken and king prawn and barramundi tagines! The staff had suggested the salad of orange, fennel, avocado, parsley, mint and freekeh which was a definite highlight and the perfect light and refreshing accompaniment to the tagine. My mouth is watering as I write!
And our sensible attitude continued into dessert given we were feeling extremely full by this point! (Again, great to be guided by the staff – not only about what's good, but exactly how much food you'll need to order). As is often the case, all the desserts sounded fantastic and it was hard to go past the sticky spiced Persian fig pudding and the five layer chocolate delice with pomegranate ganache, Belgian dark chocolate mousse and pistachio praline. But we opted for the lighter pomegranate macerated strawberries and strawberry sorbet with spiced meringue, crème diplomat and mint – a lovely palette cleanser rather than a heavier dessert and, shared between us, a few mouthfuls was perfect.

All in all a lovely night with great food in a very pleasant setting. I'm pretty sure I'll be back again because you feel so at home … and there's so much to try on the menu!
---
Meze Me Grove
Regal Gardens
249 Annangrove Road, Annangrove
Wed 12 – 4 | Thurs & Fri 12 – late | Sat 9 – late | Sun 9 – 3
9679 0175 | mezemegrove@gmail.com