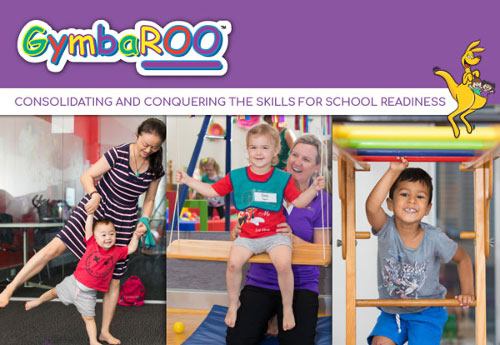 Age group – babies to 5 years
GymbaROO provides active and appropriate movement opportunities that enable your pre-school aged child to explore, develop, practice and refine skills essential for healthy neurological development. The structured program is based on 30 years of research and development and is designed to ensure your child develops the essential foundations for school readiness.
Classes are developmentally age appropriate and loads of fun! Bring your child along to crawl, creep, jump, hop, swing, roll, tumble, hang, climb, sing and dance their way to healthy physical, social, emotional and intellectual development. Our programs start from 8 weeks through to our School Readiness Program.  Classes range from 45 mins – 60 mins. Gymbaroo covers:
Brain Development
Massage
Exercise, Strength, Increase Muscle Tone
Reflex Inhibition
Body Awareness
Balance
Rhythm & Music
Dance
Fun Games and more.
Our Kindy and School Readiness classes cover children from 3 – 5yrs. In these classes we focus on core work, balance, strength, co-ordination, fine motor activities, mirroring, patterning, counting, reading, attention and concentration. Everything your child needs to start school!
Location: Castle Hill and Rouse Hill   |  Contact: 02 8883 3449   |    gymbaroo.com.au