Putting together a party seems so simple …  but then you actually sit down and think about what you need to do and you feel like your head might explode. Every mum wants the day to be awesome and, especially if your child is a bit older, sometimes you're looking for something that's a little different! Our Party Guide is a great starting point containing lots of local businesses offering fun venues, entertainment, suppliers and caterers to help you organise the party of the year!
ENTERTAINERS AND SUPPLIERS:
Bella Vista Hotel Catering
The French Kitchen
Party Palace
Perfect Parties
Rainbow Children's Entertainment
Wonderland Jumping Castles
PARTY VENUES:
The Centre Dural
Croc's Playcentres
Feathdale Wildlife Park
GymbaROO, The Hills
Holey Moley Golf Club & Strike Bowling
The Little Gym
Little Plaster House
Lynwood Country Club
Moving Bodies
Sydney Hills Gymnastics
Timezone
---
ENTERTAINERS & SUPPLIERS
Bella Vista Hotel Catering
Bella Vista Hotel offers everything you need for events & catering. Their clients are equally balanced between social (birthdays, kids parties, christenings, baby showers, engagements, at home entertaining) and corporate (fundraisers, board room, lunches, seasonal events, product launches, meetings).
Bella Vista Hotel offers all entertaining solutions including catering, food trucks, experience stations, mobile bar with service staff, wait staff, beverage packages, chefs, stylists, venues, conferencing spaces, party hire equipment and more!
Bella's catering options are designed with quality and convenience in mind. Order for pick up or delivery and impress your guests with the freshly made menu. Menus and events can be tailored to meet your every requirement and all considerations are made, including early or late delivery, dietary needs and service options.
For a tailored event the dedicated event coordinators will guide you through all the steps to ensure your event is a complete success.
Visit bellavistahotel.com.au  |   Phone 8884 2800   |   Email bvh.functions@momentohospitality.com.au
---
The French Kitchen
The French Kitchen Castle Hill is the Hills' original one stop party shop, supplying you with all your party needs in one convenient location.
When it comes to parties we have you covered with our exclusive and unique photo cakes, personalised cakes & signature French mud cake.
We offer an extensive range and variety of specialised sweet and savoury food for your next birthday, high tea, christening or end of season soccer celebration! Choose from new gourmet cakes, bite-sized treats, gourmet finger food, helium hire, balloons arrangements, coloured theming & confectionery.
There's also beautiful new glassware for all your major age birthdays. Your choice of rose gold, gold, silver, hessian & rustic themes.
We make things easy with fresh to order sandwich, wrap, fruit platters and salads.
With friendly staff to help you throw an amazing party or function, here for you 7 days a week! Shop in store, visit our new website or call us and let us help you over the phone!
1/19 Victoria Ave, Castle Hill  |  Ph 9634 2593 |  info@thefrenchkitchen.com.au  |  thefrenchkitchen.com.au
---
Party Palace
Party Palace literally is your local one stop party shop. They stock confetti balloons, foil balloons, and good old fashioned plain balloons, in all sizes big and small. There's party decorations, dress ups, and everything from Frozen to Paw Patrol and Batman as well! They also have the lollies, piniatás and pass the parcel gear covered.
Party Palace also has banners, flags, candles and wrapping paper and they can fit you out with Hens Night stuff as well as all the bits and bobs for a baby shower, child's 1st birthday and even cool ideas for gender reveals. And for the real catering goddess, there's foil trays, cling wrap, foil, garbage bags and disposable catering wear to cater for 1 or 100.
Party Palace also hires tables, chairs, helium tanks, photo booths, slushie machines and lots lots more! And yes, they deliver!
Run by two HDMs Alison and Leisa, they'd love to see you and help you with ALL your party needs!
Shop B43, 24-32 Lexington Drive, Bella Vista   |   Ph: 8883 1622   |   partypalace.com.au    |   Facebook.com/PartyPalaceAustralia
---
Perfect Parties
Every little Princess deserves a day of pampering and Perfect Parties promises just that! Designed for groups of 10 to 15, the Princess Pamper Package is full of glamour and fun, with prices starting from just $55 per head.
The princesses will feel extra spoilt as they enjoy having their nails and hair done, and don't forget the glitter and gloss for that extra sparkle! After that, it's time to strut their stuff on the red carpet, pose for a photo with fun, glamorous accessories, before enjoying a tea party and birthday cake.
Then it's time to work off all that excitement and sugar with some disco dancing (or crafts if they prefer to chill), before leaving with a special party bag.
To find out more, or book your princess' party, email partiesperfect18@gmail.com​ or call Pennie & Kristy Lee on 0422 591 992 for a chat.
*Ask about customised masterclasses and workshops for tweens, teens and queens!
COVID-19 UPDATE: From October 2020, we'll be operating from our premises in Kellyville, following strict Covid guidelines.
Stay glam!
---
Rainbow Children's Entertainment
A party with Rainbow Children's Entertainment is a magical and fun experience. There are  party entertainment packages that include a magic show, bubbles, themed party games, and balloon twisting. You can expect laughter and smiles throughout the interactive magic show, where children meet Hairy Harry, the sheepdog puppet, who to the audience's delight, helps with the performing of magic tricks.
Rainbow Children's Entertainment also creates unique party games to match your child's interests and party theme. For example, if your child is having a pirate or mermaid entertain at their party and they have an 'under the sea' theme, then a game with the rainbow parachute can be played, where a child is chosen to be a shark under the parachute. The Shark tries to 'eat' all the children who sit with outstretched legs under the parachute. Whilst another child, who is a lifeguard, runs around the outside of the parachute trying to save them.
If your event is going to be held indoors in a café, restaurant or at home games for smaller spaces can be played, such as Musical Mushrooms, Fairy Lavender says (Simon Says) or Musical Bops.
You can even choose face painting or face painting and balloon twisting packages for those children who LOVE it and know that extra hygiene measures during face painting have been put in place in response to COVID-19. Social distancing measures have also been put in place for our magic show, balloon twisting and party games.
Rainbow Children's Entertainment can't wait to bring the joy, magic and colour to your party, where children have lots of fun using their imaginations and parents can sit back and relax, knowing the entertainment is taken care of.
Ph: 0422 628 113   |   jessica@rainbowchildrensentertainment.com.au   |   rainbowchildrensentertainment.com.au  |
---
Wonderland Jumping Castles

Wonderland Jumping Castles is a popular, reliable and family-owned business based in the Hills District offering a large range of affordable castles to suit your taste, space and budget! Prices start at only $175 for a full day hire and Hills District Mums receive 10% off!
Jumping castles and birthday parties go together like bacon and eggs – together they're amazing!  They offer kids hours of entertainment, require little preparation and are loved by everyone. Safety and Hygiene are a priority for Wonderland Jumping Castles, so you can rest assured that your castle will be installed and maintained correctly.
We are a COVID Safe Business, ensuring every castle is thoroughly cleaned before each hire. We value our customers and their safety. We are adhering to government advice, supplying contactless delivery where possible and practising social distancing.
You will jump for joy with Wonderland Jumping Castles!
---
PARTY VENUES
The Centre Dural
Sports parties are a great option for high-energy, fun entertainment for kids! Hosting your party at The Centre means no set up or clean up at home, and heaps of room for everyone to run around! Parties include 2 hours of court hire and use of our sports equipment. You can choose to run your own games, or you can add on a sports coordinator who will run fun games and activities during the party!
Your booking also includes the use of a dining area – which is set up ready to go for you. It includes hot party food for the kids with options for adults to purchase food and drinks from the cafe (on a tab) or you can pre-order sandwich platters.
For more information or to book in your party visit thecentredural.org.au/parties
Any questions? Call 8989 0061 or email wendy@thecentredural.org.au
---
Croc's Playcentres
Stuck for kids birthday party ideas? Then look no further than Croc's Playcentre, a party venue like no other, with venues in Castle Hill, Marsden Park, Prospect & Campbelltown. And a brand new venue in Rouse Hill opens next week!
There's a range of exciting themed party rooms for kids, including exclusive interactive party options. Party packages can be tailored to create the special day your child is dreaming of. With the choice of selected food options, kid's activities, kid's games, parent's platters and additional extras Croc's guarantees…. fun for kids… and fun for all!
You will receive a dedicated party host to meet your every need, unlimited play and, of course leave the cleaning to Croc's! The play facilities have been designed by a leading indoor play specialist and are intended to accommodate children of all ages.
There are basic themed party rooms or you can choose one of the specially-themed party packages such as the Make, Bake and Create Party where kids make their own pizza, bake it and create and decorate a cookie to take home later. The disco karaoke party is held in a disco party room and parents can watch what's happening via a TV outside the room, so no need to cramp your kid's style! Then there's a pamper party option (Prospect only) which includes a mini mani and pedi and rose petal foot soak. Party guests receive pink lemonade and mini cupcakes on arrival and food is more high tea/canape style plus a lolly bar. Kids get the use of silky robes and magazines and everyone gets a glitter tattoo.
And while the kids have a fabulous party, parents can relax and enjoy a coffee from the in-house Muffin Break!
Facebook    |   Phone: 1300 0 CROCS (1300 027 627)      |    crocsplaycentre.com.au.
---
Featherdale Wildlife Park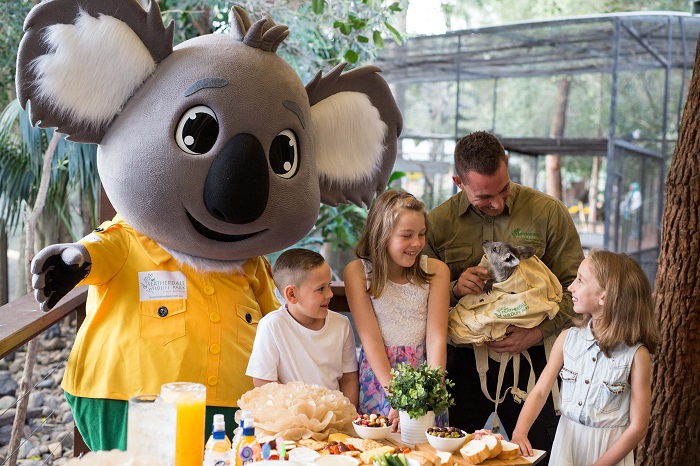 Looking for a new exciting venue for your next kids' birthday party? Featherdale Wildlife Park hosts amazing parties for kids with your own party venue, party host and the amazing opportunity for your kids and their friends to hand feed wallabies and get closer to the world's largest collection of Australian animals! There are a range of party packages available covering your own party space, host, animal encounters, party food and more!
Visit www.featherdale.com.au for more information or email events@featherdale.com.au.
217-229 Kildare Road, Doonside (near Blacktown)
---
GymbaROO, the Hills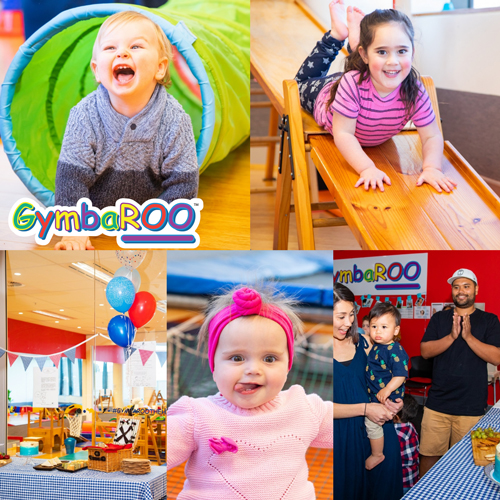 Celebrate your little one's birthday with a GymbaROO party at their Rouse Hill centre! Children will have a ball dancing, playing with small age-appropriate equipment, enjoying parachute activities, catching bubbles and learning new and fun ways to move their body!
The party includes invites printed and mailed to your address for you to fill out and send to your guests, tables and chairs set up for children to eat at, 3 serving tables, 30 – 45 min session with party host led activity time and more. Other party games can be organised on request if your child has a favourite. All food, poppers/drinks, cutlery, cake knives, cups, decorations etc are supplied by you, allowing you to theme your party for your little one!
Bookings can be made via phone or email on 0404 481 529 / info@gymbaroothehills.com.au
gymbaroothehills.com.au/birthday-parties
---
Holey Moley Golf Club & Strike Bowling
Holey Moley
Throw your caddy kid a party that's a putt above the rest! When you book a kids par-tee with Holey Moley you do not need to worry about anything. All we ask is that you have a ball!
Inclusions:
18 holes of golf
Private Party room
Your very own party host
Party food and drinks
gift for the birthday.
Strike Bowling
When you book a kids party with Strike you don't need to worry about a thing! Don't be nervous about the weather or having your house turned upside down and inside out. Bowl your little legend over this birthday with:
1 game of bowling
Private party room
Your very own party host
Party food and drinks
Gift for the birthday child.
Castle Towers – level 4, shop 425.
---
The Little Gym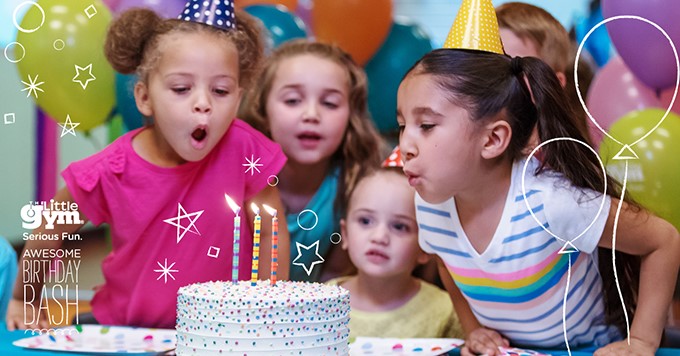 Awesome birthday parties at The Little Gym give your birthday child and their friends the full run of the facility, filling the celebration with instructor-led games, music and fun activities created especially for your birthday child.
Especially during these times, at The Little Gym Dural, we offer the exclusive use of our facility, keeping health and safety a priority to all guests who walk in through our doors. The team prides themselves on keeping the facility sanitised and most importantly we are a registered COIVD safe business with a current plan in place.
You don't have to worry about setup and clean up either, making it totally awesome for you too!  Parties can be booked for the following times on Saturday and Sunday:
Saturday: 3pm – 4.45pm
Sunday: 10am – 11.45am, 12.15pm – 2pm & 2.30pm – 4.15pm
The party runs for 1.75 hours and the team are ready for a chat to get you booked in and answer your questions.
Phone: 02 8443 0160  |  email: dural@thelittlegym.com.au  |  website: dural.thelittlegym.com.au
---
Little Plaster House
The Little Plaster House is all about plaster painting parties! This fun, bright kids plaster painting party venue is the perfect backdrop for a creative experience and the studio is yours exclusively for the event. Have your no-hassle art party at the studio in Bella Vista and take the mess out of your home. Their Bella Vista studio is a creative party venue designed to provide a fun and creative atmosphere hosted by friendly and attentive staff.
Kids' parties are available for children ages 2 to 12 years. The Little Plaster House provides personalised invitations, art materials, aprons, paper products, party snacks and refreshments for the kids, with coffee and light snacks available for the adults. Best of all, they do all the cleaning up, so you have time to enjoy your party and entertain your guests!
There's a range of plaster painting party packages and once you've decided on which plaster painting party to book, you can book online, call us on 02 8883 3982, message on Facebookor email parties@littleplasterhouse.com.au to secure your booking.
---
Lynwood Country Club – kids parties on the farm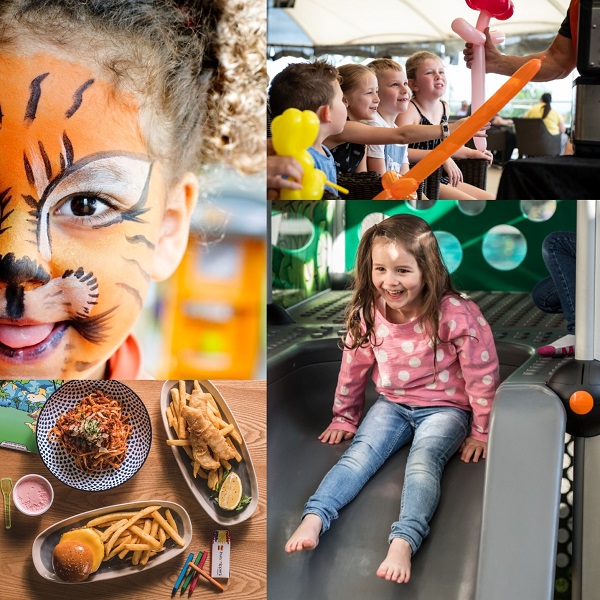 Birthday parties at Lynwood Country Club are a unique way of celebrating your child's next birthday, with its enclosed children's playground and a wide menu to choose from at The Country Kitchen and The Pizza Kitchen. For more information on party packages, including set menu and entertainment options, please call 02 4580 2800 or email events@lynwoodcc.com.au.
---
Moving Bodies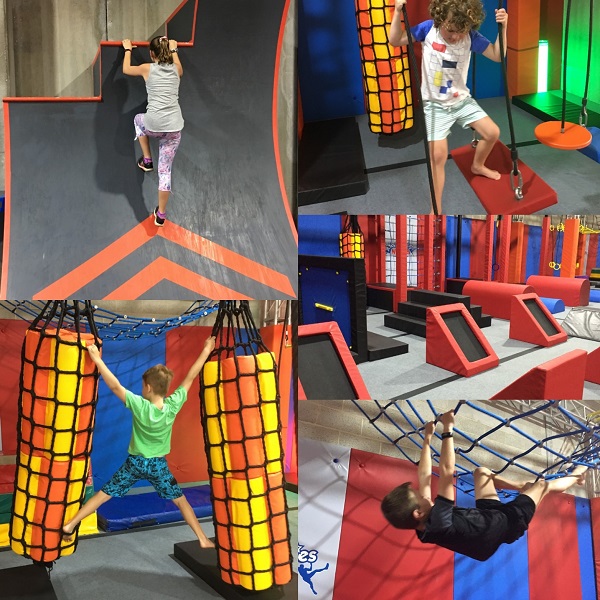 Commit and conquer at your Ultimate Ninja Warrior Party at Moving Bodies Mt Kuring-gai!
Moving Bodies Ninja Coaches runs exciting structured birthday parties! Your group has access to the full parkour and ninja centre – kids can test their Ninja skills on the various obstacles including cargo nets, walking ladders, floating doors & steps, spider walls plus four warped walls!
Recommended for 7 years and up. Parties are 2 hours and are held Friday afternoons, Saturday and Sunday.
Find out more about parties at movingbodies.com.au
Facebook.com/movingbodiesninjas  |  Ph: 9457 7732    |   Hamley Road, Mount Kuring-Gai
---
Sydney Hills Gymnastics
Looking for an affordable, fun and exciting idea for your child's next birthday? For a truly unforgettable party, Sydney Hills Gymnastics birthday parties are a sure hit! Now with two venues to choose from, celebrate your child's birthday with a fully structured program with activities on trampolines, jumping castles, trapeze, ropes, rings, beam and more. Sit back and relax while you watch your child and their friends have the time of their life.
You get two hour exclusive hire of either of the modern gyms with jumping castle packages available at our Castle Hill venue. Catering for every age and ability, Sydney Hills Gymnastics aims to encourage fitness, fun and friendship in their decked out gymnastics centres.
Your child and their friends will have the chance to learn and showcase their tricks and skills with the aid of experienced and qualified coaches. For a fast-paced and exciting party, bookings are essential. With a choice of two venues and time slots available on Saturdays and Sundays there's sure to be a time that suits.
For more information or to book your party, please visit the website or give them a call.
Sydney Hills Gymnastics offers gymnastics programs for both boys and girls from the age of 18 months to 18 years. For any Kindergym program the FIRST CLASS IS FREE! The club also specialises in Men's Artistic Gymnastics and Acrobatic gymnastics. During school holidays they have a fun and engaging School Holiday Program.
Venue 1: Unit 3, 4 Gladstone Road Castle Hill   | Venue 2: 1/1 Meridian Place Bella Vista | Phone 02 9659 9010   |   Email vasiltrof1@bigpond.com   |  sydneyhillsgymnastics.com.au   |    Facebook.com
---
Timezone
Planning a kids birthday party can be a massive chore, but luckily Timezone has you covered! Timezone packs heaps of fun for your kids into a super convenient and easy to manage format. The Birthday Package deals available in the Rouse Hill store packs in heaps of different activities for your party's guests. There are different levels of packages to suit, with varying party durations and inclusions. More details can be found here.
Upon booking you'll also be provided with invitations to send all your guests! This makes organisation that much easier!
The range of games available in the package is enormous! Guests can challenge each other at Hoops, Skee Ball, MotoGP and heaps more! The party room you get access to with your Birthday Party Package is perfect for cake cutting and eating, or some present unwrapping! And of course, what's more stress free than not having to clean up afterwards! Additionally, you can always BYO food to the party or alternatively ask our friendly staff at the store what other catering options are available.
10-14 Market Lane, Rouse Hill  |  Phone 9805 0116  |   facebook.com/TimezoneRouseHill  |    timezone.com.au
---
If you would like your business to feature in a future edition of our HDM Party Guide, please email us at hello@hillsdistrictmums.com.au. We take on new listings every six months.