A reasonably frequent post in the Hills District Mums Facebook group is about recommendations for local places to go for high tea. So we thought we'd take one for the team and trudge around the Hills being forced to try out some of the spots that serve this afternoon delight. Such a chore!
So next time you're looking for a venue for high tea in the Hills, hopefully one of the places below springs to mind.
Novotel Sydney Norwest – for the time-honoured traditional hotel high tea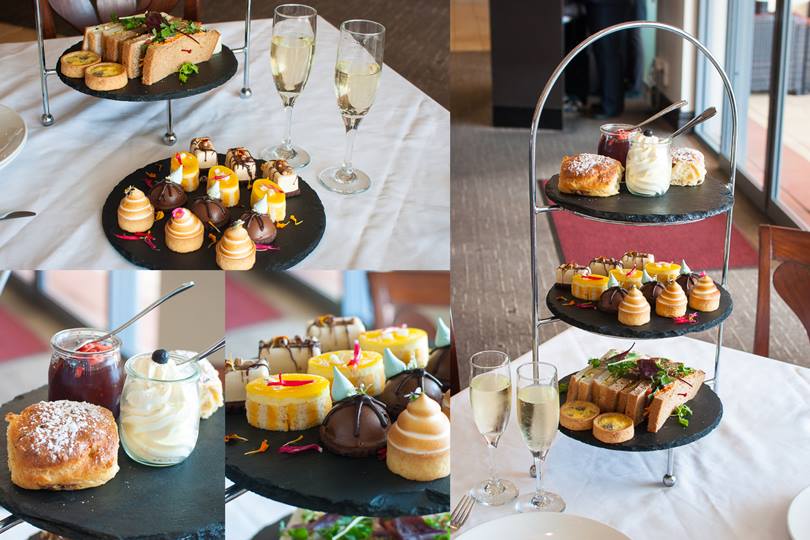 High teas in hotels are really where the craze began, so we were excited to find ourselves at The Novotel Norwest and we thoroughly enjoyed everything about our afternoon. The service was excellent and efficient and our three tiered stand of high tea goodies was absolutely divine. The sandwiches were fresh and tasty and the little vegetarian quiche was warm and delicious, with that golden buttery pastry that screams handmade. The smoked salmon pinwheel was a nice variation from bread which meant there was more room for the sweets. Speaking of which, these were spectacular to look at – you almost felt like you were ruining the display by eating them!
We can't choose our favourite so we'll just list them all as there was something to cater to everyone's sweet weakness – a mini lemon meringue (with that gorgeous pastry again!),  a mango coconut mousse, a salted hazelnut caramel and a mini chocolate dome (rich but the perfect size so you didn't overdo it!).
What we appreciated the most was the care and attention to detail that had obviously gone into the items on each of the three tiers – tiny edible flowers made the sweets even more lovely, the cream that came with our scones had vanilla bean throughout while the strawberry jam was topped with diced fresh strawberries. It's these touches that make it a special occasion and we hear that there are a couple of exciting changes planned for the high tea here, so stay tuned!
High tea is served on Saturday and Sunday from 2pm – 4pm and bookings are essential.
$39 per person (includes a glass of Australian sparkling wine and tea/coffee.)
1 Columbia Court, Baulkham Hills  |   novotelnorwest.com.au  |  9634 9634
---
Arthur Street Cafe – for a rustic high tea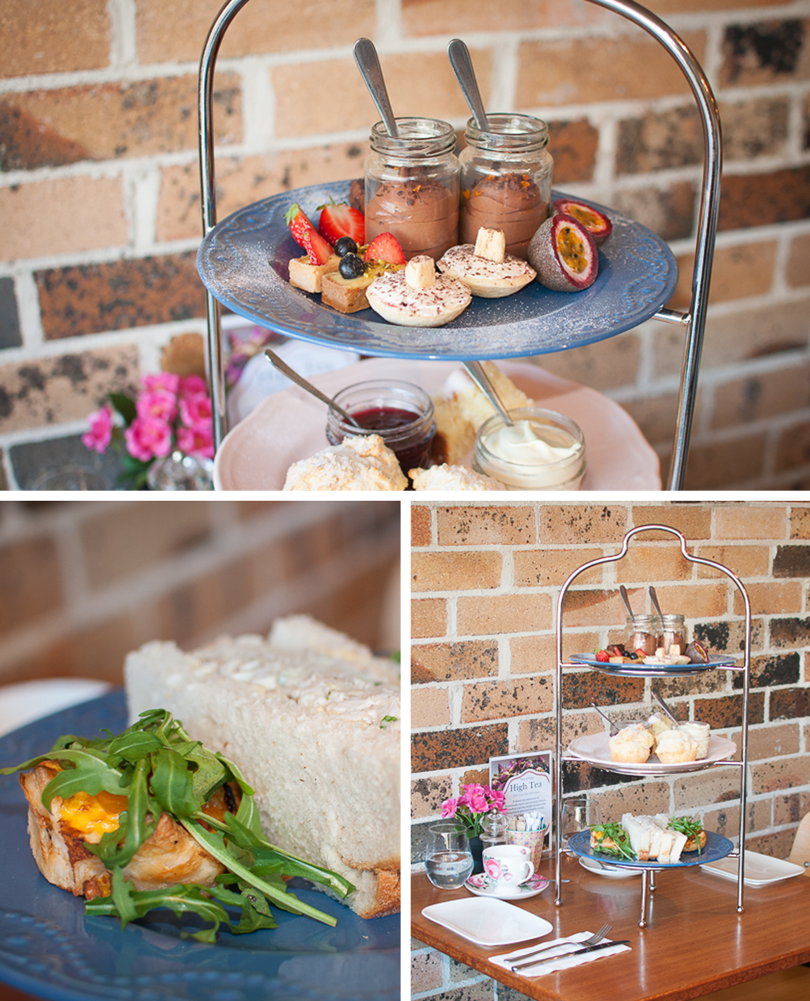 When we arrived at this little café on a Saturday afternoon it was absolutely humming – groups enjoying a lazy weekend lunch, girlfriends catching up over coffee and couples romantically huddled sharing burgers! We spied several high tea stands too and we were excited for ours to arrive. Well, what a treat it was.
Everything is made fresh on the premises each morning including 'grandma's secret recipe scones'. We particularly loved the small finishing touches such as the fine orange zest on our divine chocolate mousse, house-made jam and the inclusion of double cream – to die for! The presentation was lovely, with rustic mini jars and pretty floral tea cups and saucers.
And if you're a tea lover, you'll be in heaven – the health inspired tea is by Life of Cha. For a bit of fun we opted for the crystal tea – a purple tea that turns blue when you add a few drops of lemon! And to add to the experience you can indulge in as many cups of tea and coffee as you like!
High tea served 7 days, 11.30am – 2.30pm. Bookings essential, with a minimum booking of 2. Larger groups can be catered for in a private space.
$35 per person, $20 for children under 12.
26 Arthur St, Baulkham Hills | facebook.com | 9639 2255
---
The House of Herbs and Roses – a hidden gem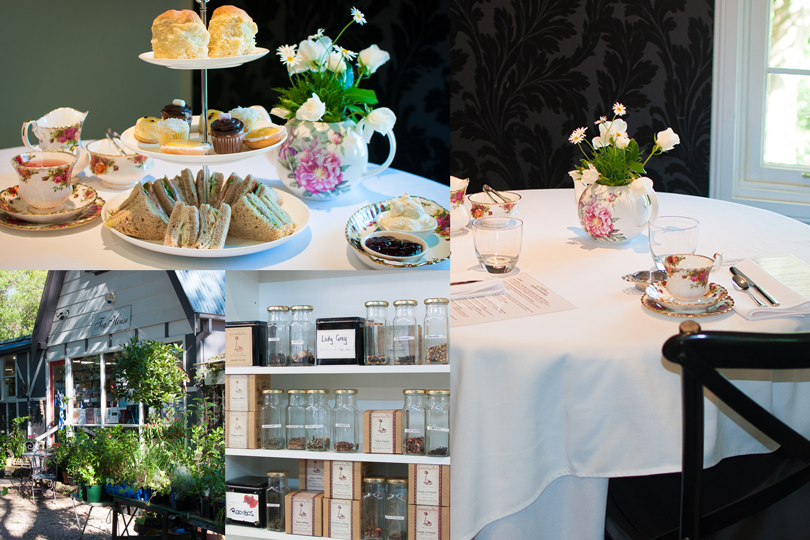 So we think we might be a little behind the times here as we didn't know about this little place. Well that's not technically true – we'd driven past it many times but had never stopped in. Well aren't we regretting that now!
We were hoping for good things given the pretty name and sure enough this was a delightful high tea in a lovely little spot. We felt as if we'd been transported to a quaint little country town or the Blue Mountains. This was maybe because of the sweet little gift shop attached – who doesn't love a gift shop slash café?!
But what was truly a fantastic surprise was the high tea itself. Pretty tea cups and pots, a lovely tea strainer and tiered plates of fresh tasty sandwiches and sweets. Our favourites were the divine little lemon tartlet and the lovely coconut topped mini cupcake. And the scones were a knock-out, with plenty of jam and cream to go with them. The tea list deserves a special mention for its creativity – teas include Congo Bongo, Snow White, Ruby Slipper and Eve's Temptation.
We think this is perfect for meeting a good friend for brunch or lunch or when you feel like taking a day trip minus the driving. Oh, and it's a proper little nursery too which is extra sweet.
Open Tues – Sun, 9am – 4pm. Bookings for high tea preferred. Group bookings for a high tea function are also possible.
$39 per person.
745 Old Northern Rd, Dural  |  facebook.com  |  9651 1027
---
David Jones Castle Towers – for a nostalgic catch up with nanna or an introduction to high tea for your little one
We're not sure where we've been but clearly not at the cafe in DJs at Castle Towers, which it seems is where EVERYONE else in the Hills is … when we visited recently on a Thursday at lunchtime it was packed!
When we heard they do a sweet little high tea it reminded us of trips to DJs with our nanna many years ago. While admittedly not the DJs in Castle Towers, we remember going to the glamorous department store as such an exciting treat – imagine that's because we were probably spoilt rotten! So we visited with lots of nice memories, surrounded by other nanas, and thoroughly enjoyed our high tea.
What this high tea is great for is turning a day with your little one into a special day or combining with a trip to the movies close by. The high tea isn't huge (the photo above is for one person), which is good for small people and a perfect introduction to high tea for them. You choose your sandwich from four classics (egg, chicken, turkey and red salmon), then there are two petite fours and a scone. The scone was fantastic and we really liked our hazelnut profiterole. We also love the pretty tiered Maxwell Williams plates (a perk of being in DJs?) – we have the same one at home actually! High tea is served all day and the price is extremely reasonable – $22.95.
David Jones, Level 3, Castle Towers  |  9842 5222
---
Bella Vista Hotel – for an afternoon champagne celebration with friends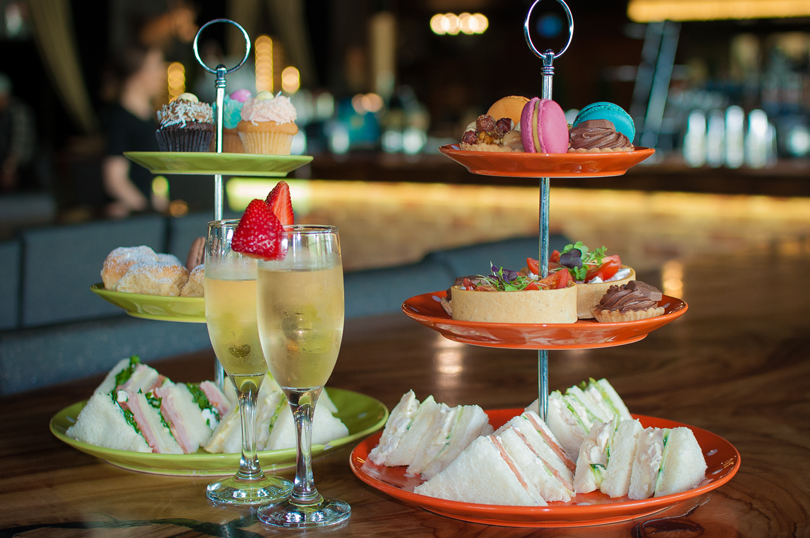 High tea at the Bella Vista Hotel in a word is FUN! It's bright, there are bubbles and you're going to have a good time. There's plenty of food to go around that's for sure in the form of sandwiches, mini cupcakes, a substantial vegetarian tart, a lovely chocolate tartlet and a rainbow of macarons. But it's probably safe to say that if you've come to high tea here the food isn't your sole focus. It's probably more about having a great afternoon with your girlfriends – somewhere you can linger and chat into the evening.
We think high tea at the Bella Vista Hotel is perfect for a hen's, baby shower or special birthday party. You can take over a little section of the hotel that you then have totally to yourselves to kick up your heels.
Available every Saturday and Sunday afternoon, 12-5pm. Minimum of 2 people and bookings are essential.
$34 per person (with a glass of Australian sparkling) or $44 per person (with a glass of Piper Heidsiek champagne).
13-15 Lexington Dr, Bella Vista   |  bellavistahotel.com.au  |   8884 2800
---
Biviano's – for something special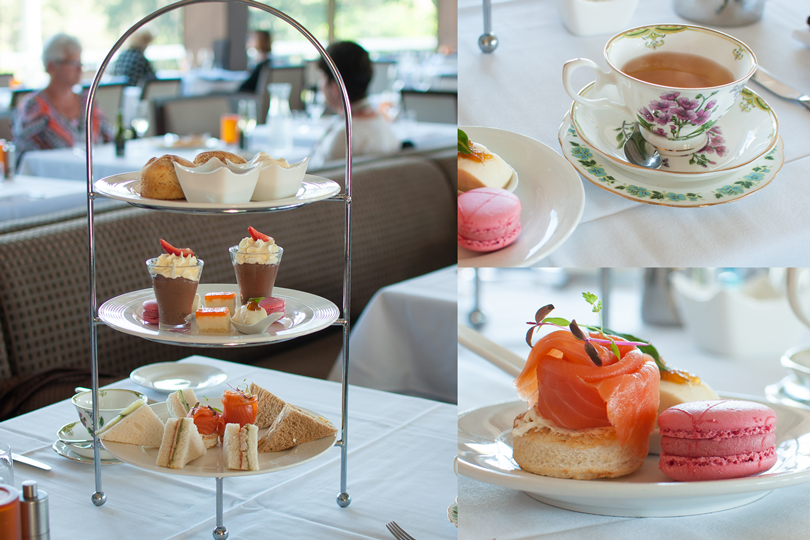 If you're looking for a traditional high tea, rather than lunch, then Biviano's is for you. You can tell they take high tea seriously when you peruse their extensive array of divine boutique loose leaf teas – if tea is your thing then this will be right up your alley. We sampled the Monk Pear and the Crème Brulee teas and they were stunning.
The little morsels of food were lovely too. Some of the delights on offer included an outrageously decadent chocolate mousse, a sweet little panna cotta on a spoon and a very pretty pink macaron – almost too lovely to eat!
We think high tea at Biviano's is perfect to mark a special occasion with your mum or nanna for example. Or if you're looking for a civilised baby shower high tea then this would be a lovely way to celebrate.
High tea is served for reservations only, with a minimum 48 hours' notice.
Traditional $40 per person, Australian $47 per person (includes a glass of Australian sparkling wine), French $55 per person (includes a glass of French sparkling wine)
628 Old Northern Rd, Dural  |   bivianosdural.com  |  9651 2022
---
The Fiddler – for a mummy/daughter (or son!) date

High tea at the Fiddler? Well, yes, don't mind if we do! So you're probably up to speed with their recent major overhaul – safe to say it's a completely different venue now. A while back high tea at the Fiddler would have been an oxymoron, but not these days.
And for high tea with a difference, the Fiddler does a Bambino high tea for little people. How cute! So this is perfect if you're wanting to do something special for a birthday party or a nice afternoon with a mother's group or similar. Mums get bubbles with their version of the high tea and there's a nice mix of sandwiches and plenty of savoury options so you could make it lunch easily. The kids have plenty to choose from too, including the Oreo and marshmallow skewers – sure to be a hit!
There's also the playground and a cool blackboard wall with chalk provided for entertainment, but you can take your tea anywhere you'd like throughout the Fiddler. You can also just have a grown up high tea as well if that's more your….cup of tea!
High tea is offered daily but weekdays are quieter. Bookings 1-2 weeks in advance are required and there's a minimum of ten (a mix of adults and kids is fine).
$25 – $40 per person.
Cnr Commercial and Windsor Rds, Rouse Hill   |  thefiddler.com.au  |  9629 4311
---
The Gatehouse Tea Rooms – for a historic high tea
The Gatehouse is located at the Macquarie Street entrance to Parramatta Park. Built in 1887, it forms part of the colonial history of Parramatta and in 2007 the cottage was granted World Heritage Listing by UNESCO.
There's the option to sit in the gardens or in one of the dining rooms inside – The Elizabeth Room and the Henrietta Room. There are various choices of high tea, ranging from the norm right through to a grand affair involving a piccolo of Moet and Chandon! There's also a savoury high tea for those that don't have much of a sweet tooth  – think home-made zucchini, carrot and pumpkin muffins with cucumber yogurt. They also do a kids high tea if you're visiting with children and cater for dietary requirements including gluten free and vegan. The desserts are amazing, made by award-winning pastry chef Laura Anne from Laura Anne Designer Cakes and Sweet Treats.
High tea starts from $39 per person.
Corner of Pitt & Macquarie Sts, Parramatta Park, Parramatta   |  9635 1515   |  gatehousetearooms.com.au
---
Share with Love – for a mobile high tea
The brainchild behind this new local business is a Hills mum! Share with Love is a mobile high tea business that brings a little vintage, a little shabby chic and a whole lot of love to your next event! There are an array of packages that include handmade invitations, a gift for all guests, yummy food, fresh flowers, props, music and more. We love the sound of the Vintage Princess Package, for princesses aged 6-11 years. Cute!
sharewithlove.com.au  |  info@sharewithlove.com.au   |  Facebook.com
---
Thanks to the venues that hosted us.