Your one stop shop for quality fruit, vegetables, gourmet deli, groceries at the very best prices. Weekly specials and tastings too!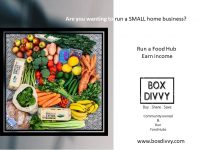 Box Divvy, Social Enterprise, online food box sharing using a smart and easy App.
Connecting farmers & food wholesalers with the Food Hubs up to 40% cheaper than online supermarkets. Run a Box Divvy Hub from home and earn income plus create a fantastic food community.
We are Australia's best online farmer's market!

We offer fresh produce, meat, artisan bread, top quality pantry goods, eggs and much more!