Once you become a mum it's really easy to stop doing things for yourself because you're so busy doing things for others. Are you at the point where you want to do something for yourself? Learn a new skill? Take up a hobby? Here are 4 ideas of classes you can take as an adult.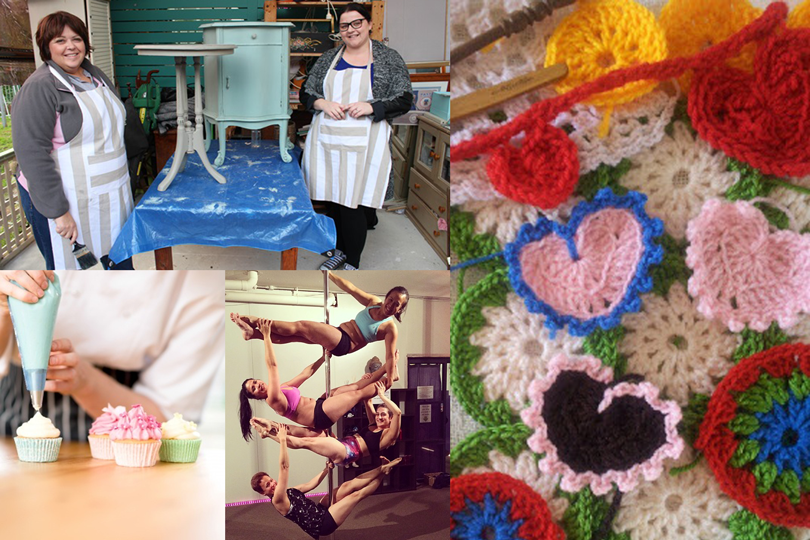 Learn how to crochet
Even though the first basic to learn is the granny square, crocheting is no longer just for grannys. Once you master the basics, crocheting is actually quite easy. And better still, if you make a mistake you just unravel it and start again, no waste. Local Hills District Mum Emma from How to Crochet a Heart is running workshops in Baulkham Hills in September. More details can be found here. Another local mum Ra Young Kim from Yarns & Gifts also runs one-on-one training at her shop in Beecroft (phone 02 8407 9512).
Do up a piece of furniture with Vintage Hills
Have you ever wanted to do up a piece of furniture you have sitting around the house? Vintage Hills offers paint workshops where you can learn to paint your furniture using Chalk Paint and Milk Paint. Classes run for 3 hours and in that time you can paint a small piece of furniture, learning the techniques to prep, paint, distress and finish your furniture. If time allows you also learn how to do distressing, whitewashing, stenciling and antiquing. You bring your own piece of small furniture to the workshop but get a brush to keep, a yummy morning tea and use of paints, wax and materials.
Classes are run on demand in school hours and every second Saturday if needed (although Saturdays are currently booked out 8 weeks in advance). Cost is $135 and the home studio is located in Baulkham Hills. Contact Vanessa on 0422 030 660 for more details.
Learn how to pole dance
This is for those of you that want to feel fabulous, confident, strong and sexy! The studio principal and head instructor at Pol-arise Castle Hill is actually a mum herself. She was a stay at home mum and stuck in a bit of a rut when she signed up for an 8 week course and fell in love with the fitness aspect, how welcome she felt in the classes were and the opportunity to meet other women. And as you can imagine there are lots of laughs! For full details on the classes held at Pol-arise Castle Hill see here.  Also check out this fun video here of what classes look like.
Cake decorating
There's no doubt that the cake decorating skills of mothers are put to the test these days! A little bit of a drive but apparently worth it are the cake decorating classes run by The Cupcake House in Richmond. They do a range of classes including vintage cupcakes and buttercream rosette cakes, plus in September they have special Father's Day workshops.  Call them or email them for their latest class schedule.  The other place to check out is Cake Decorating Central at Castle Hill. We've heard their classes are fantastic.
Other ideas