Play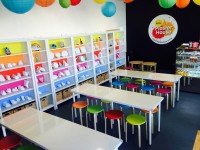 Plaster painting studio in the Hills! Pop in to paint or let us host a unique party for your child.
Your one stop shop for total fun.

Chances are we knew you when you were growing up. Today we still help Australians to smile, kill time, connect with friends, and become champions. Our arcades are
Wannabees is a play town where kids can explore and try different jobs for a day. We help kids discovering what they wanna be when they grow up. At Wannabees you can host kids birthday parties, come for a play, school excursion or for before and after school care.

Because of its educational content at Wannabees we help kids to develop their social and emotional skills while they have fun.

We encourage parents to join the fun too, but if you want to have some me time, you can drop them off and go to the gym, or go for some time alone. You can also stay in our centres enjoying gourmet food and coffee in our restaurant, while we entertain the kids.