Here at Hills District Mums HQ we're very lucky to have husbands who are extremely supportive of our little venture. They don't mind traipsing around the Hills with us as we try out new places and see new things. So, it wasn't a surprise one morning when one husband, in a slightly hung over state, had a brainwave for a new story – he challenged us to find the BEST bacon and egg roll in the Hills. And he was prepared to enlist the other husband to be the judging panel. Tough gig.
So we set out on our trail and posted a photo on our Facebook page at our first stop. As always, Hills District Mums weighed in on the topic and proudly stated where their favourite bacon and egg rolls were found.
So what makes a good bacon and egg roll? There are a number of factors:
The egg has to have a runny yolk with the perfect amount of ooziness. There's no room for error here or the whole thing is ruined.
The bread roll has to be spot on – lightly toasted but still a little soft to soak up the all the juicy goodness that comes from the ingredients sitting on it.
The bacon needs to be a little bit crisp and a little bit melt in your mouth.
And while a dollop of tomato or BBQ sauce is OK, homemade sauces can really top it off.
Mouth watering yet?
So, without further ado, here are 6 places you can get a great bacon and egg roll in the Hills. While we usually steer clear of announcing a clear #1 in our lists, apparently in this case there is an outright winner, or so the 'judging panel' declared! To keep you in suspense we have listed the number 1 spot in the Hills to grab a bacon and egg roll at the end of this article.
The Baker and Builder Café, North Parramatta
Although not technically in the Hills, we've relaxed our boundaries for the sake of good tucker – and this B&E roll came close to claiming top spot. Why? The sauce. The Trade Egg and Bacon Roll has both aioli and relish on it, which makes for a delicious combination.
Charlotte's Little Sister, Pennant Hills
This newcomer to the Hills is well known for churning out a great coffee but they also do a great bacon and egg roll to accompany the great coffee! What makes it great? The brioche bun! In this case, size DOES matter – and this one is big! You won't go hungry after eating one of these – call it breakfast AND lunch.
The Local Trade, Kellyville
This B&E roll was actually added to the list by one of our father-in-laws. Apparently it's 'a bloody good bacon and egg roll'. Nuff said. Again, the sauce got him over the line, a relish that has a little bit of bite to it.  Our mother-in-law chimed in too, apparently it is the perfect size – not too big and not too small, just right!
The Tuckshop, Glenhaven
When The Tuckshop first opened, The Tradie Roll was almost as famous as the co-owner of this trendy café in Glenhaven. The Tradie Roll had a fried egg, smoked bacon, cheese, hash brown and house-made smokey BBQ sauce. Although The Tradie Roll is missing from the current menu it can still be ordered if you are hanging to have one.  Alternatively, you can try their current version which includes avocado and a delicious mix of tomato chutney, aioli and smokey BBQ sauce.
SALT, Dural
The B&E roll at S.A.L.T does a great job of covering the four vital elements – lovely sizeable brioche bun, a considerable pile of bacon, two eggs (boom!) and a delicious homemade bbq sauce that's both sweet and smokey. You know it's a goodie when the juice runs down your wrist! The only tough part about this is whether you really go overboard and finish off with something from their homemade range of sweets.
And the winner is…….
…the honey and port cured bacon and egg roll at the Hawkesbury Harvest Farmers and Fine Food Market, which runs at the Castle Hill Showground on the second and fourth Saturday of every month.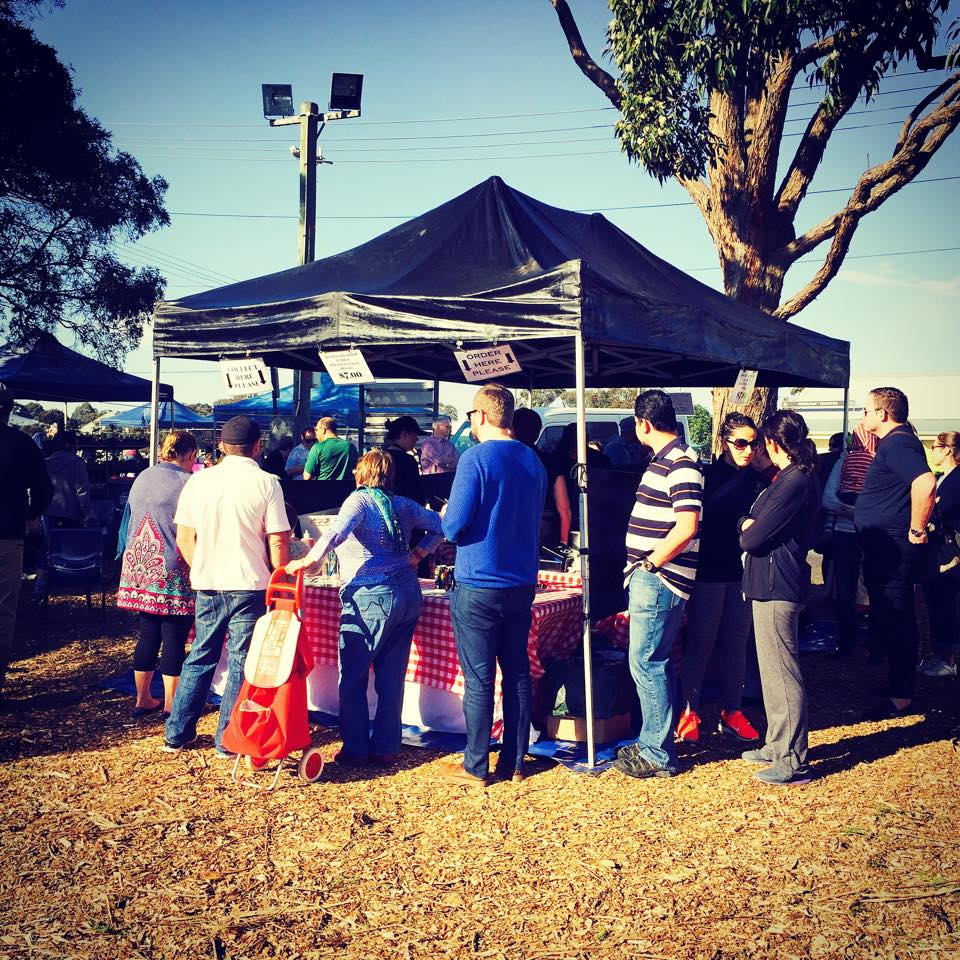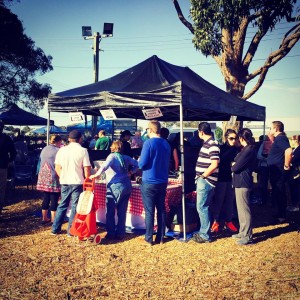 Every time we go to these markets the queue for the bacon and egg rolls is quite large, so we often skip past it. But Hills District Mums were quite insistent that this was the BEST B&E roll in the Hills. So the committed taste-testing husband lined up in a queue that wrapped around the tent and back up to the road.
After a 10-15 minute wait and three mouthfuls in, husband declares, "Those mums know their stuff, this is the best bacon and egg roll I have ever tasted". What makes it the best? Apparently "the bacon is f&%king gold". So there you have it ladies, you were spot on again.