When I'm out and about in the car I often see banners advertising Art 'N' Move Hills District. So I must say I was a tad excited when Lina, the owner, contacted me to ask if I was interested in coming out and doing a story on her classes. I was even more excited when she mentioned that children could start as young as 6 months old. My youngest daughter has spent the last 19 months on the sidelines patiently watching her older sister swim, run, jump and play so she was long overdue for a piece of the action!
Before I take you through my experience, here's a little bit about the program itself. Art 'N' Move combines drama, music, movement and storytelling together with art and craft, and it's all arranged around a weekly theme. The theme for the week my daughter and I went along was fruit. Babies 6 months to 14 months do the Play 'N' Move program, while 15 month olds up to and including 4 year olds do the Art 'N' Move program. Classes run for 45 minutes during the school term and are split according to age groups. Parents/carers participate in the class and for those with a newborn/baby in tow this class is definitely doable.
As we arrived we were warmly greeted by Lina and Angela. All classes have small numbers and two educators.
The room itself is split into two. There's an area for dancing, music and stories and an arts and crafts area that is blocked off to begin with.
When I look for activities for my toddlers, I look for a few key things. It has to be stimulating, something that teaches them to listen and follow instructions and above all fun. Art 'N' Move ticked all those boxes.
After an introductory song the week's theme was introduced and the session kicks off with a book. Today's book was The Hungry Caterpillar.   Angela was a fabulous storyteller so kept the children captivated until the end.
As soon as this was over the educators pulled out a magic bag (the first of many) that contained fake fruit. Children were encouraged to sort the fruit into colours using baskets.
From this point on the class flew by.  The music and movement section of the program is fast paced and really stimulating. The magic bags come out one after the other. There was one containing shaker eggs and we all bopped along to The Wiggles Fruit Salad song. The next contained ribbons and all were great fun. Once each activity was over the kids were required to put the items back in the bag. (Love a bit of positive packing away reinforcement!)
There was fast-paced dancing, singing, clapping, playing, shaking and as a result lots of highly engaged little ones. As a parent you always wait for the tantrum that comes when it's time for your little one's favourite apparatus to go back in the bag, but all the children were surprisingly compliant. Maybe because they know that something equally exciting is coming up next.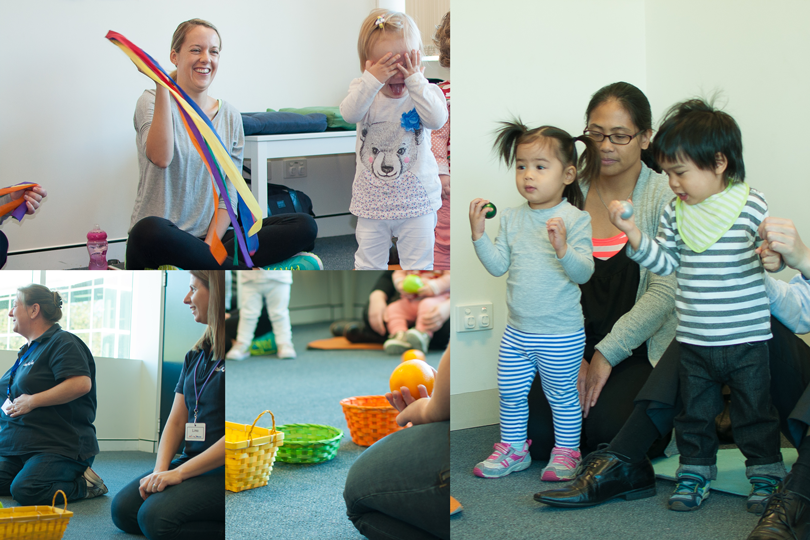 Before we knew it we were ready for the art and craft section of the class. The little ones who'd been doing classes for a while, although only 18 months old, knew that they were moving into the arts and crafts area before the educator even mentioned it!
Today's art and craft involved roller painting and then gluing and sticking little pieces of paper and cellophane to the fruit. The kids loved it. Obviously at this age they struggled to match up the colours of the paper with the fruit but that's ok because the parents who are a little OCD go back and rearrange it correctly! (and yes, yes, before you ask, I did too!).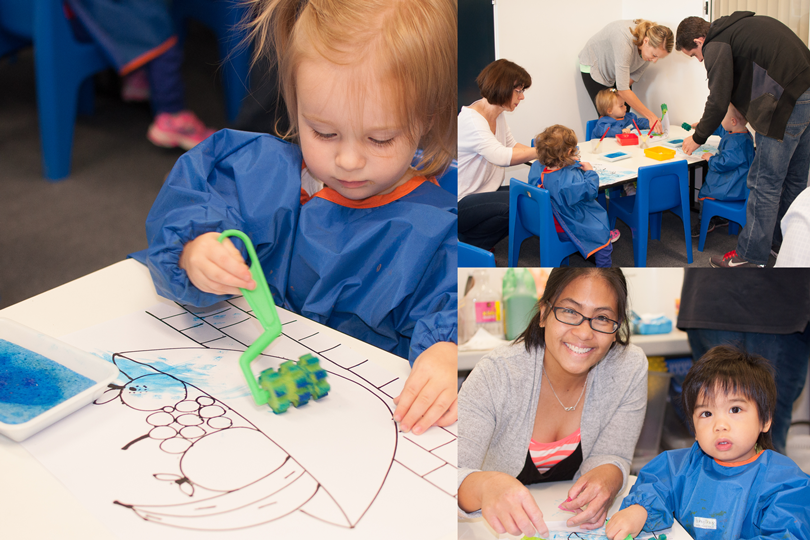 For those that were done quickly the educators had already set up puzzles and other educational toys in the other part of the room for them to play with while others were finishing their art and craft.

The class finished with a rolling ball game, a parachute and a goodbye song. All children in the class thoroughly enjoyed themselves and none lost their focus during the 45 minutes. I also had my 3.5 year old with me and although an older class would stretch her further, she had as much fun as the 18 month old. What I loved about the class was the variety. For a second child who doesn't get to do quite as much as her older sister this was a great way to cover a few bases with one activity which is great for time-poor mums.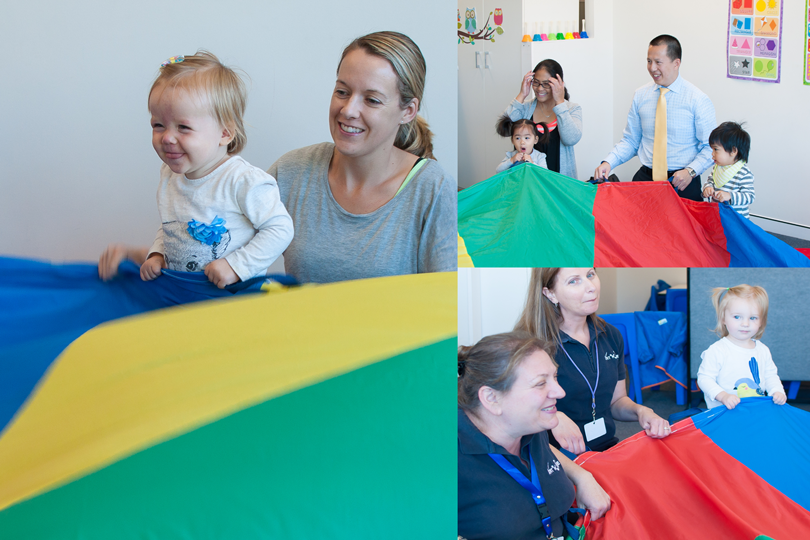 All details on the timetable and fees for Art 'N' Move can be found here. To book in call 0419 971 901 or email lina@artnmove.com.au.