Say goodbye to frustrating lice with the brand mums and dads trust, NitWits All in One for only $22.95 (available from Coles, Chemist Warehouse and Priceline).
Back to school is the time when kids are excited to see their friends after a long holiday break, but it's also the time when they are more susceptible to catching lice or nits, as 95% of all infestations happen at school. Lice are highly contagious and can spread quickly from person to person, especially in schools, childcare centres, camps and sports activities where there are groups of children in close contact. Head lice travel close to the hair and hair accessories, such as hats.
It's every mum's nightmare but fortunately, NitWits has created 3 easy and effective treatments to prevent, detect and kill nits, so you can be ready to protect your family from any unwanted 'friends' that are brought home from school!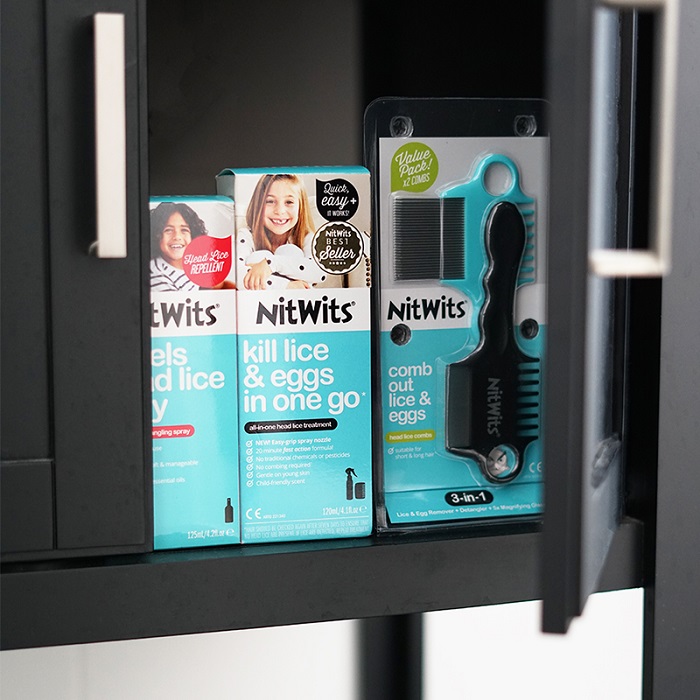 NitWits All-In-One Treatment
The NitWits All-In-One Treatment provides a quick and easy way to kill head lice AND their eggs in one go. The unique, fast action formula contains a key active ingredient called Dimethicone that is highly effective in killing both head lice and their eggs in just 20 minutes with no need to repeat the treatment. This formula is suitable for sensitive skin and comes in an easy, no mess spray applicator and a pleasant scent that is gentle to children. With head lice being able to live on a person's head for up to 35 days, NitWits All-In-One is a must have for all young families.
NitWits 3-in-1 Head Lice Comb
The NitWits 3-in-1 Head Lice Comb is an easy to use tool and a must-have for checking, combing and removing nits and head lice. This comb features two sets of comb teeth – a wide set for detangling and combing out knots, and specially designed stainless-steel teeth which remove nits and lice as it glides through the hair. It also includes a built-in 5x magnifying glass to locate the lice and their eggs, and a comfortable, easy-grip handle, making treatment time much easier and less frustrating.
NitWits Anti-lice & Detangling Spray
You don't have to wait until there is a lice infestation when preventing one is so easy! Defend against lice daily with this repellent and detangler in one, formulated for everyday use. The added conditioning agents work immediately to unlock knots making your daily combing and styling routine much easier. This 2-in-1 product uses natural oils to create a repellent that is long lasting, has a refreshing scent and is free from alcohol. Use daily or when there are head lice present at the school or playgroup.
The All-in-One Treatment, Head Lice Comb and Anti-lice & Detangling Spray are available at Chemist Warehouse and Priceline. Make sure your kids are ready for back to school time with NitWits, the brand mums and dads trust.
For further information visit www.nitwitsforkids.com.