These Easter treats are easy enough for the kids to make (with adult supervision) and super cute too!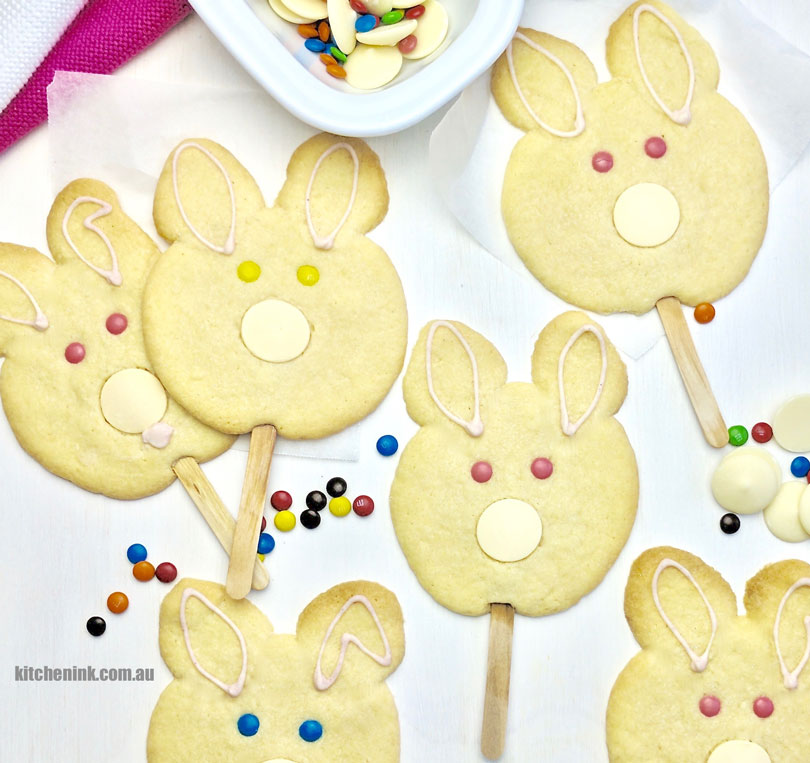 White chocolate Easter bunny biscuits
Makes: 14
Prep time: 35 min
Cooking time: 15 min
You will need 14 ice-block sticks for this recipe.
Ingredients:
200g butter (or reduced-fat spread), at room temperature
2/3 cup caster sugar
1 egg
2 teaspoons vanilla bean paste
60g good-quality white chocolate, finely grated
1 ½ cups plain flour
28 mini m&ms
14 white chocolate melts
¼ cup white chocolate melts, melted (optional)
Method:
Preheat oven to 180°C/160°C fan-forced. Line 3 baking trays with baking paper.
Beat butter, sugar, egg and paste in bowl with an electric mixer until light and fluffy. Stir in chocolate and flour. Refrigerate 15 minutes.
Roll 28 level teaspoons of mixture into balls (these will form the ears). Divide remaining mixture into 14 large balls (about 1 ½ tablespoons each) for the bunny faces. Place dough balls on trays (about 4-5 per tray). Flatten balls with the palm of your hand to form a 7cm diameter circle.
Shape smaller balls into log shapes and position on top of each larger round to represent the ears. Flatten balls with palm of hand to form long bunny ears. Slide an ice-block stick two-thirds of the way into dough.
Press mini m&ms into dough for the eyes and a white chocolate melt for the nose. Bake for about 12 minutes or until light golden (see note). Cool on tray.
Once biscuits are cold, decorate with melted chocolate to define ears, mouth and whiskers (this step is optional).
NOTE: If biscuits are undercooked they may be too soft and break away from the ice-block sticks.
TIP: Biscuits can be stored in an airtight container, between layers of baking paper, for about 3-4 days.
---
kitchenink.com.au     |      Facebook/kitcheninkau       |       Instagram/kitcheninkau