Who doesn't love a meal which doesn't take long to prepare?! All in one dishes are a winner in all aspects. Prep is easy, minimal cleaning up and while it cooks, you are free catch up on other pressing matters. Homework with the kids, chores or relax and open a bottle of wine!
This dish has featured in my house for week night dinners, for a lazy Sunday lunches and for weekend entertaining with family and friends. The combination of flavours works a treat. When served with crusty bread, we all love mopping up the juices at the bottom of the pan. A key point is to use chicken thighs with the bone intact and skin on. Chicken breast or standard thighs are too dry. Chicken thighs with the bone in is a cheaper cut and is super moist. Try this for your next weekend dinner and you won't be disappointed.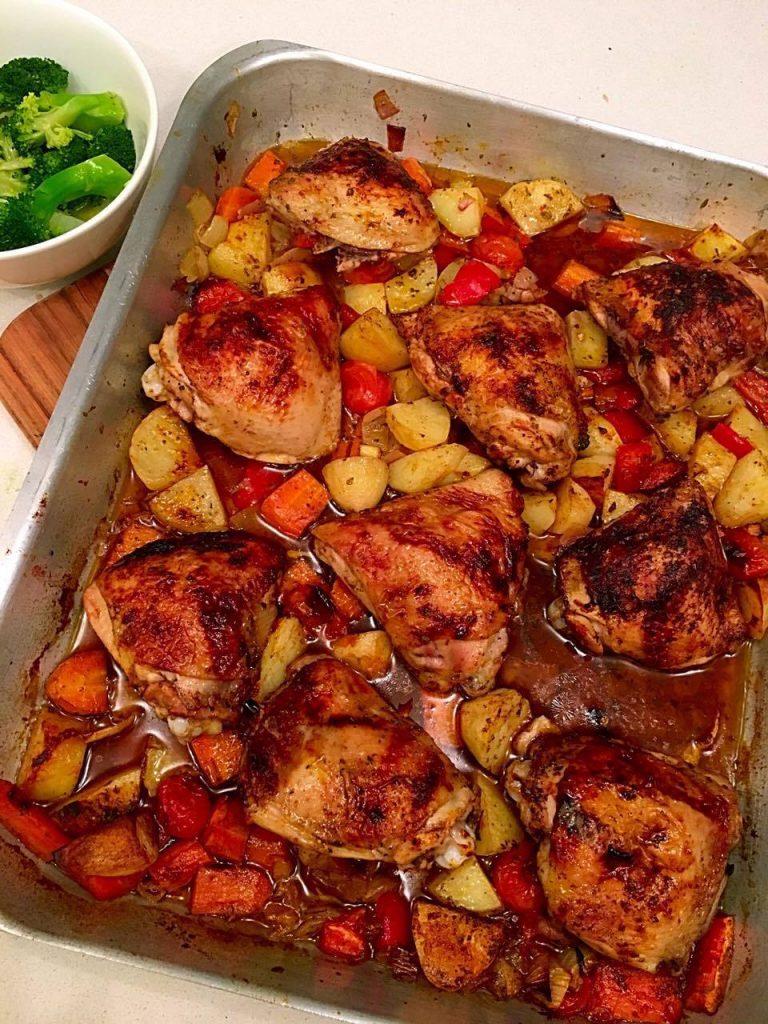 Ingredients (serves 6)
8-10 chicken thighs bone in, skin on
4 large potatoes
1 sweet potato
1 red capsicum
2 onions
2-3 cloves of garlic
3 carrots
1 punnet of grape tomatoes
2 tablespoons dried oregano
1-2 tablespoons paprika
Sea salt and pepper
Olive oil
Balsamic vinegar
Method
Preheat oven to 200 degrees.
Peel and chop the potatoes and sweet potatoes into 3cm pieces. Roughly chop the carrots, capsicum and onions.
Squash the garlic (skin on) with the heel of your hand.
In a large roasting tray, place all the vegetables and lightly season with salt.
Wash the chicken and season both sides with salt/pepper. Place on top of the vegetables. Season the chicken with paprika and dried oregano.
Drizzle the top of the chicken and vegetables with olive oil. To ensure the vegetables colour nicely when baking don't go too lightly on the oil.
Finally, splash over some balsamic vinegar. Using a large spoon (or your hands) mix the chicken and vegetables to ensure everything is coated and lubricated with the seasoning and dressing.
Place the tray in the oven and bake for 20 minutes. Reduce the heat to 180 degrees and continue cooking for another 1 hour. Check after 45 minutes and mix, so the chicken can colour on the other side. Cooking time may vary depending on the oven. The dish is ready when the skin of the chicken and the veggies are golden. Serve with a side of steamed greens and mixed salad.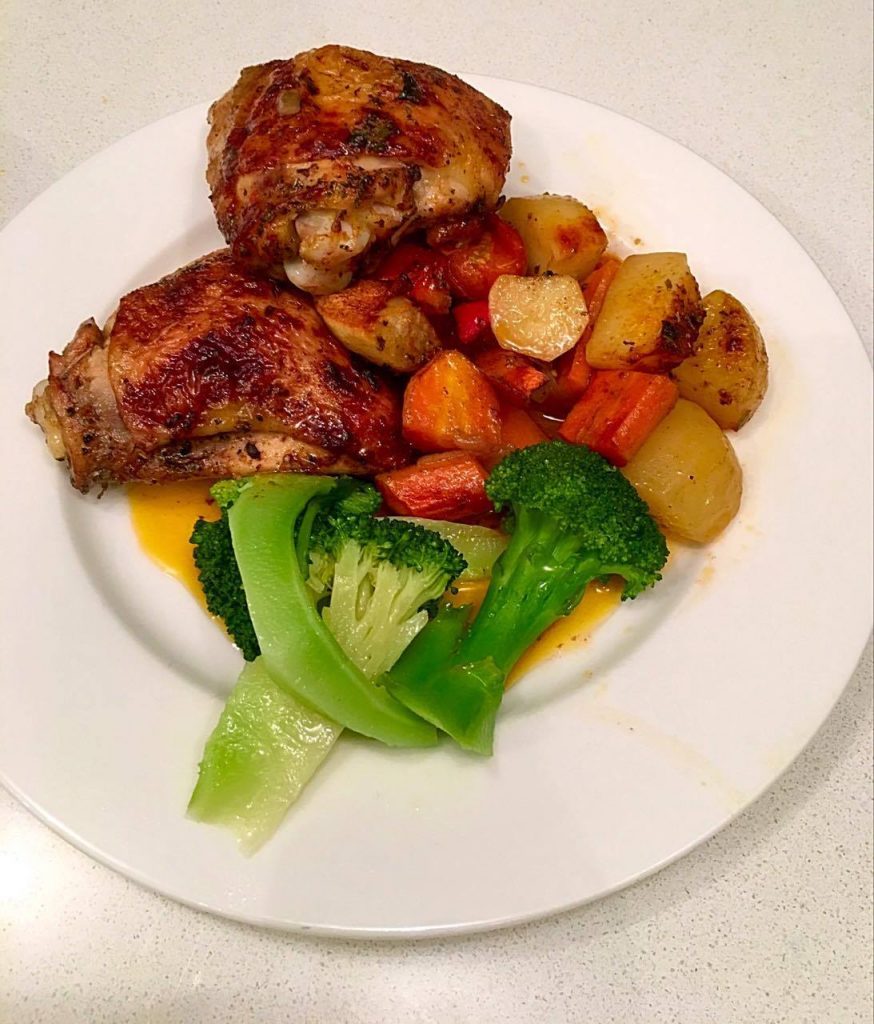 ---