The Blue Gum Walk, a small section of the Great North Walk, is a well known track and very popular with walkers for good reason – it's stunning! If you're keen on a solid bush walk then this is a great option.
While a bit of a drive from some parts of the Hills, this bushwalk is absolutely fantastic and worth the trip if you're making a day of it. As the crow flies, it's actually very close to certain areas of the Hills like Dural and Westleigh, but unfortunately if you're doing this walk, you can't access it from these suburbs and must enter at Hornsby. (Pogsons Trail from Quarry Road Dural does go down to Fish Ponds but if you then join the Blue Gum Walk it would take a VERY long time and you'd have your car in Dural when you emerged in Hornsby!)
In summary, the walk is approximately 4kms. Our kids are 6 and 8 and handled it well – there are parts that are a little more challenging, but in a good way. For example, there are a few steep sections and rocky parts, as well as one or two bits where you have to work out how you'll navigate it and the 6 year old wanted to hold hands a couple of times. Also, you may find sections a little slippery, particularly if it's early morning or has rained but we didn't notice this too much.
It took us about 2.5 hours (including about a 10 minute stop for morning tea) and it was only at the last 20 minutes that the whinging started – so a pretty good effort. We did see kids that were younger doing it. It's not pram friendly at all and you can't take your dog, although we actually did see a couple – one being carried!
The first thing that's worth doing is downloading Hornsby Council's PDF about the walk. We actually printed this to take – the kids loved this as it had a map and also some great information about points of interest – areas we would walk through, some historic facts and what they could expect to see. This definitely added some fun and anticipation.
The walk is a loop and you can start at two spots, very near one another. We started at Ginger Meggs Park, where there's a little playground, and did the walk in the reverse order of the Council's map. No issue with doing it either way, although we think most do it the opposite to what we did. There are also much smaller portions of the loop you can do – the Ginger Meggs loop (950m) and to and from Fishponds (2.4kms).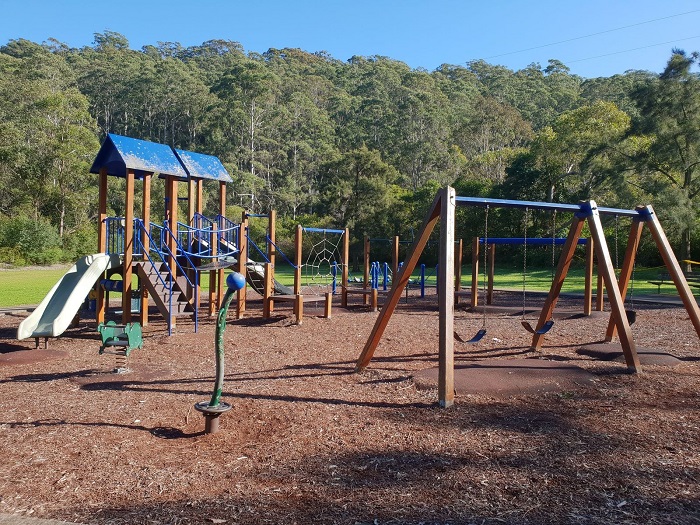 The walk started out in lush greenery with lots of ferns, moss and an almost rainforest feel due to the shade and moisture. This section continued for quite some time and gradually we began to climb, but it wasn't a stretch and most of the time you're on a path of sorts.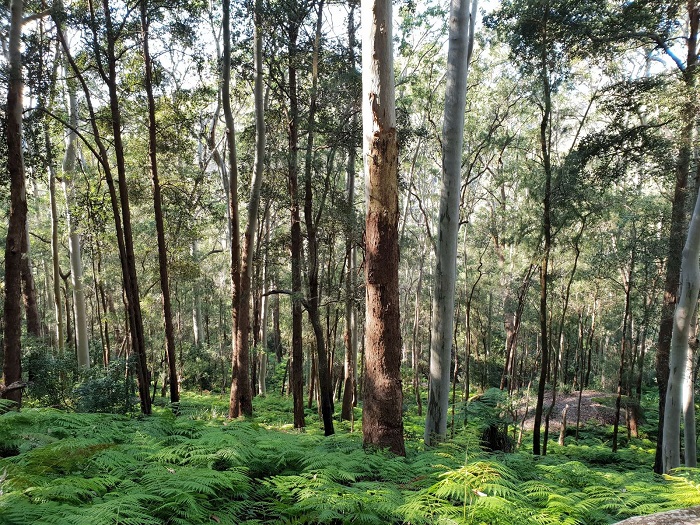 Slowly you notice the vegetation changing to a more earthy, dry and exposed landscape – the contrast is quite remarkable!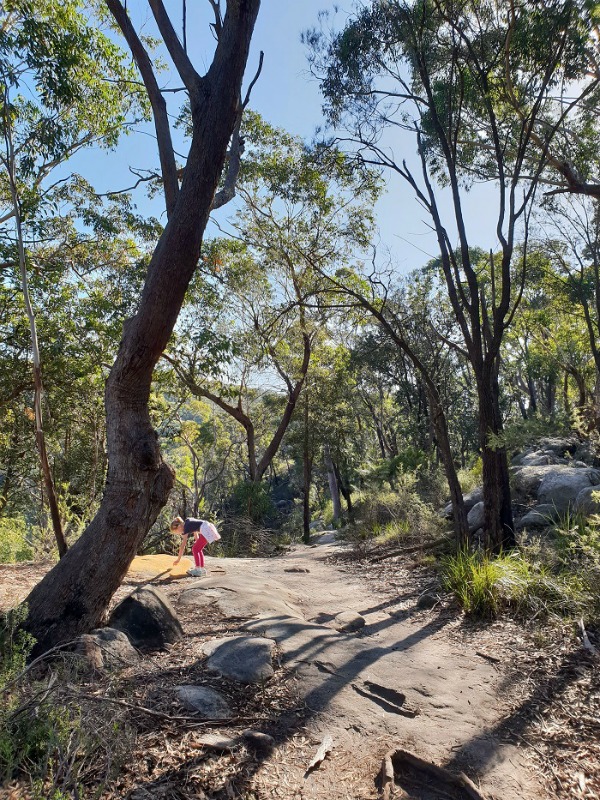 The walk is well signed if you keep an eye out. And in the couple of spots where there aren't actual signs, it's fairly obvious which way you go as there's really only one way! The path is narrow in spots and you'll need to 'pull over' to let other walkers pass. We saw a few groups, but it certainly wasn't super busy.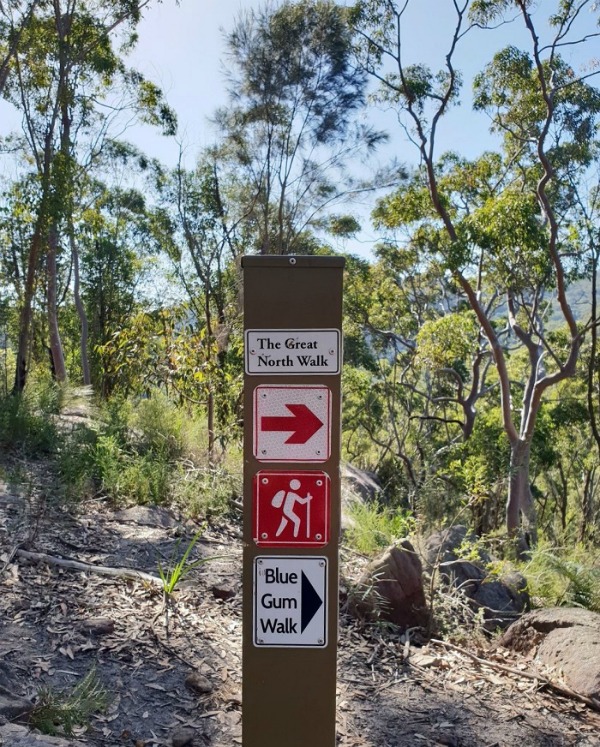 As quickly as we'd reached the highest point on the walk, we were headed downwards again – in this section the defined paths were no longer and there were rocks and narrow spots to negotiate, but all doable.
Along the way you'll traverse rocks and small ledges and see fallen trees. Unfortunately we didn't see any animals on the day but apparently you can spot water dragons and even turtles!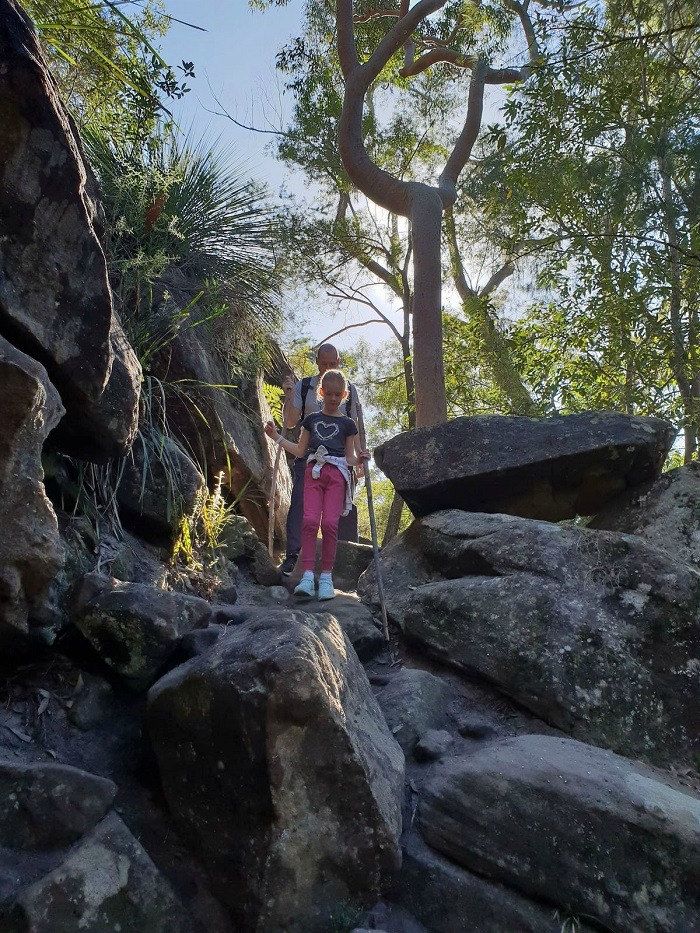 Soon we could hear the running water as we made our way towards 'washtub', a section of the walk that crosses Waitara Creek and where 'washtub' pools have formed. This was very pretty and the kids loved it. This was one spot where Miss 6 wanted help to jump across the creek safely. We chose this area to sit and have some morning tea and a drink.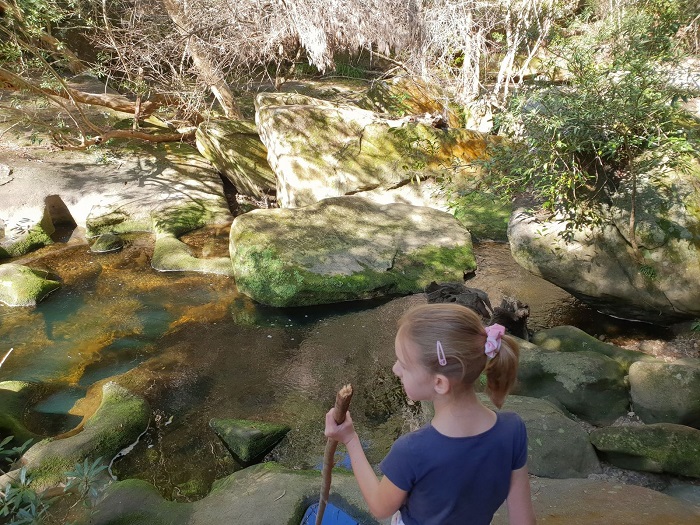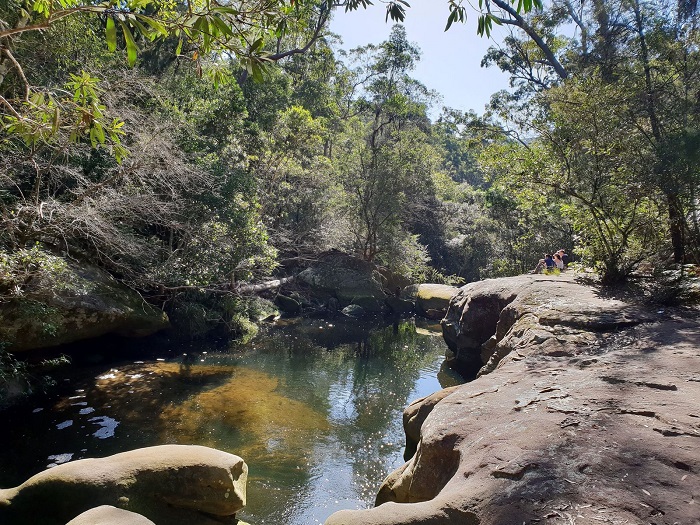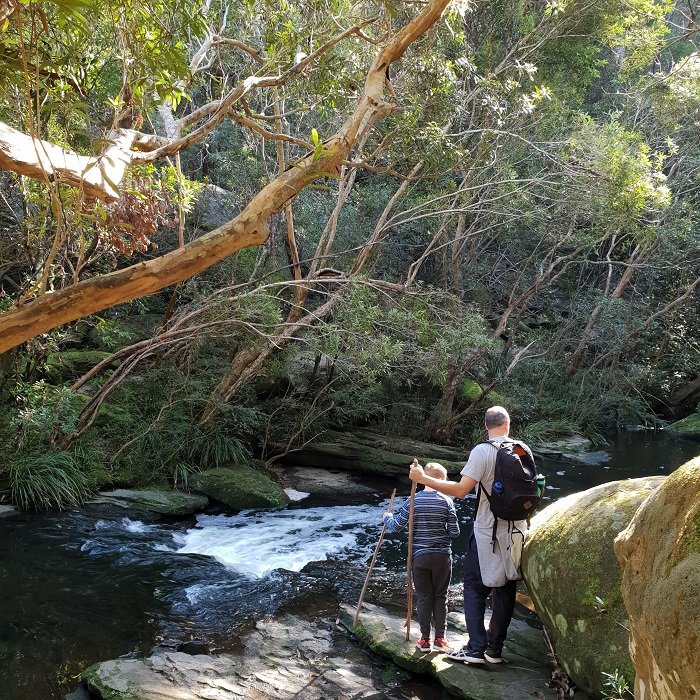 Not far from this section is Fishponds (this is signed so be sure to head that way. Don't be put off by the reference to 'rifle range' on the signage either). This area is another spot that is pretty to perch for a breather. There's a fenced lookout and cool stepping stones you can use to cross over the creek and check out the cave and the view from the other side. You do then need to go back the way you've just come to continue the walk, or you'll end up in Dural!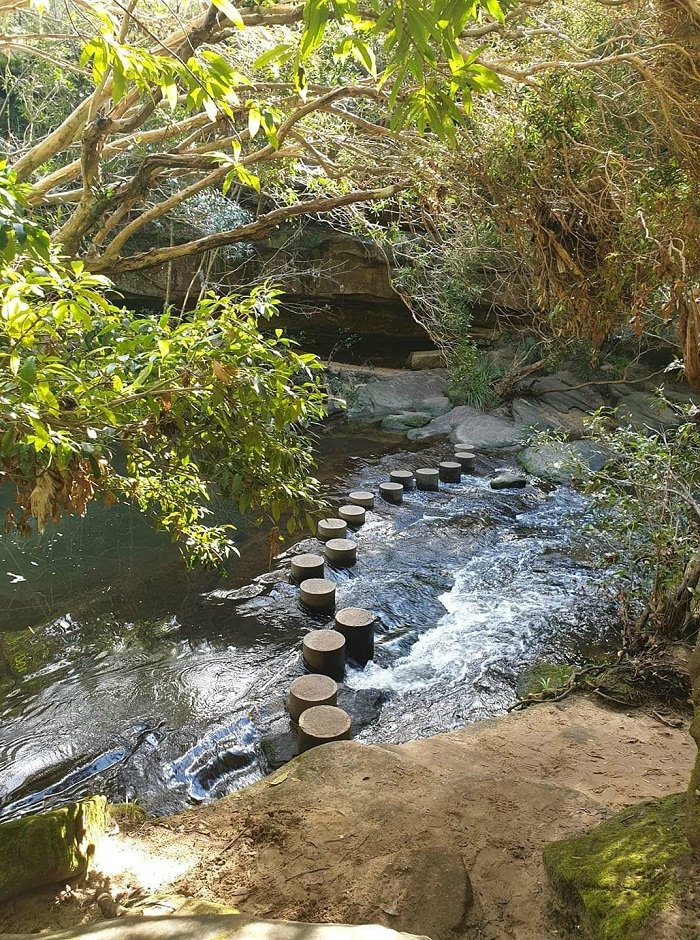 After Fishponds there was another slightly steep section which included stairs with a handrail (remember, you may do this the opposite way to us, so where we talk about going up, you could possibly be heading down) before it opened up onto a much wider trail for the remainder of the walk, when the whinging definitely escalated!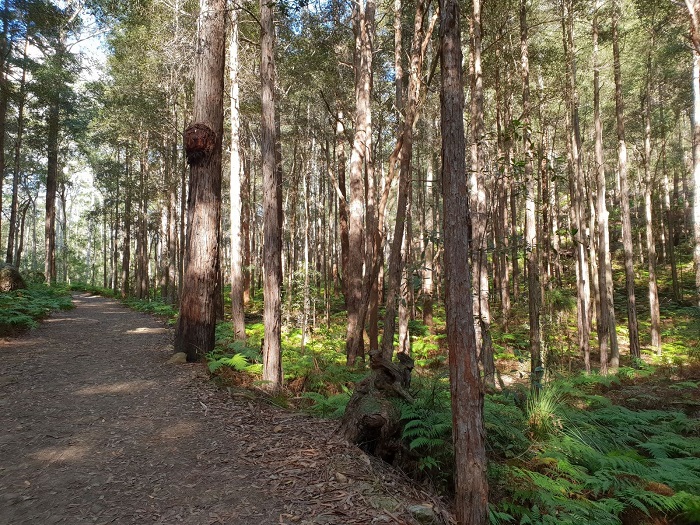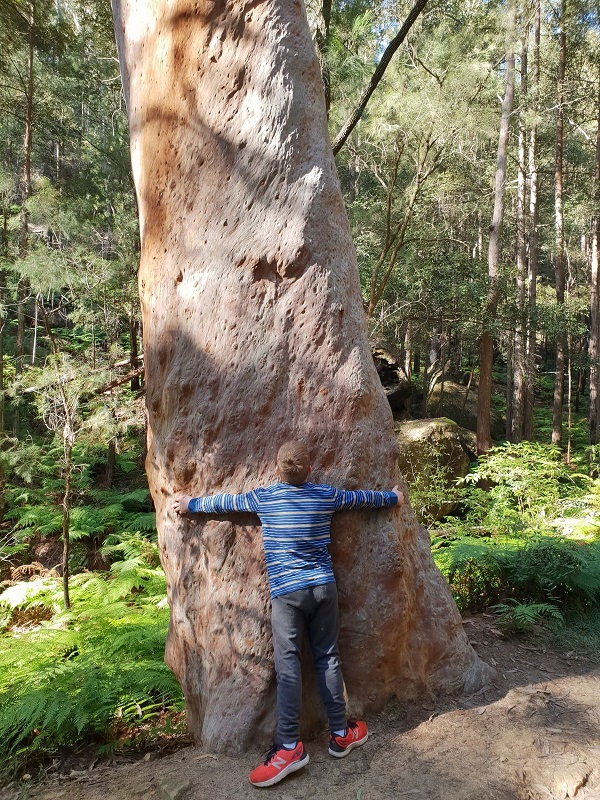 We loved this walk – we hope you enjoy it too if you give it a try. Do spend the few minutes reading the Hornsby Council information so you're prepared.
---
View information on the walk from Hornsby Council here.
Creek crossings may be impassable following heavy rain. If unsure check the Waitara Creek crossing near Ginger Meggs Park before starting your walk.
Blue Gum Walk: 4km. Allow 2hrs 30mins.
Fishponds: 2.4km return. Allow 1hr 30mins.
Ginger Meggs Loop: 950m return. Allow 45min.
Difficulty: Grade 3 (moderate)
Starting points:
Rosemead Road Park (corner of Rosemead Road and Lockinvar Place, Hornsby)
Ginger Meggs Park (Valley Road, Hornsby)
There are no toilets – the closest toilets are at Hornsby train station.