DANCE on Q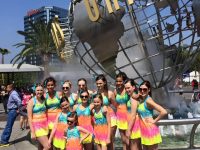 DANCE on Q is a professional performing arts school in the Hills District offering various styles for students aged 2 – 18 years including JAZZ, TAP, RAD BALLET, POINTE, MUSICAL THEATRE, JFH (Jazz*Funk*Hip Hop), ALL BOYS HIP HOP, CONTEMPORARY and ACRO (Acrobatics).
Our teachers are qualified instructors as well as professionals in both the commercial and theatrical industry on an international level bringing current knowledge and trends to the studio.
We cater for students looking for classes to have fun and keep fit as well as preparing students for professional full time courses and careers in the industry. We have a range of recreational classes, performance classes, troupe classes & elite classes to suit each students needs.
DANCE on Q has also participated in a number of overseas tours including:
2016 USA Dance Tour – Las Vegas, Los Angeles & Anaheim
2017 Voyager of The Seas Royal Caribbean – South Pacific
Our unique program for PRE-SCHOOLERS known as "PETITE PERFORMERS" encourages young children to be active and embrace creativity as well as giving them a kick start in the performing industry and making friends along the way. Parents are also welcome to be involved with our PETITE PERFORMERS.
DANCE on Q is conveniently located at Unit 3, 9 Salisbury Road Castle Hill (Opposite Bunnings) & Wrights Road Community Centre (Opposite Kellyville Plaza).
Send message to listing owner