Michael Downing Plumbing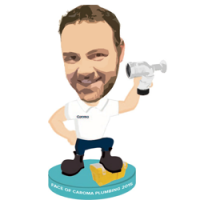 I'm Michael – a family man, a footy man, a golf man and a plumber. I'm also a Virgo – my wife tells me that's why I am a perfectionist. Some would say I have a 'crap' job but I just think I'm not afraid to 'get my hands dirty'. Having worked in the plumbing industry for 20 years, I would like to think I have seen it all, though some days do surprise me. My business has been built on reliability and trust. I legitimately want to help deliver you the best, quality result, without costing you a fortune. I'm always online, I always turn up when I say I'm going to turn up and I'm always fair – that's why I should never be your 'number two'.
What She Said : Kel Hughes – Kings Park
"To anyone that needs a lovely, well spoken, polite, trustworthy reliable tradesman! Michael Downing is your man! Michael is absolutely fabulous and comes with a wealth of knowledge. He is extremely trustworthy and very honest. I would never hesitate to refer him to anyone else and in fact have done many many times.
*SPECIAL OFFER HDMs* – GET YOUR FIRST SERVICE CALL FREE (VALUED AT $60).  JUST MENTION THIS LISTING WHEN YOU CALL.
Send message to listing owner