QUICK-FLO PLUMBING SOLUTIONS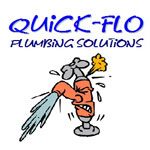 Business Name:
QUICK-FLO PLUMBING SOLUTIONS
If you're looking for a plumber who is honest, reliable and offers great service, contact Darin from Quick-flo Plumbing Solutions. We're a small family owned local business since 2001 in Kellyville Ridge.
Our services include:
General Plumbing Maintenance
Hot water system repairs and replacements
Sewer blockages
Pipe repairs and camera inspections
Leak locating
Renovations to kichens, bathrooms etc
Gas installations and repairs
We work with home owners, rental agencies, insurance companies, kitchen renovators, bathroom renovators & builders. No job is too big or too small.
Other Locations:
Sydney, Central & South Coast
Ratings
There are no reviews yet.
Good Local plumber with quick response. I needed a quick fix and they were more than happy to oblige rather than trying to hit me up with a the more expensive full repair.
The best plumber we have ever used! Reliable, honest, professional, prompt, and trustworthy. Highly recommend Darin to anyone.
Darin is a great man and an excellent plumber. very trust worthy, takes pride in his work, was so easy to get along with and gave us a very good job and price for what we needed done. would Definetely use him again.
Darin is very professional and helpful and I highly recommend his work.
We use Darin for all of our plumbing needs.
We had an emergency with our Hot Water System and he was out straight away. Darin and his team fixed the job and we had hot water in 24hrs.
Would highly recommend Darin and his team from Quick-Flo Plumbing Solutions.
Sam McArthur
|
03/07/2018
Karen charles
|
02/07/2018
Would absolutely recommend Quick-Flo Plumbing. Darin is friendly and professional and will always turn up on time and on budget. A lovely family business that I am happy to support.
We needed a plumber urgently to do a small job, found Darin on FB and he did the job the next day. So impressed with the job and even better with the price. Highly recommend
Keryn Sadler
|
02/07/2018
I was recommended Darin and Jackson from Quick-flo Plumbing Solutions a couple of years ago and was so impressed – they are efficient, well-priced and friendly. I highly recommend them
Darin and his team came the rescue of my blocked drains the night before we were due to go away, Darin had no problem fitting me straight away and did a fantastic job. I recommend him to everyone I know in the hills who need a plumber.
Sarah Barlow
|
02/07/2018
I have used Quick-Flo Plumbing for about 6 years & would highly recommend them. Darin is very reliable, helpful & friendly and does a great job with very reasonable prices. I wouldn't use anyone else.
Claire Diiorio
|
02/07/2018
Darin installed our hot water system and his service was excellent. My husband has also used him for his maintenance business and his service has always been top quality, well priced and from friendly. Would have no problem recommending him to others.
Christie Wallace
|
02/07/2018
Would recommend Quick-flo and Darin every time! We have used them several times now for various jobs and always found their efficiency and professionalism to be A1!!!
Honest, reliable and reasonably priced!
Quick-Flo Plumbing has been doing the maintenance at our children's school for years. They are reliable, trustworthy, fair and efficient. Darin is a true professional and always does a top quality job. If you are looking for an honest local plumber, look no further.
Maria Trinidad
|
01/07/2018
So professional and friendly. Quick Flo fixed my plumbing problems so quickly. I was very grateful. Wouldn't go anywhere else. #bestplumbersaround
Darin is honest and reliable. Highly recommend
A fantastic, honest, friendly, local family business who will do a clean and accurate job the first time. Could not recommend more
We used Darin to replace a toilet cistern and found him to be very fast and efficient and, more importantly, fair in his pricing. We are very happy with his work and will use him for any future work that's needed.
Annie Acevedo
|
01/07/2018
Professional, friendly, reliable and honest. Can't recommend them highly enough.
Margaret Dawson
|
01/07/2018
Would only ever trust Quick-flo plumbing for any plumbing work at our house. Darin is always trustworthy and does a quality job.
Carrie Partridge
|
01/07/2018
Darin is helpful, quick to respond and knows his stuff. Would recommend him to anyone.
Send message to listing owner