Sewing Time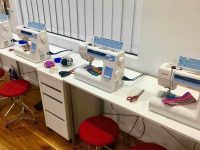 With over 25 years of extensive industry experience here and abroad, Sewing Time was created from my own passion for sewing. After teaching my daughter to make her doll's clothes, I saw how excited and proud she was to sew her own creations and I realised that I needed to pass this knowledge down to the next generation of children!
Classes are held in my fully-equipped sewing studio with one sewing machine per child, 2 over-lockers, and all materials are provided. All classes are limited to 4-5 students per class to ensure individual attention to each student. Sewing Time follows the Sewing Spot curriculum. Classes are 1&1/4 hours duration, Monday to Friday after school, and on Saturdays. We also run full or half day school holiday workshops. The cost is $30 a week and includes all fabrics and trims needed to create a number of projects each term.
You'll be amazed with what your child can create in just a few lessons!
Send message to listing owner