TEN – The Emmaculate Nails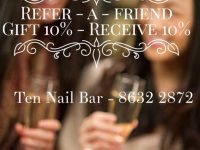 Business Name:
TEN – The Emmaculate Nails
Life is about creating experiences that are worth cherishing!
Welcome to TEN – The Emmaculate Nails! Experience a very unique environment which oozes with luxury, warmth and class. First of its kind Nail Bar in Australia. Get immersed in a relaxing, elegantly appointed and memorable esthetic atmosphere.
At TEN we strive to exceed all your expectations to earn your loyalty by being attentive to minute details and create unparallel experiences..
Our team of talented techs aim to deliver an unmatched level of service with a flawless result every time. All our product range is of highest quality with the most updated technology.
Are you a nail biter? Don't worry we have you covered as well. Would you love to spoil your little sweethearts? Come and bond with your kids while getting your mani/pedi done.
How does customised seating, vintage pedicure bowls and clever innovations (such as paying with a credit card on file, to eliminate smudge risk) sound? Come experience something that you have never experienced before?
We look forward to spoiling you at TEN with ultimate luxury so you can create your story and share it, Its time to GET NAILED!
Send message to listing owner
Listing title: TEN – The Emmaculate Nails