The Children's Preschool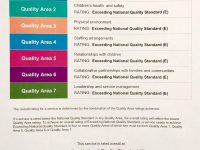 At The Children's Preschool (TCP) the education and care program is guided by the Australian Early Years Learning Framework (EYLF), 'Belonging, Being and Becoming'.
We believe in a community approach towards children's learning.
We celebrate the 'here and now' in children's lives and nurture who they are becoming.
Our educators hope to provide a loving and secure relationship with every child, giving families a sense of community and leaving their children with extended family.
Where traditional values meet contemporary practice. We value the integration of care, development and education, learning through concrete experiences and real life projects incorporating art, science, technology, engineering, numeracy and literacy, including the involvement of parents and communities.
Photographic documentation and written observations and evaluation of our program are published each day for families to read, respond to and share, providing opportunities for reflection, discussion in analysing children's learning and development.
Our play based educational program centres on empowering children with life skills to reduce, reuse, recycle, repair, be respectful and be responsible. By doing this we hope that children develop empathy, learn to be compassionate, respect difference, promote equality and live happy and healthy lives towards a sustainable future for themselves and others in their journey as young global citizens.
Underpinning our early years philosophy are child theorists, Bronfenbrenner, Vygotsky, Dewey, Gardener, Piaget, Singer and Malaguzzi. We are inspired by the Reggio Emilia Approach, Nature Pedagogy Forest Schools, Bush Kindergartens, and Experiential Pioneer, Claire Warden.
All families that wish to place their child on the TCP waiting list are required to attend an information session, held each Friday, fortnightly from 10am to 11am. At this session you will view the program, meet educators and be acquainted with The Children's Preschool philosophy, policies and curriculum.
Booking in advance is required via our website, following this link http://www.thechildrenspreschool.com.au/educational-tour.php
We are situated at the Glenhaven Community Centre, next door to Glenhaven Public School and the Tuck Shop.
We look forward to welcoming you as a member of our TCP Community.
Send message to listing owner