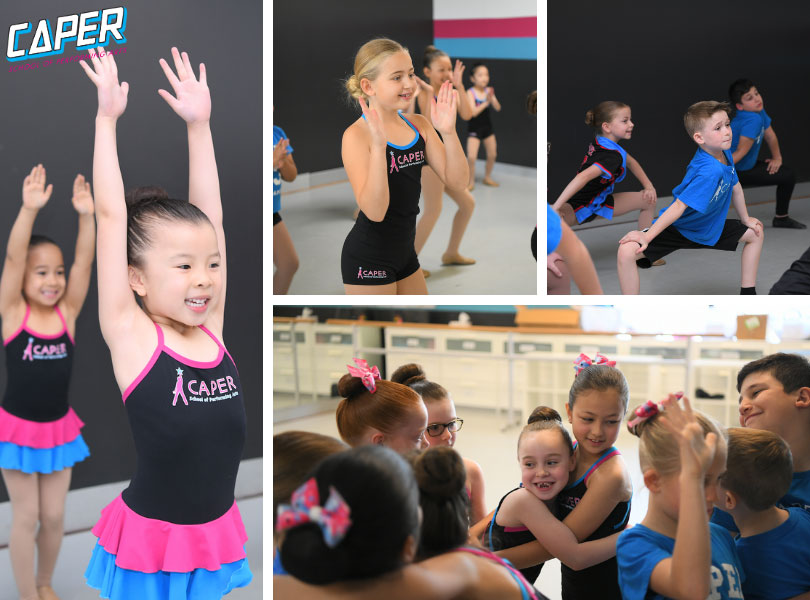 Caper School of Performing Arts has been operating in the Hills District since 2003.  Children from two years to teens and everything in between can join a variety of classes including ballet (RAD), tap (GWT), jazz, hip hop, contemporary, lyrical and musical theatre.
Caper prides itself for offering the best of both worlds – whether you dance for fun and fitness or whether you are a budding professional there are classes and opportunities to suit you! Come along to a free trial lesson and begin your journey into the world of performing arts.
Ready Set Dance (a combo class of jazz, tap, hip-hop and singing for 2-5 year olds)
Ready Set Ballet (a beautiful ballet ballet class for 3-5 year olds)
Caper Juniors (Kindergarten and Year 1 – A combo class is available in ballet, tap and jazz. Classes include ballet, tap, jazz, and musical theatre. We offer a great deal on a combo class of ballet, tap and jazz. Three dance styles in 90 minutes – Good things come in threes!
Pre-intermediate (Year 2 and Year 3), Intermediate (Year 4 and Year 5), Pre-Senior (Year 6 and Year 7) and Senior (Year 8 and up) – Classes include ballet, tap, jazz, musical theatre, technique, acrobatics and hip hop.
Directors and sisters, Kate and Beth McDermott, established the school in 2003 to offer premium dance tuition to pre-schoolers, recreational students and advanced dancers.  The school's name "Caper" means a playful leap, or form of movement and this defines the culture of Caper. Classes are held in a friendly, professional and nurturing environment and are guided by an encouraging and potential-driven teaching philosophy.  All staff share a commitment to training students to have solid technique as well as developing performance skills.  Confidence is gained through skill progression with effort recognised through formal and informal merit systems.  At Caper, students should not only reach their personal best in dance, but also benefit from increased self-esteem, creativity and social skills.
Location: Bella Vista (Norwest Business Park) | Contact: caper@caperonline.com.au  |  ph 8882 9879 / 0402 328 721  |   caperonline.com.au
Special offer: Contact us to book a free trial class.
Click here for our response to the COVID-19 Pandemic.