While pregnant, you often can't help but worry about how your baby is doing. Experienced obstetrician and gynaecologist Dr Indika Alahakoon suggests some ways to put your mind at ease.
As an obstetrician and a mother of four, I know all the worries and concerns running through your mind when you are pregnant. How is my baby doing? How do I know my baby is healthy? What are the signs of a healthy or unhealthy baby? To ease your mind, there are a number of ways in which we can find out more about the health of your baby including foetal movements, ultrasounds and chromosomal diagnosis such as NIPT (non-invasive prenatal testing). Let's have a look at each.
Fetal movements
You should feel your baby's first movements, called "quickening," between about weeks 16 and 25 of your pregnancy. If this is your first pregnancy, you may not feel your baby move until closer to 24 weeks. You're more likely to feel your baby move when you're in a quiet position – either sitting or lying down. As your baby grows, their activity will gradually increase from slight hiccupping twitches to kicks and jabs. From week 28, your baby will be moving around quite often but after week 36, the pattern of movements will change as your baby has grown and it's getting cramped in the uterus.
Ultrasounds and non-invasive prenatal testing
Ultrasounds provide such extensive information these days and there are different prenatal tests you can get in your first, second, and third trimester. Some check your health and others check the development of your baby.
Since becoming regularly utilised in prenatal care, ultrasounds have improved maternal health greatly in the last decades. The ability to see and determine features like the sex of the fetus combined with the fact that the technology helps to create a safer pregnancy has impacted the way in which women and societies at large conceptualise and experience pregnancy and childbirth.
Types of prenatal tests
Some prenatal tests are screening tests and some are diagnostic tests. Screening tests tell you if your baby has a higher risk of having a certain disorder or disease and a diagnostic test will give you a more definite answer. Usually, you'll get this kind after you have a positive result on a screening test.
I provide a large number of different scans and tests at my clinics and while most pregnant women don't need all of them, I do recommend these scans below as they cover your full pregnancy.
Dating scan
A dating scan will be the first scan performed during your pregnancy, scanning for viability and to exclude an ectopic pregnancy. The dating scan can determine:
Size and age of the fetus
Number of fetuses
A heartbeat
Whether there are any unusual features (fibroids etc.)
This scan is usually performed abdominally with our advanced 3D/4D ultrasound technology, although a vaginal scan may be necessary for pregnancies less than 10 weeks.
Nuchal translucency scan
A first-trimester structural  ultrasound is recommended for all pregnant women around 12-13 weeks of pregnancy. It is a non-invasive ultrasound procedure usually performed on the abdomen.
This assessment is important as it allows the diagnosis of major structural abnormalities in the fetus as well as potential fetal complications such as cardiac defects, genetic syndromes.  Screening for chromosomal abnormalities including Down syndrome can be performed using nuchal translucency measurement and ultrasound and biomarkers.
When determining your risk of chromosomal complications there are three independent risk factors used in the assessment – the mother's age; the mother's level of certain serums; and the nuchal translucency thickness in the fetus and the presence of the nasal bone.
Fetal morphology scan
A fetal morphology scan or anomaly scan is a routine ultrasound performed to confirm the health of the baby and is recommended at 19-20 weeks gestation for all pregnancies. It can:
Confirm single or twin pregnancy
Measure the fetus confirming the age and normal growth
Give a detailed structural review of the fetus to exclude abnormalities
Confirm placental position and cervical length
Identify gender (if desired by the parents)
The purpose of this scan is to ensure the healthy development of your baby which will involve assessing many specific areas such as the heart, spine, head, stomach, kidneys, face and facial structure. This is to ensure that any issues are confirmed early on and can be prepared for.
Third-trimester fetal growth scan
Your doctor may recommend an ultrasound scan during late pregnancy to confirm the ongoing normal growth of your baby. At the growth scan, we are able to measure important growth parameters of your baby such as head measurements, abdominal/tummy measurements, and limb measurements. This information helps us to provide an estimated weight of the baby and to ensure development is on track for delivery. We are also able to check the wellbeing of the baby during this scan by detecting fetal breathing and movement as well as placental and fetal blood flow using Doppler ultrasound.
What if a problem arises
In most cases everything will be on track, however, if any abnormalities are determined during this scan, you will need to consult your obstetrician. At Centre for Women's Ultrasound practices in Westmead and Bella Vista, I am available for consultations and second opinions. Counselling, advice on further management and further prenatal testing can be offered. If you have any questions at all regarding what we can provide in this situation, please feel free to contact my team.

---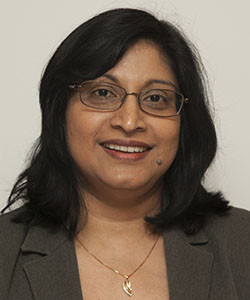 About Dr Indika Alahakoon   
In addition to being an experienced obstetrician and gynaecologist, Dr Indika Alahakoon is also an ultrasound specialist and a Maternal Fetal medicine Subspecialist. She manages high-risk pregnancies and is the current Head of Maternal Fetal Medicine at the Westmead Hospital. You can find her at her Centre for Women's Ultrasound practices in Westmead and Bella Vista.