Christmas Lights! A must-do for families in the Hills! Scores of families spend their own time and money doing up their houses just to bring joy to others. With the help of Hills District Mums in the know, we've put together a list of the best Christmas Lights in the Hills. 
If we're missing any great lights or you can provide an exact address, please comment on our Facebook page or email us at hello@hillsdistrictmums.com.au. If any of the below are not going ahead, please let us know. Also, if you have a photo of any we'd love to see it – send it to us at hello@hillsdistrictmums.com.au and we can add it to the list. Thank you to everyone who does up their houses at Christmas time! The joy and magic you bring is very much appreciated.
Disclaimer: We've tried our best to provide accurate information. We apologise if any of the above is incorrect or disappointing. Please let us know so we can keep the list up to date. Also, people choose to put up their lights at different times. We expect the majority of lights to be erected by mid December.
BAULKHAM HILLS: Geraldine Ave, Marcel Place, 149 Baulkham Hills Road, Brokenwood Place, 13 Evesham Crt, Solent Circuit (Hillsong), Reppan Avenue, Juniper Place
BEAUMONT HILLS: Tamara Place
CARLINGFORD: 59 Oakes Road, 7 Lindisfarne Cres, 12 Watton Road, Dunrossil Avenue, Windsor Avenue
CASTLE HILL: Squire Place, 9 Lisa Crescent, 136 Excelsior Avenue, Grandoaks Place, 22 Brushford Ave, 17 Brookfield Way, Murrumba Place and Minago Place.
CHERRYBROOK:  Lonicera Place, 17 Copperleaf Place
CONSTITUTION HILL: Elm Place
DURAL: Jenner Road
GLENHAVEN: 26 Mills Road, 8 Evans Road, Beacon Avenue
GLENORIE: Tecoma Drive, Dobbie Place
GLENWOOD: Casino Road
GREYSTANES: Camellia Street, Cumberland Road, Carnation Street
KELLYVILLE: Garnet Place, 37 Marsden Avenue, Karinya Place, Hector Court, Carmelo Court, 76 Arnold Avenue, 37 & 39 Marella Avenue, 44 Mawarra Crescent., 30 Kirkcaldy Circuit
KELLYVILLE RIDGE: Bruton Ave, 37 Merrillville Road, Chino Place
KINGS LANGLEY: Corner of Kempe Parade and Clerke Pl, Briscoe Cres, Parkinson Street, Sutherland Avenue, Keppel Street
KINGS PARK: 87 Camorta Close
LALOR PARK: 19 Purcell Crescent, 45 Lawson Street, 107 Kennedy Parade
NORTHMEAD: 45 Grasmere Rd, Dorset Avenue
NORTH ROCKS: 4 & 10 Hepburn Road
OLD TOONGABIE: Nulang Street, Calga Place
PENNANT HILLS: 25 Jackson Cres
QUAKERS HILL: Mallee Street, Keon Place, Cathan Street, Manorhouse Blvd
ROUSE HILL: Noble Way, Hills Illuminate at Rouse Hill Town Centre
SCHOFIELDS: Dongola Circuit
SEVEN HILLS: Beethoven Street, Nice Place
STANHOPE GARDENS: Trafford Lane, 6 Tilbury Avenue
THE PONDS: Bellinger Street
THORNLEIGH: Oakleigh Road
TOONGABBIE: 6 Vancouver Ave, Rausch Street
WEST PENNANT HILLS: 67 Eaton Road
WINSTON HILLS: 40 Caroline Chisholm Drive, Caledonian Avenue, corner of Oakes Road and Edison Parade
UP FOR A DRIVE?
And while not technically in the Hills, if you're up for a drive to see some spectacular lights there are a couple of other locations:
DAVIDSON: Cambage Court even has a website!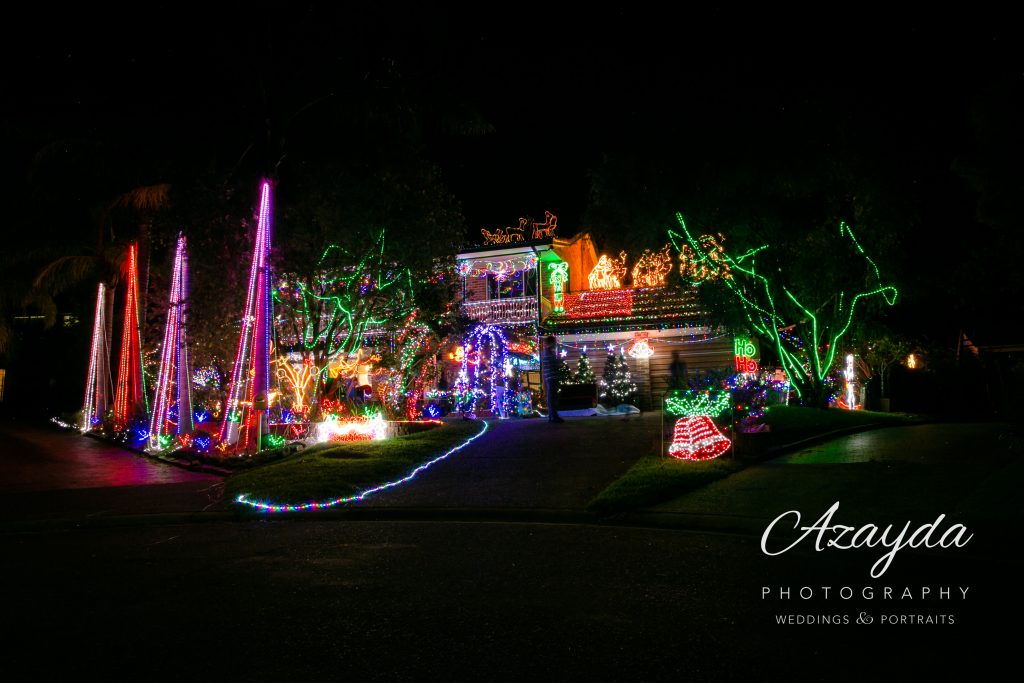 HORNSBY HEIGHTS: Sydney Road
NORTH RYDE: Chauvel Street
ROPES CROSSING: 34 Dunlop Avenue
Other articles you might be interested in:
Marcel Place Baulkham Hills
Geraldine Avenue Baulkham Hills
Brokenwood place Baulkham Hills
Hillsong Solent Circuit Baulkham Hills
Evesham Street Baulkham Hills
Juniper Place Baulkham Hills
Reppan Avenue Baulkham Hills
Tamara Place Beaumont Hills
59 Oakes Road Carlingford
Watton Road Carlingford
Lindisfarne Cres Carlingford
Windsor Avenue Carlingford
Gardenia Place Castle Hill
Minago Place Castle Hill
Murrumba Place Castle Hill
9 Lisa Crescent Castle Hill
22 Brushford Avenue Castle Hill
Squire Place Castle Hill
Excelsior Avenue Castle Hill
17 Brookfield Way Castle Hill
Joanne Close Cherrybrook
Lonicera Place Cherrybrook
17 Copperleaf Place Cherrybrook
Elm Place Constitution Hill
Jenner Road Dural
26 Mills Road Glenhaven
8 Evans Road Glenhaven
Tecoma Drive, Glenorie
Casino Road Glenwood
Camellia Street Greystanes
Cumberland Road Greystanes
Carnation Street Greystanes
Garent Place Kellyville
Arnold Avenue Kellyville
Marella Avenue Kellyville
30 Kirkcaldy Circuit Kellyville
Bruton Avenue Kellyville Ridge
37 Merriville Road Kellyville Ridge
Chino Place Kellyville Ridge
Kempe Parade King Langley
Parkinson Street King Langley
Briscoe Place Kings Langley
Sutherland Avenue Kings Langley
Keppel Street Kings Langley
19 Purcell Crescent Lalor Park
45 Lawson Street Lalor Park
107 Kennedy Parade Lalor Park
45 Grasmere Road Northmead
4 Hepburn Road North Rocks
10 Hepburn Road North Rocks
25 Jackson Cres Pennant Hills
Nulang Street Old Toongabbie
Calga Place Old Toongabbie
Mallee Street Quakers Hill
Keon Place Quakers Hill
Cathan St Quakers Hill
Manor House Blvd Quakers Hill
34 Dunlop Avenue Ropes Crossing
Rouse Hill Town Centre - Hills Illuminate
Noble Way Rouse Hill
Dongola Schofields
Beethoven Street Seven Hills
Nice Place Seven Hills
Trafford Lane Stanhope Gardens
Tilbury Avenue Stanhope Gardens
Bellinger Street The Ponds
Oakleigh Road Thornleigh
6 Vancouver Avenue Toongabbie
Rausch Street Toongabbie
67 Eaton Road West Pennant Hills
40 Caroline Chisholm Drive Winston Hills
Caledonian Avenue Winston Hills
Corner of Oakes Road and Edison Parade Winston Hills
Dobbie Place Glenorie
37 Marsden Avenue Kellyville
Camorta Close Kings Park
Hector Court Kellyville
Karinya Kellyville
Baulkham Hills Road
Dorset Avenue
Carmelo Court Kellyville