I was offered the opportunity to visit City Cave Bella Vista a few times over the past month, to try out their services and share with you what you can expect if you've considered trying float therapy or infrared sauna (there's been lots of chat about these in our mums group lately!)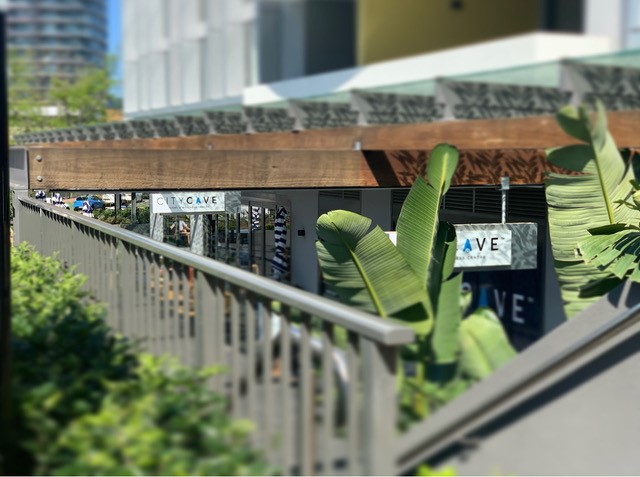 The first thing to mention is that saunas and float therapy have come a long way! I was worried my claustrophobia might be triggered doing either of these activities. Let me put your mind to rest, straight up. Visiting City Cave and experiencing their infrared sauna and float pools is nothing short of luxury. Not only do they offer their signature float therapy and infrared sauna treatments, you can also book a remedial massage—highly recommend!
But let's start at the beginning. City Cave Bella Vista is perfectly situated. Only a two minute drive (or leisurely stroll halfway around the lake) from Norwest Metro station, yet in quiet, lush surrounds. There's plenty of untimed street parking just around the corner. Located on the ground floor of flash serviced apartments and with a trendy-but-relaxed cafe next door, you'd be forgiven for thinking you'd arrived at a resort.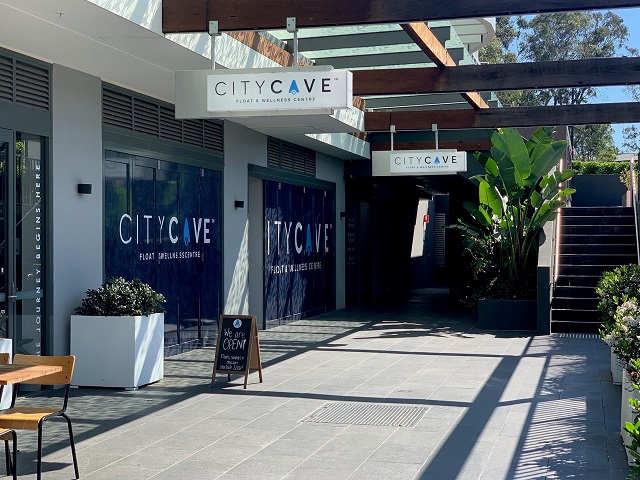 Stepping into the Cave, Jaime or one of her team will be at the desk to warmly greet you. The waiting room is comfortable and relaxing, and there's always someone available to pour you a herbal tea or water.
Staff explain everything thoroughly before you get started, but I thought I'd share with you those 'good to know' bits and bobs that you might be wondering, if you've been considering getting either of these treatments.
Infrared sauna
Using light-generated heat, infrared penetrates your joints and cells to promote circulation, reduce inflammation, detoxify your skin and of course, help you relax.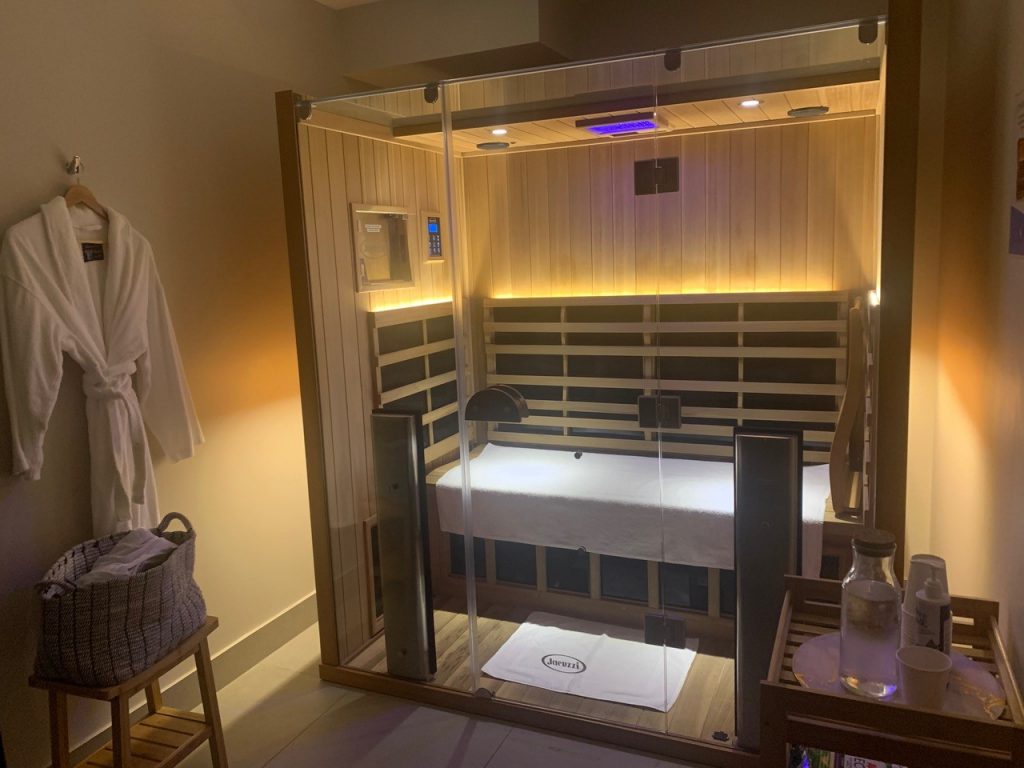 Good to know:
You are going to SWEAT! Sounds obvious, but the room isn't steamy so you may be fooled into thinking it's just a "mild" sauna. Nope! Follow their suggestion to get totally undressed and make use of their towels instead. You have the whole room to yourself, including a shower for afterwards (unless you're also getting a float, in which case hold off on the shower!)
They provide robes (hello, day spa vibes) for you to wear between treatments, and a basket for your bag and clothes, which you can take with you back out to the waiting room.
The sauna itself is a self-contained unit within your room. The whole front half is glass, so you won't feel locked-in—you can step in and out as you like.
You control the temperature.
The sauna has a Bluetooth speaker! This is cool. I listened to podcasts while I relaxed. There's a glass box to keep your phone from overheating.
Float therapy
Float therapy at City Cave is done in a double-bed sized 1,000L pool, with 400kg of Epsom salts, making it denser than the Dead Sea. The water and room is set to skin temperature. When I was still, I truly couldn't feel where the water and air met!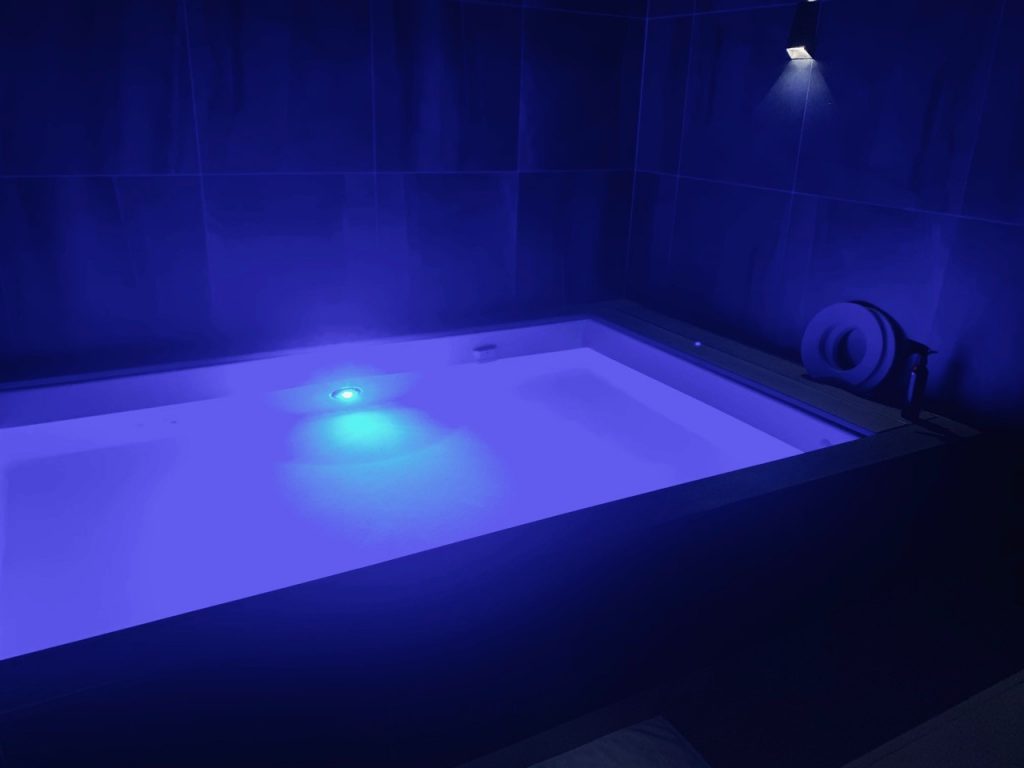 The benefits are plentiful. Sure, relaxation is the first item on the list. Plus, it's a gem for those of us who have joint or muscle issues. Magnesium is great for reducing inflammation, and floating weightlessly is a real pain reliever. However the big ticket is for those who are sleep deprived, and the key is having at least two or three floats. Why? Because the first float is fun, but you are still orienting yourself to the experience and don't get quite to the "deep relaxation" level. However, on my second and third floats: wow. I likened it to going under anaesthesia. It felt like no time passed and I still don't know if I nodded off at all, but I emerged feeling like I'd had a full night's sleep.
Good to know:
Between each float, the water goes through a filtration process. Additionally, the pool has 400kg of salt so bacteria is not able to cultivate.
The room is all yours, with a locking door.
You're given a set of ear plugs at your first visit and they ask you to bring these with you on return visits (you can pick up a new pair for a couple of dollars if you forget).
They recommend you float in the nude to get the best sensory experience.
Couples float: you can float with a friend! You won't get full sensory deprivation as you will be in close proximity to your partner (you share the same pool), however it can be a good bonding experience. I took my husband to one of my floats and it felt like we were otters holding hands while floating!
You can also float while pregnant.
You need to have a quick shower before hopping in the pool to remove oils and perfumes etc.
The light switch is in the pool, so you can get comfy safely. The room is pitch black when the lights are off.
You'll know when your hour is up, as relaxing music will start playing and will slowly increase in volume. If you miss the music, a voice will start talking over the speaker!
Afterwards, have another shower to wash off the salt. They provide body wash, shampoo and conditioner and towels, but you may want to bring a comb.
With the current restrictions due to Covid-19, the hair drying and skincare bar is closed, but I am looking forward to it reopening so I can give the Dyson hairdryer a whirl!
I feel like we're really lucky to have City Cave here in the Hills and for all the mums that need some time out, relaxation and a little pampering it really is the perfect option.
---
Lee is one of Hills District Mums' long term Community Moderators and a mum of 3.
*** Thanks to City Cave Bella Vista for hosting Lee ***
City Cave Bella Vista – Shop 3, 2 Natura Rise, Bella Vista
citycave.com.au  |  bellavista@citycave.com.au  |  Facebook.com  |  Ph: 8320 6199