CoolSculpting – freeze away your unwanted fat forever!
What?? Did I read that right? Where have you been all my life? And WHY haven't I heard of you?
When Dr Sandercoe and his team offered me a trial of this procedure I was pretty sceptical. I mean, there are so many 'quick fixes' out there that do little more than slim down your wallet. But I have to say, this is different because the science makes sense and it certainly seems to work.
So, what is CoolSculpting?
CoolSculpting is the using of a vacuum type appliance to suck up the 'problem area' – like a giant hickey! – and then cool it right down. The area is held and chilled for an hour and in that time the fat cells die. Fat dies at a different temperature to other body tissues – that's what makes it possible for only fat cells to be targeted. It's relatively painless, there's zero downtime where you're out of action and no scarring. Sign me up! It's not a solution for obesity, more to remove a problem area like the mummy pouch or that inner thigh area we all love so much!
These are the example photos I was shown.  Definitely something I'm interested in!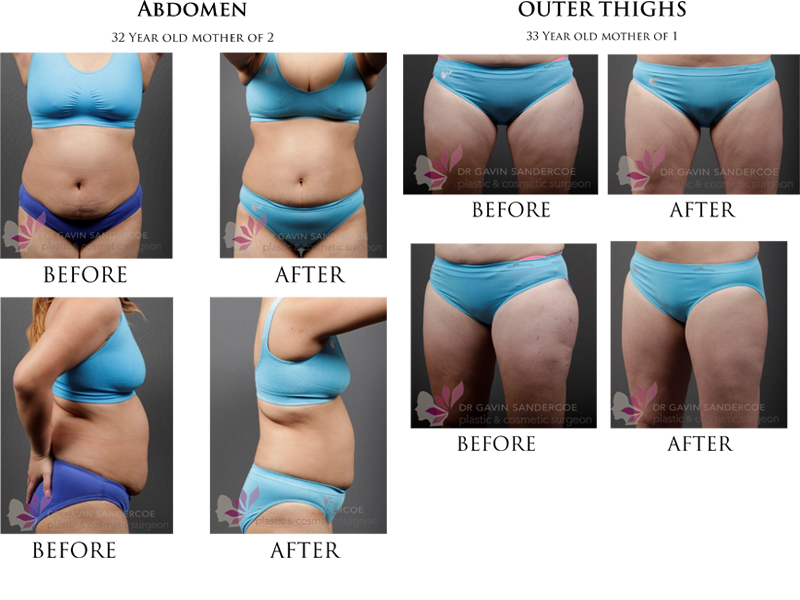 When I arrived at Dr Sandercoe's rooms, everyone was really nice and welcoming. Isabella and Kristie were relaxed, very reassuring and happy to answer all my questions (and address my scepticism). Having them make me feel comfortable certainly helped, as I then needed to strip down to my underwear and have all my fat deposits squished and assessed under harsh lights.
Once we agreed on the area to be treated I was taken into a room with a big comfy chair, ipad and two pretty serious-looking machines! I was positioned and the appliance was applied with gel to my 'love handle'. Incidentally, I'm not sure where the love comes into this handle as I hate it!
The suction was then applied – this was only mildly uncomfortable. The chilling started and this was painless too. Then the ladies covered me up, offered me lunch, water and an ipad, and left me in peace and quiet for an hour – a very pleasant added bonus of the treatment for any mum! Now I don't know if it's because of how many kids I have, or testament to how pain free this process is, but I fell asleep! I kid you not.
Once the hour was up they removed the suction head which left this VERY attractive firm pink lump on my side called the 'butter stick'. Delightful. Essentially a lump of my frozen fat! Then they have to massage it firmly for two minutes. Now this part was not pain free – it wasn't toe curling awful but I certainly knew it was going on. Then, as the area warmed up, I found it a bit stingy and cold for a few minutes. So, all in all, about 5 minutes of discomfort for what will hopefully be a pretty decent outcome.
Once home, I was a bit sore and bruised for a few days and felt a very weird numbness that lasted about a week. Now it's a waiting game. Apparently my dead fat cells will be cleaned away by my body over the next 6-12 weeks to reveal the more slender me. I go back again soon for a complimentary massage and follow up. They suggest two treatments on an area will give more than double the benefit. At this point I'm pretty keen to go back and do it again, as well as give my tummy some attention.
The only downside of this procedure is the cost. It's not cheap, but if you compare it to other cosmetic procedures like liposuction or nose jobs it's much much cheaper. It works out costing from around $650 per treatment cycle depending on how many you do.
Soooo, as I watch my results appear I'm already saving up and planning on heading on back to see them again. The consultation is free. I highly recommend you at least going and finding out for yourself how great it is!
---
Thanks to Dr Gavin Sandicoe for the complimentary procedure.
Dr Gavin Sandercoe – plastic and cosmetic surgeon
info@drgavinsandercoe.com.au
1300 112 358
10 Norbrik Drive, Bella Vista