We're so lucky to have a gorgeous spot like Yarramundi right next to the Hills. It's a popular spot recommended by lots of Hills District Mums as a great place for a day out. And we totally agree! It's an excellent spot for families, especially on warm days, with perfect paddling and splashing conditions! It's not far from the Hills at all and your furry friend can visit too! It's one to add to your list if you haven't been before.
Yarramundi Reserve is a picturesque area where the Grose and Hawkesbury-Nepean Rivers merge. Where's Yarramundi you may ask? It's basically next to Richmond if that helps. So it's not far at all!
The water is extremely shallow so is great with small kids. There are slightly deeper spots but only up to about mid thigh on an adult at most. Our 6 and 4 year olds had no problem at all walking around. The water was clear and mostly very clean too.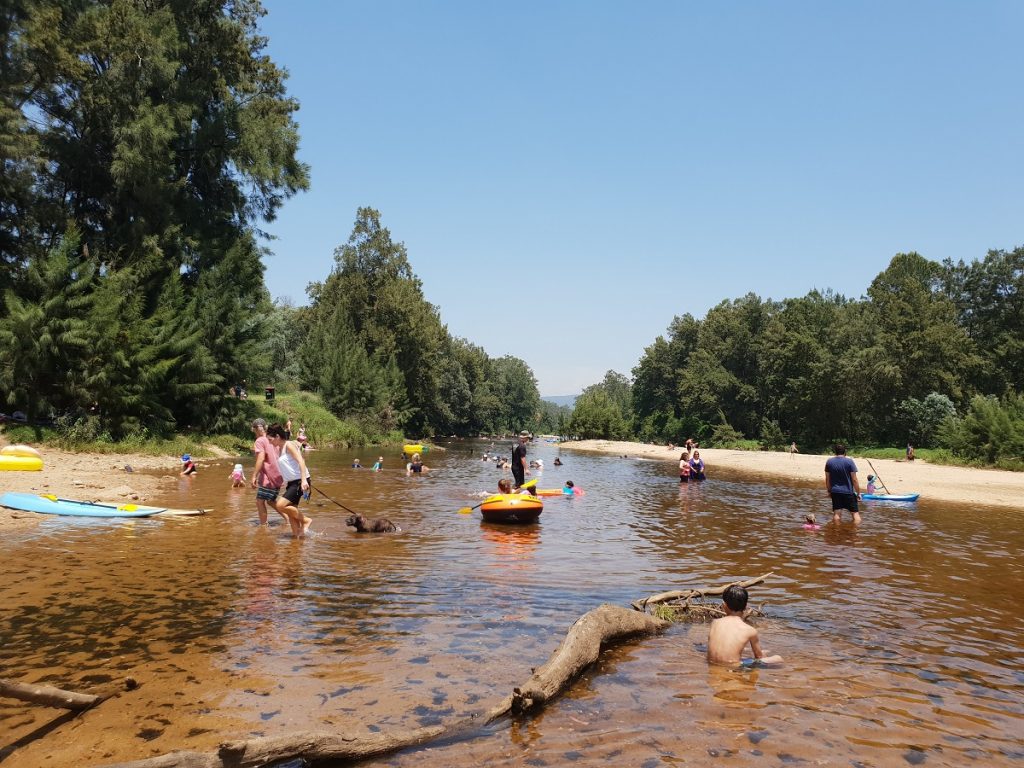 If your kids like to bob around on inflatables, this is a good spot for it – there were giant watermelons and pretzels spotted, and a blow up dingy too. There's lots of space so you don't feel crowded. We asked a local if he considered it busy when we were there and he said it was about medium. We also loved the peace and quiet – even though there were quite a lot of people, no one was making lots of noise and you can't hear any passing traffic, just the sound of birds and the trickling water. And kids having fun!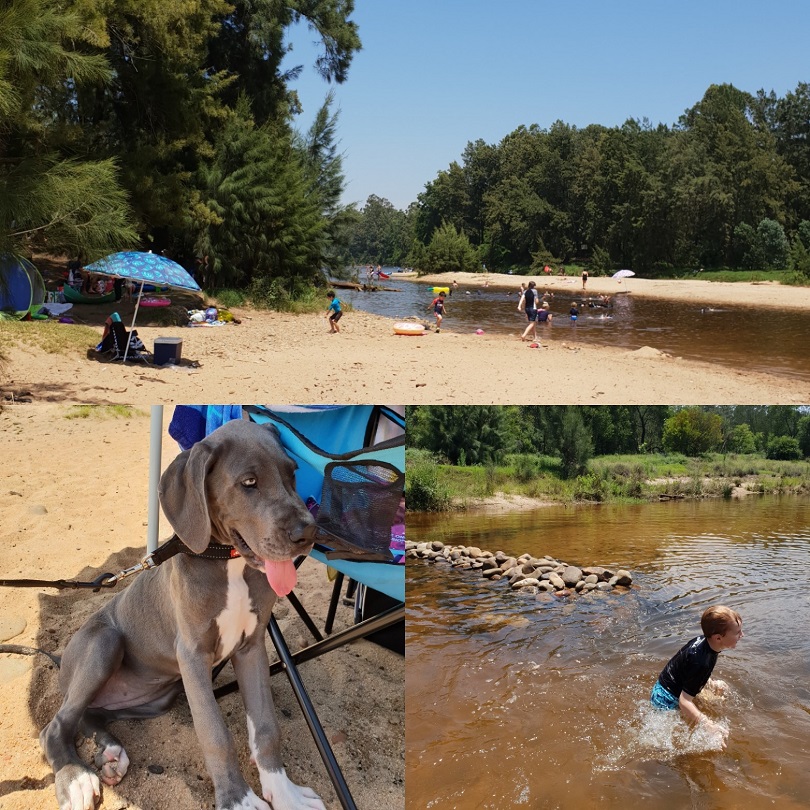 Yarramundi Reserve is dog and horse friendly too which makes it very unique. Dogs can be off leash here so if you have kids that are a little wary of furry friends, it's worth keeping in mind. Although when we visited all dogs were really well behaved and loving life! Owners know their dogs and some remained on leash. We didn't see any dogs bothering kids – they're too busy splashing about!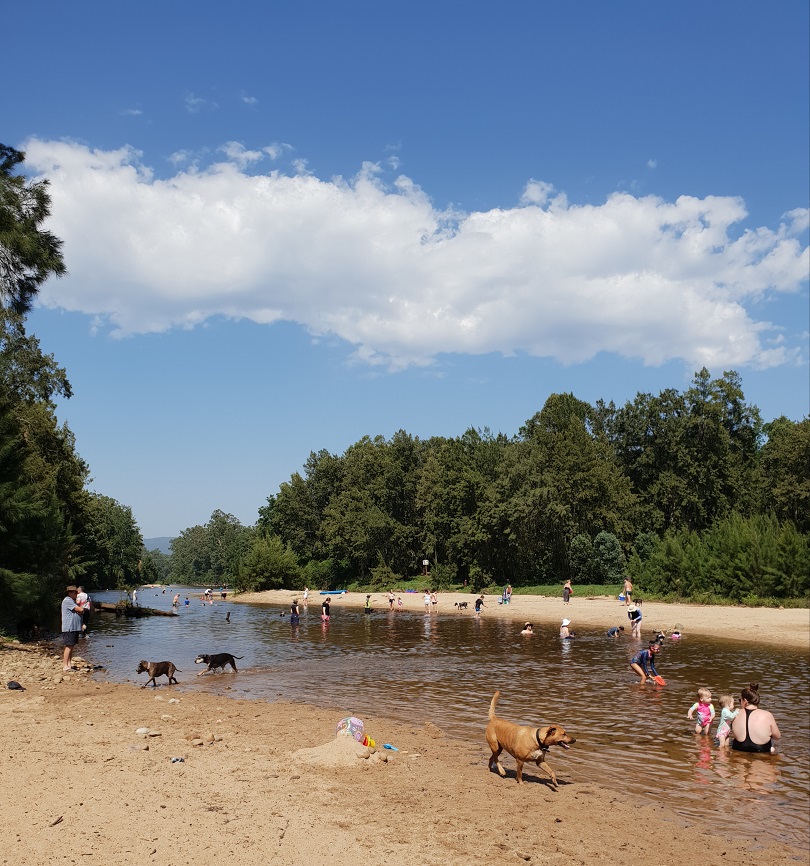 It's a great spot for exploring, so you don't have to spend all your time in the water. And in fact Yarramundi would be perfect for a picnic in cooler months too – you don't have to visit only when it's warm. There's shade in spots under the trees but if you miss one of those prime spots, we took a beach umbrella too which was good.
There are tiny little fish to spot and lots of pebbles and stones to keep everyone busy. Other kids had toy trucks and buckets and spades too. You could also canoe or kayak if you did so slightly away from the main area where most of the kids are playing. And if you're keen on fishing, that's an option too, although we can't promise it would be a success!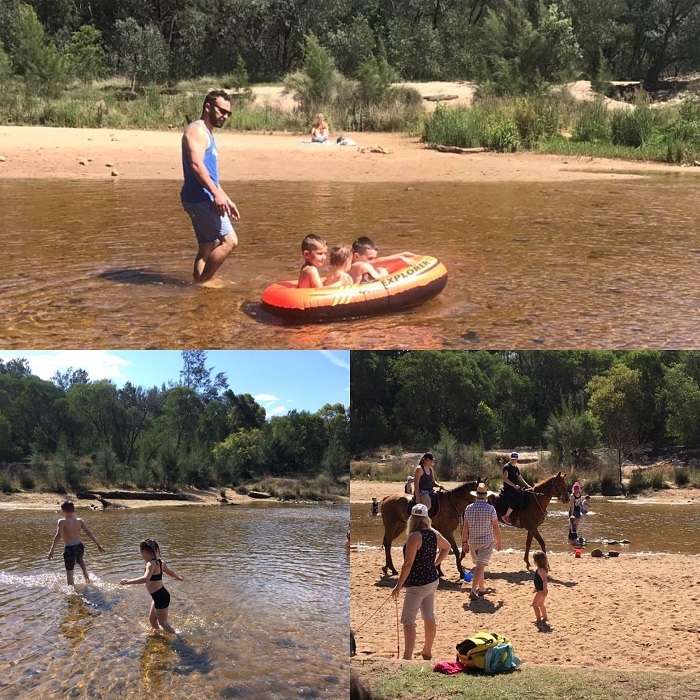 The logistics: Enter via the main gate on the Northern side of Springwood Road rather than the smaller southern gate. There's a car park with quite a lot of spots and the water is only a short two minute walk from there. There are loos near the entrance if required, although we didn't visit so can't vouch for cleanliness. The 4 year old said they were smelly! And it would be a few minutes' walk from the water back to the toilets. The sand is quite coarse and a little rocky so if your child is a bit funny about that, some reef shoes would be handy. And of course, take all rubbish with you when you leave – there are lots of bins around.
---
Yarramundi Reserve
 LOT 7301 Springwood Rd, Yarramundi.
Approx 40 minutes / 36kms from Castle Hill.