It's becoming increasingly popular but what exactly is it and how is it done? And most importantly, does it hurt?! This little HDM guinea pig found out!
Eyebrows. They're quite the long term hot topic in celebrityland and are up there with body shape, bootys and hair-dos as far as critiquing goes. Do you like them thick and on the bushier side (a la Lilly Collins, Sophia Vergara and Cara Delevingne) or slender and arched like Megan Fox and Angelina?
I have always appreciated a good brow and know they frame your eyes and balance your face. I have taken the time on mine in the past because I'm fair, but that care and attention was pre-kids. Now, I do what I can when I can, which usually involves a long-overdue trip to a beautician when they're very fair and unruly once every 3 months or so. In between visits I make do with an eyebrow pencil.
So, when the opportunity came up recently to road test the feather touch semi-permanent cosmetic tattooing technique I was intrigued to say the least. Actually, for about 3 minutes I thought "No bloody way. Imagine how shocking it would look if it went wrong" because I was thinking of the old school pirate's blue black tattoo in a thick line above my eyes like Cruella de Vil or Doctor Spock. Not the best look on a redhead.
But then I took to Google and checked out Jane Simpson's website. Jane is the owner of HiBrow EyeBrows. I was astonished with the results I saw and this piqued my interest considerably. To ensure I wasn't losing my mind I sent the link to my husband for some level-headed input. He was impressed and asked all the practical questions that evening – how long does it last? Is it hygienic? How's it done? Will it hurt? What if you hate it? How much does it cost? These are good sensible male questions so let's cover them now.
Feather brow tattooing is a semi-permanent tattoo technique that lasts 1 to 3 years. I asked Jane why it was such an imprecise period and she explained it's really dependent on your resistance to the pigment, sun exposure and products you use on your face. Essentially, if you look after yourself and your skin, the chances are it will last longer.
Jane works exclusively at licensed professional salons or doctors' surgeries in NSW. She is fully qualified and insured and adheres to a strict hygiene code of practice. Jane is a member of the Aesthetic Practitioners Advisory Service. She uses safe natural iron oxide pigments. After speaking with Jane and then meeting her, the classic image of a grubby hairy overweight biker tattooist displaying his bum crack was gone from my mind!
Jane had asked me to send through a photo in advance which I thought was a good idea. I didn't think too much about the procedure until I was driving there. And then I felt a little nervous. These nerves subsided as soon as I met Jane – she's the perfect combination of professional and personable and I instantly relaxed. She's not grubby or hairy either and I couldn't see her bottom!
The first thing was to get the colour right – a fairly important part of the process! Jane told me that after seeing my picture she had a particular tint in mind. Upon seeing me in person she still felt this was right. But we still looked at numerous colours that Jane applied to my forehead and the one I liked the most was the one Jane had mentally earmarked. Snap and a good sign I thought!
The forehead colour matching is important because colours look different on everyone's skin and can 'throw' up green, grey or blue tones for example. It also ensures you're comfortable with how dark the tint will be and at this point, combined with the before and after photos of previous clients I'd seen, I was fairly confident I wasn't going to hate the results.
A topical anaesthetic was applied to my eyebrows then Jane spent some time marking and evening them out at the sides in particular. She checked that I was happy with the shape and thickness. She then used a small metal hand tool – which looked like a teeny Stanley knife with tiny blades – to create fine natural looking hairline strokes into my skin.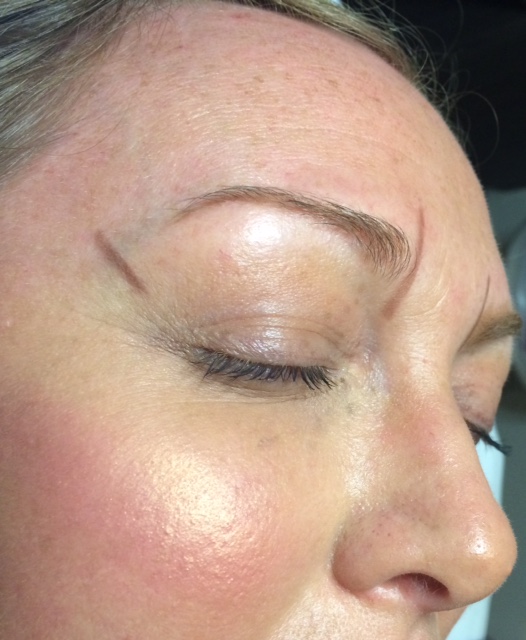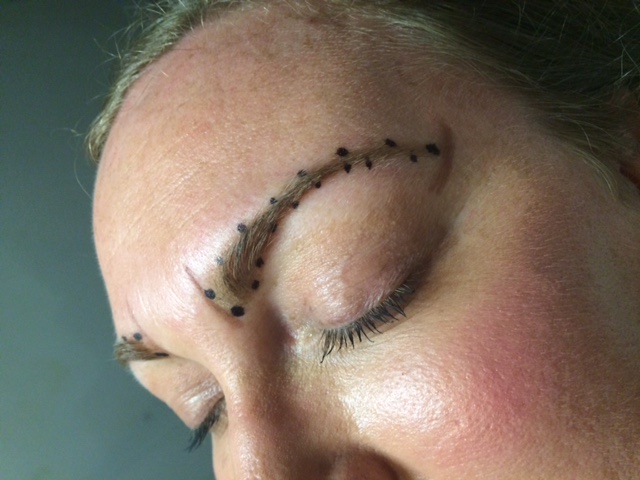 Does it hurt? No, not really. My benchmark for pain is childbirth so it was well below this! If I had to liken it to anything, it was similar to having my eyebrows waxed or plucked and on a couple of occasions there was a small amount of pain. Mostly, it made me feel like I needed to sneeze! The whole appointment took approximately 1.5 hours.
There was no visible redness afterwards, in fact it's more obvious when you've had your eyebrows waxed. The barrier cream Jane applied was probably the strangest sensation as it kind of froze my brows, but it lasts less than a day. Jane talks you through the after care required as well as what you can expect over the next month as your brows heal. Probably the most dangerous part was driving home as I couldn't stop looking in the rearview mirror!
A couple of days later they felt a little bruised or a kind of sunburnt feeling but it was nothing major. And then they were quite itchy as the healing continued. The colour has definitely faded from when they were first done, as Jane said it would by about 40%. And I am now waiting to see exactly what colour they'll end up being as the healing process continues over the next couple of weeks. Because I'm fair I may still need to get my eyebrows tinted from time to time to make the hair darker, as obviously the tattooing doesn't do this. But Jane thinks it would maybe only be a couple of times a year now.
So who would this suit? If your eyebrows have 'shrunk' with age, you've over plucked them, you have gaps in your brows, no eyebrows due to medical procedure, an old faded tattoo, or want an updated shape then you'd be a good candidate.
And mums. Time poor mums who, once upon a time, spent more than 3 minutes on their 'beauty' routine in the morning but now they're lucky to have brushed their teeth when leaving the house. Having 'done' eyebrows gives you an instant headstart. Whack on some mascara and lip gloss and you're ready. I've really enjoyed doing this over the past few days!
This little guinea pig is sold and I'll never look back now – well maybe in the rearview mirror to check out my eyebrows!
Me, before and after: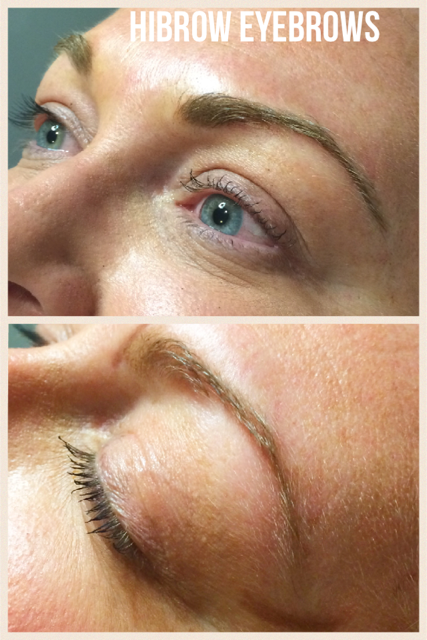 Some other before and after examples: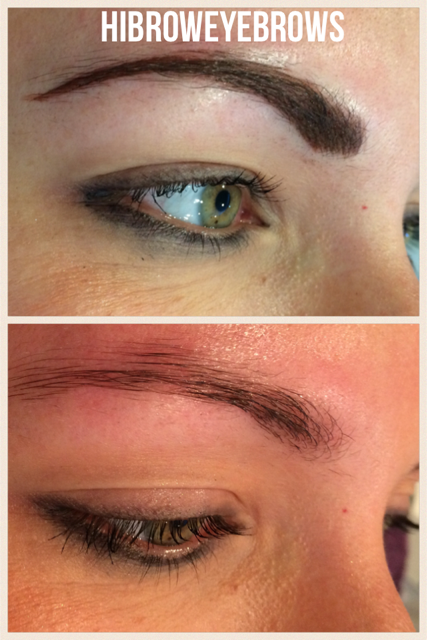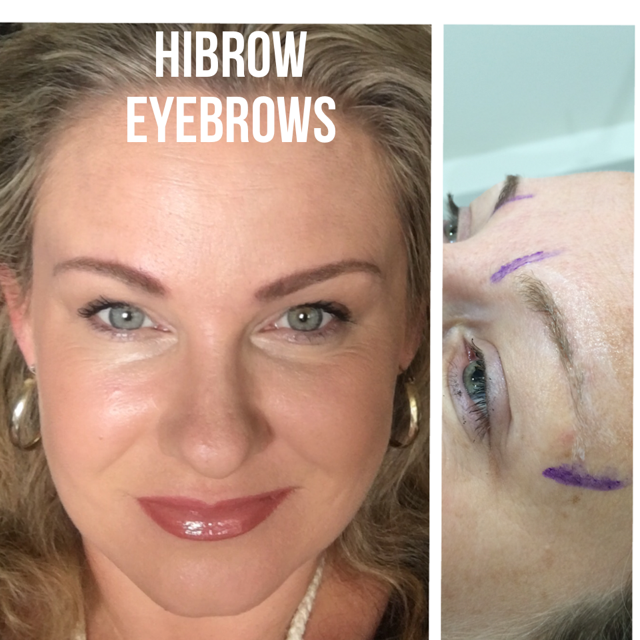 ---
HiBrow EyeBrows
Numerous locations throughout Sydney, including Bella Vista and Thornleigh.
Cost: $500 and includes thorough consultation, eyebrow styling, tattooing and after care advice. ​Follow up treatments are $150. Jane now offers a payment plan which is a great option. Details of the plan are here.
Jane Simpson: 0497 698 629
Thank you to Jane for her consultation.