Fairfield Adventure Park is an epic playground well worth a visit!
This playground has been designed for teens but there are sections suited to smaller kids too, so everyone will definitely have something to do! It's about 40 minutes from Castle Hill and there's parking right by the playground, next to the leisure centre. We had no problems getting a spot.
It's a big playground and, as you can imagine, can get really busy, particularly on weekends and in school holidays. So, if you do visit with smaller kids you'll need to keep an eye on them or you could lose sight of them easily and quickly. We find basing ourselves in one spot, so everyone can come back to a central location, works well if you do have slightly older kids who can be a little independent for a few minutes at a time but they'll still know where to find you.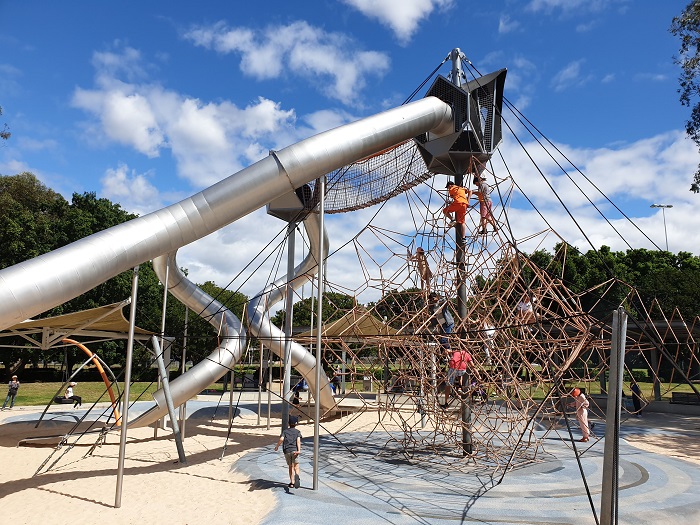 The 'hero' of the park is no doubt the 11 metre climbing net and attached slides. Mr 8 was really really keen to give this a go – he in fact tried to tackle it several times but got a little overwhelmed and came back down. He still talks about going back again to have another crack! It IS big, so smaller kids may not quite manage it, but the older kids were of course absolutely loving it!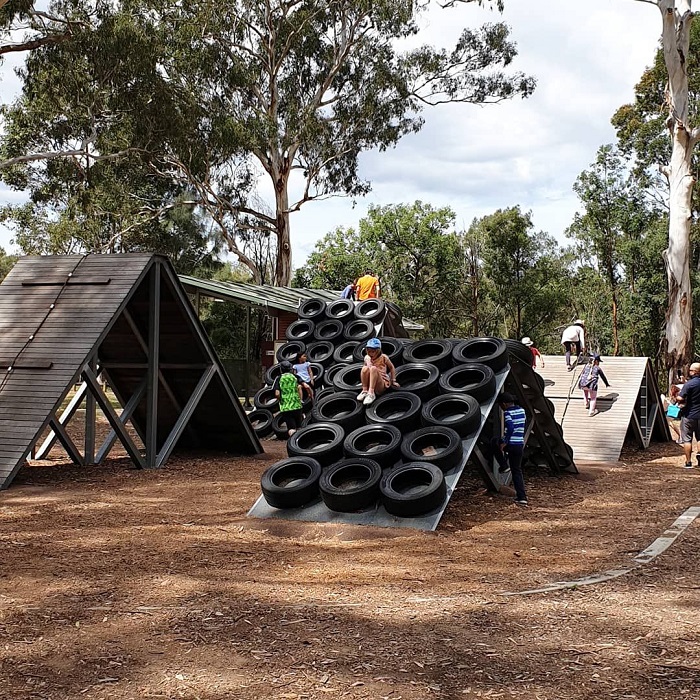 If the climbing net and slides are too much or lose their lustre after 94 goes, there's a heap of other equipment – lots made out of ropes and tyres – to keep kids busy and lots of it presents a bit of a challenge, which is great! The cool section with the suspended bridges made of ropes and platforms is great for primary aged kids and tweens.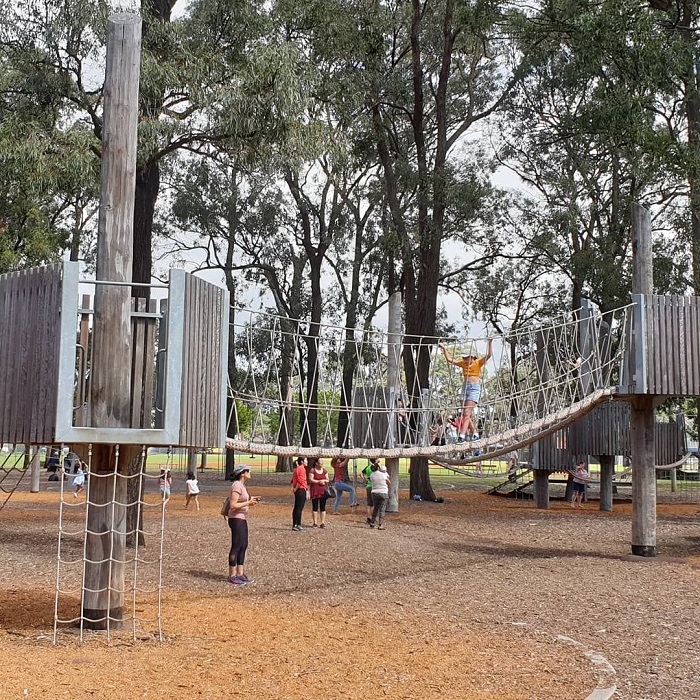 You could even plan your own ninja warrior style obstacle course throughout the park!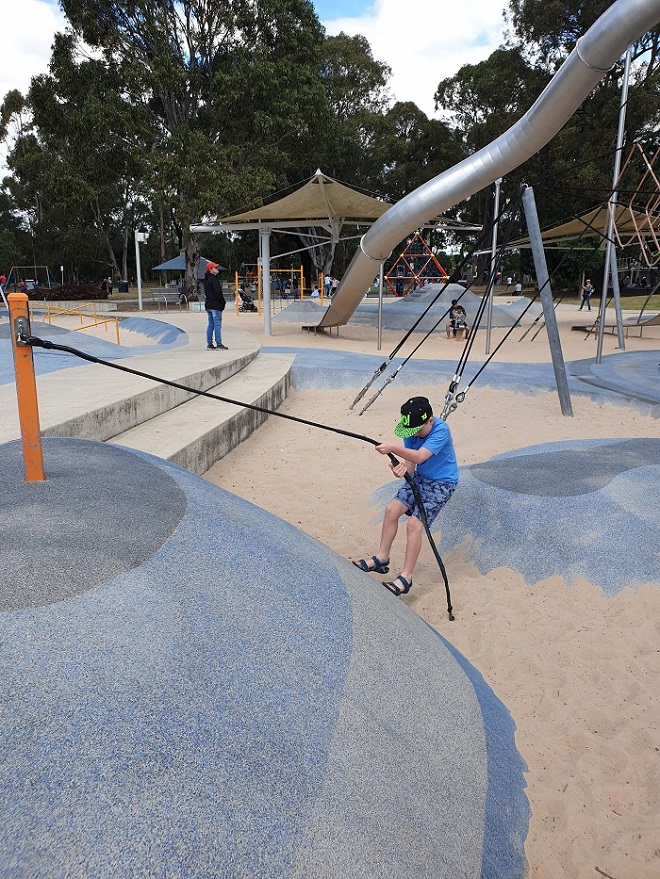 There's a smaller section also, which is good for younger kids. And there are flying foxes and swings as well. Also, there are flat paths, so you could even take scooters.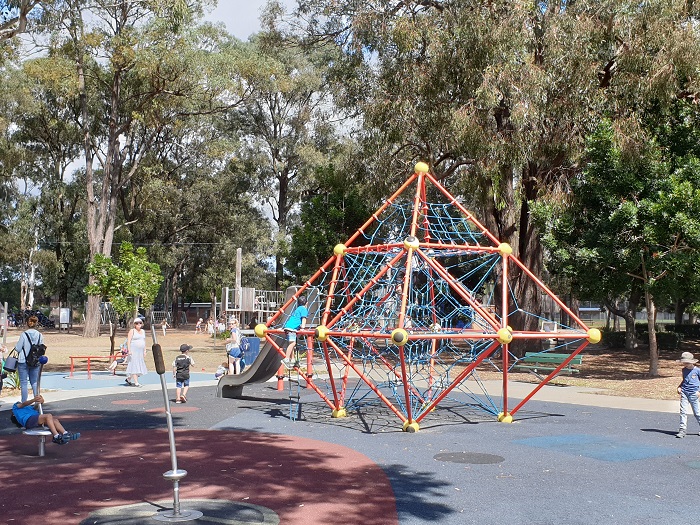 In terms of facilities, there are benches, shelters and barbeques as well as toilets, although we can't vouch for their state as we didn't use them. Trees and a few shade sails provide shade. Given how active your kids will be, we'd suggest enclosed sneakers.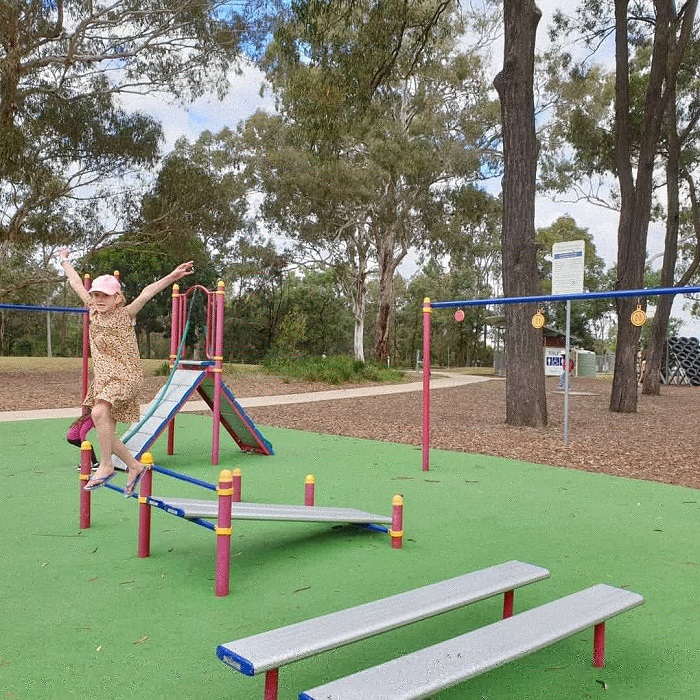 ---
Fairfield Adventure Park
Vine St Fairfield.