We'd heard of Arthur Street Cafe through Hills District Mums. We knew it had changed owners and had a bit of a spruce up, so we thought we'd check it out, particularly given it's now owned and operated by a lovely HDM! We visited on a lazy Monday morning, which was a nice way to ease into the week. It's in a residential street just off Seven Hills Road, so it's quiet and easy to park. They've done a great job with the new decor, a bit like a breath of fresh air. It makes the cafe feel comfortable, relaxed and somewhere pleasant to linger.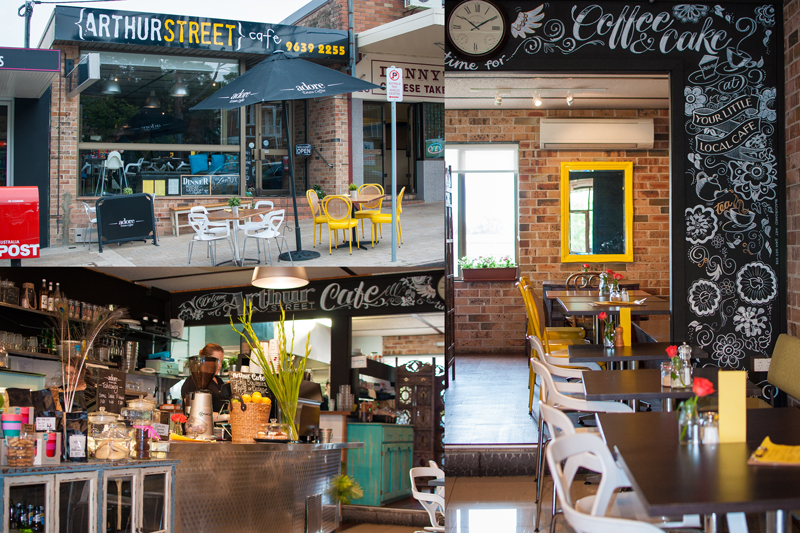 We were outnumbered by kids 2:3, with an age range of between 1 and 3 – this is always a slightly risky experiment, where you cross your fingers and hope for the best. Or at least hope that you're sitting far enough away from other customers that the inevitable spills, general clatter, grumbling, arguing and mess doesn't disturb them too much.
And that's what's lovely about Arthur Street Cafe – it seemed that nothing much could phase them and they're well prepared for kids, with an entire shelf filled with books, playing cards, crayons, blocks and even Connect 4! It means you instantly relax a little knowing that you won't be glared at if a little person throws a wobbly at some point.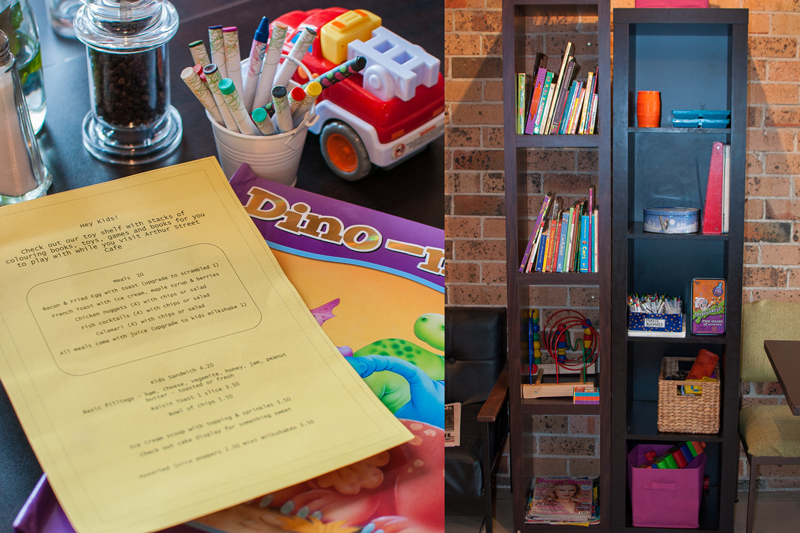 So we got ourselves settled, after various seat swaps and shuffling of highchairs, and eyeballed the menu once we'd ordered the much-needed coffees and chocolate milkshakes. Both of which arrived swiftly adorned with a jelly snake (milkshakes) and bite-sized biscuit (coffees) – a sweet touch. Even take away customers score one too!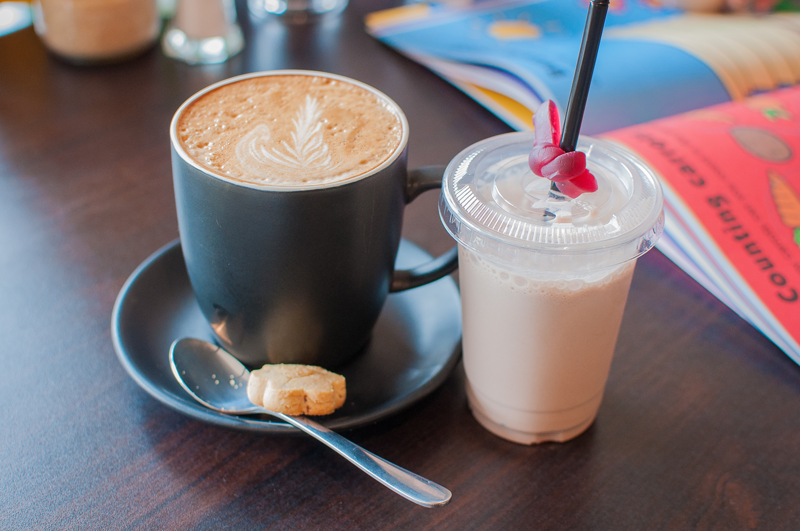 Given it was mid-morning we opted for brunch style options, but it was difficult to choose as everything sounded yummy! Our two styles of bruschetta were generous, fresh and tasty. There was the haloumi version with a large roasted mushroom, baby spinach, a poached egg and homemade pesto. The smashed avocado bruschetta came with tomato and Spanish onion salsa, feta and a balsamic drizzle.

It was hard to go past the sound of 'Arthur Street's Famous French Toast' so we didn't. And thank goodness because it was delicious! With cinnamon brioche French toast, poached pear, strawberries, a crumble topping, salted caramel sauce and double cream it was technically meant for the kids to share. Oops. On a sweets side note, we did spy the array of treats on display and they looked fantastic. The cakes are home-made by the owner's mum – love that!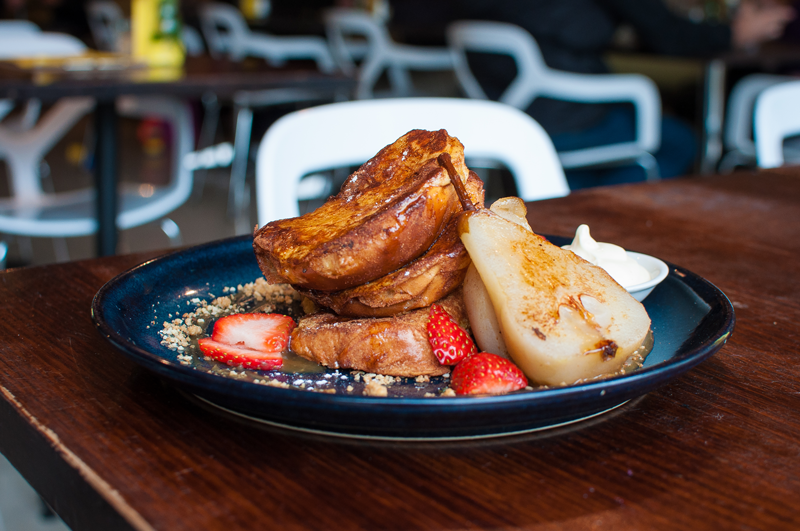 Arthur Street Cafe also does lunch as well as dinner on Friday and Saturday nights. And having perused the menu for both there's plenty on offer to satisfy all tastes – a couple of lunch options that caught our eye include the pulled pork roll and the Arthur Street Signature Salad of quinoa, beetroot, pumpkin, caramelised onion, fetta, rocket, yoghurt and candied walnuts .
For dinner the Yankee burger sounds awesome, the grilled barramundi with a crunchy Asian salad and wilted Asian greens would be a tasty healthy option and the roast duck with horseradish mash and caramelised apples sounds perfect now that the nights are cooler. The relaxed atmosphere means an early café-style dinner with the kids would be more than achievable. They have a fab little kids' menu too with several options to tempt even a fussy eater. Although a grown up meal sans kids would be VERY enjoyable too we're sure!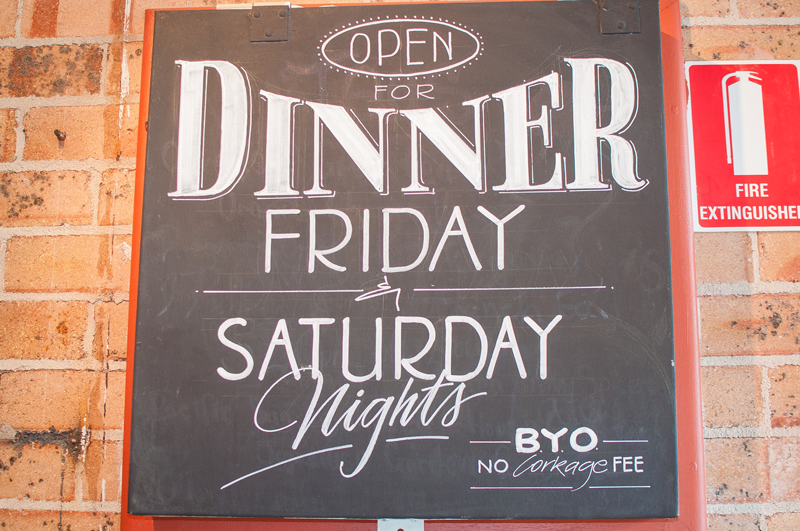 And they're mixing it up with live music every now and then – not always at night which is great if you've got kids so don't get out much in the evening. They advertise it on their Facebook page so check that out.
All in all it was a lovely way to spend the morning. How lucky must the locals feel living within strolling distance of this little gem!
___________________________________________________________________________
Arthur Street Cafe
26 Arthur Street Baulkham Hills
(02) 9639 2255
Thanks to Jo at Arthur Street Cafe for hosting us.