Bowl and Bean is a brand new eatery in Norwest offering the Hills District great HEALTHY options for breakfast, brunch, lunch and anything in between! We checked it out last week, a couple of days after it opened.
We love the story behind Bowl and Bean, and we love its cute name too! Behind the idea is Natalie, a local mum with three small kids who always wanted to create an eatery that provides quick, convenient, environmentally friendly, HEALTHY options for the Hills District – something that's largely lacking throughout the area.
The interior is light and bright with a couple of tables and bench seats available, as well as some outdoor seating under happy yellow and white umbrellas if the weather's nice. If you're needing to dash, there's an array of sandwiches and wraps available at the counter such as the poached chicken club or the BB salad sandwich. And there's a fridge stocked with kombucha, other drinks and a variety of pre-made cups to grab.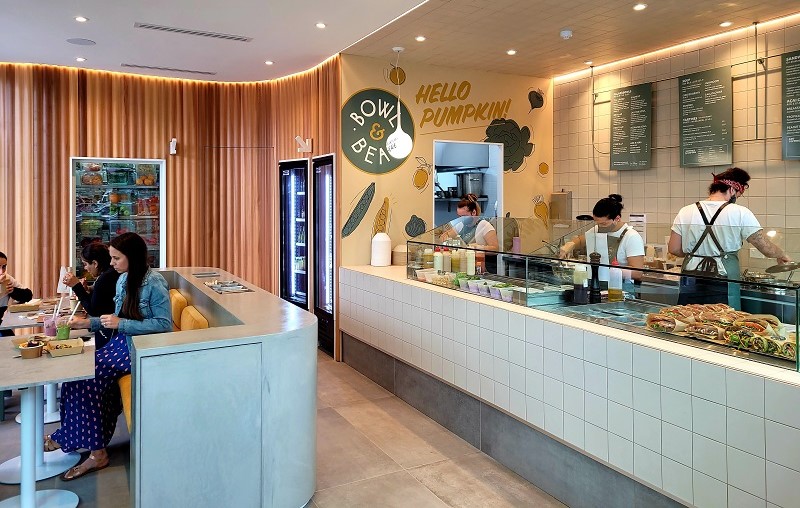 If you're dining in or meeting a friend, there are lots of options to choose from. If it's morning or afternoon tea you could opt for one of the lighter dishes such as bircher or granola cups, smoothies or 'tartines' – your choice of white, wholemeal or Gluten Free bread with various toppings. We tried the smoked salmon with cream cheese, cucumber, dill, picked onion & capers which was delicous and makes for a great light lunch. The ricotta, poached berries, vanilla, rosemary honey & almond version is the pick if you want a sweet hit.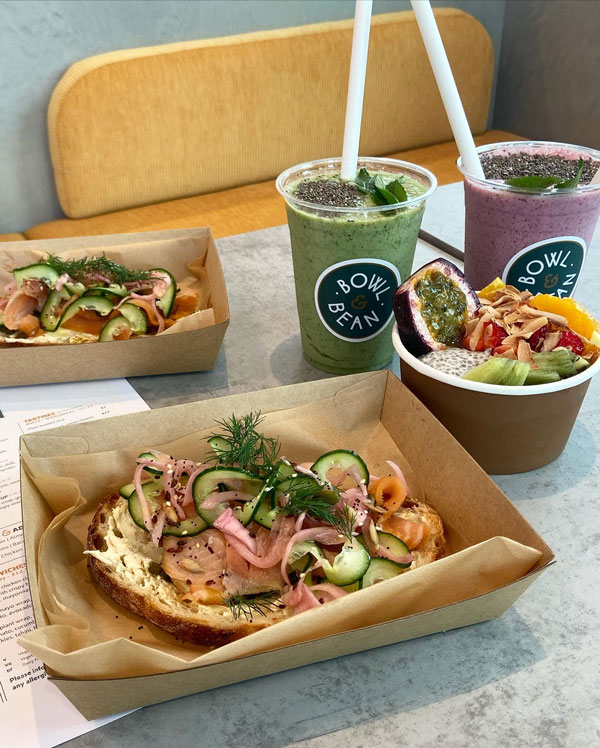 And if you're meeting for breakfast, brunch or lunch there are so many great healthy options. The salad bowls are generous and filling and there's something for everyone, from the Thai Crunch and Middy East through to the Cali Mex bowl and th Umami Hit which had – it was tasty, crunchy and fresh! You can add a variety of extra proteins to your bowl too, choosing from pulled beef, salmon ceviche, poached chicken and marinated tofu.
There are also numerous smoothies and three acai cups on the menu with lots of addional toppings to choose from to pimp yours just the way you like it! There are also soups on the menu too which sound yummo and would be great on cooler days and in winter or when you just have a hankering for soup!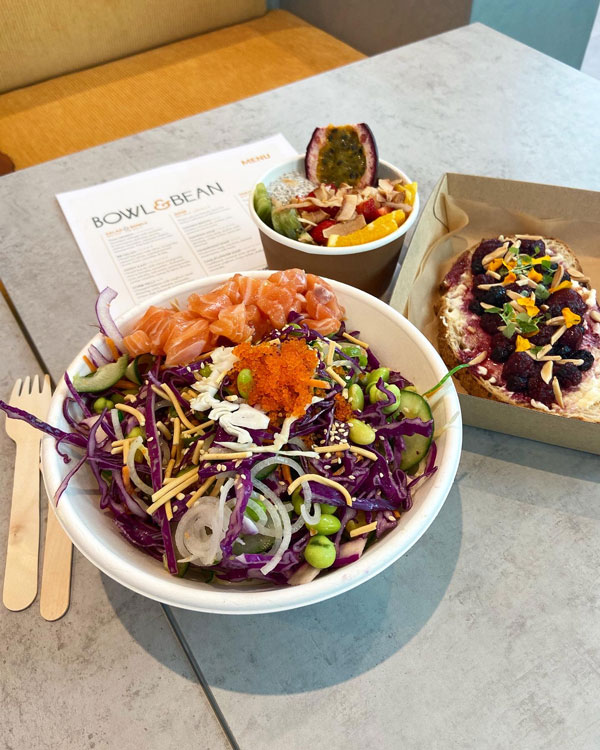 We're so pleased somewhere like Bowl & Bean has opened. It's a great addition for all the workers in the area as well as those who hit the various gyms near there and also busy mums who want something quick, fresh and healthy. Pop in and say hi to Hills District Mum Natalie!
---
Thanks to Bowl & Bean for hosting us.
Bowl & Bean
E205/32 Lexington Drive, Bella Vista.
Monday – Friday 7.30 am – 3pm.