We'd driven past the Crowne Plaza Hawkesbury Valley several times before and always thought it looked gorgeous. We finally visited recently for brunch and can confirm it's as pretty as a picture! 
As soon as we arrived at the Crowne Plaza Hawkesbury Valley we felt instantly more relaxed, which is nice for a couple of super busy mums. It's a little slice of the country only half an hour from Castle Hill and you do feel like you've left the hustle and bustle – at least for a couple of hours!
The Crowne Plaza Hawesbury Valley is well known for weddings, functions and their amazing day spa Villa Thalgo but they offer great drop-in casual dining options too – be it brunch, lunch, coffee or afternoon tea. It's a great option for mums for a number of reasons – there's plenty of parking, a gorgeous outdoor terrace where there's space for little ones & prams and delicious food!
We were fortunate to visit on a beautiful sunny Winter's day so we made a beeline for the courtyard. The brunch menu covers both savoury options and sweets. We had a great coffee while we awaited our grazing boards. These could obviously double as lunch items too. The Brunch Board offered smoked salmon, picked cucumber, tomato, capers, cream cheese, brie and warm mini bagels. The Antipasto option had lots of tasty morsels on it including leg ham, Danish salami, house marinated olives, fetta stuffed bell peppers, hummus and sourdough. Both were tasty, generous and could easily be shared.
We also had the bagels 3 ways – another great sharing option as there's two of each. There's a smoked salmon one (would be rude not to be!), a turkey, cranberry, brie & pickled fennel number and a chicken pate, caramelised onion, spinach and dijon mayo bagel rounds out the 3 variations. This final one was a seriously pleasant surprise – it was delicious! We also loved the fennel on the turkey bagel for something different.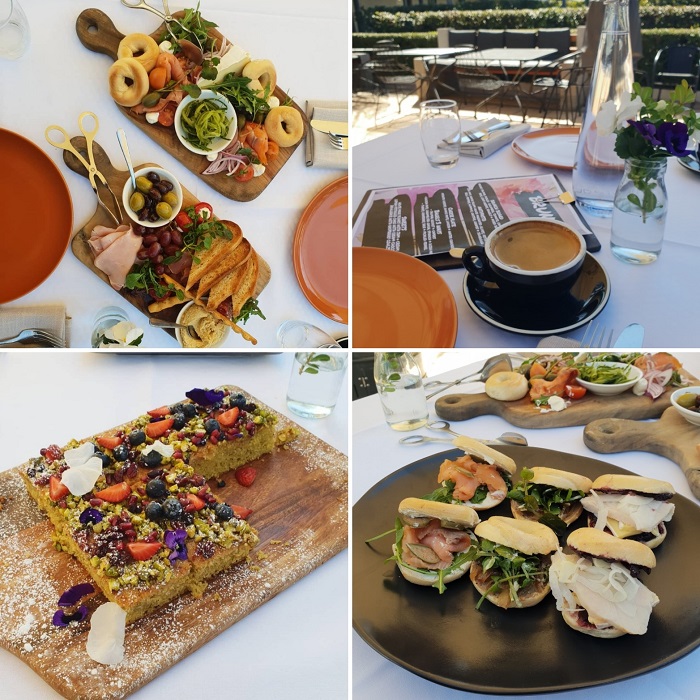 There's also a smashed avocado and a wonderbowl available – good excused to return we think! If you're after something sweet for morning (or afternoon!) tea they offer scones – while we didn't have them, it would be a lovely setting for this. We did try the lemon pistachio cake with cream which was warm, delicious and super pretty! And if you're a fan of high tea, the hotel does this Friday through to Sunday afternoons.
There's also a much larger lunch menu as part of the Harvest Restaurant & Bar which offers quick bites, wood fired pizzas, items from the grill and more substantial dishes. However, you can still choose to sit in the courtyard to enjoy them.
So don't be thinking that because it's a hotel you can't just pop in for brunch, lunch or coffee or that it doesn't offer more casual cafe style options – you most definitely can and it most certainly does!
And the team at the Crowne Plaza is giving away an in-house dining experience to the value of $100! Click here to enter: https://bit.ly/2Ms5Mex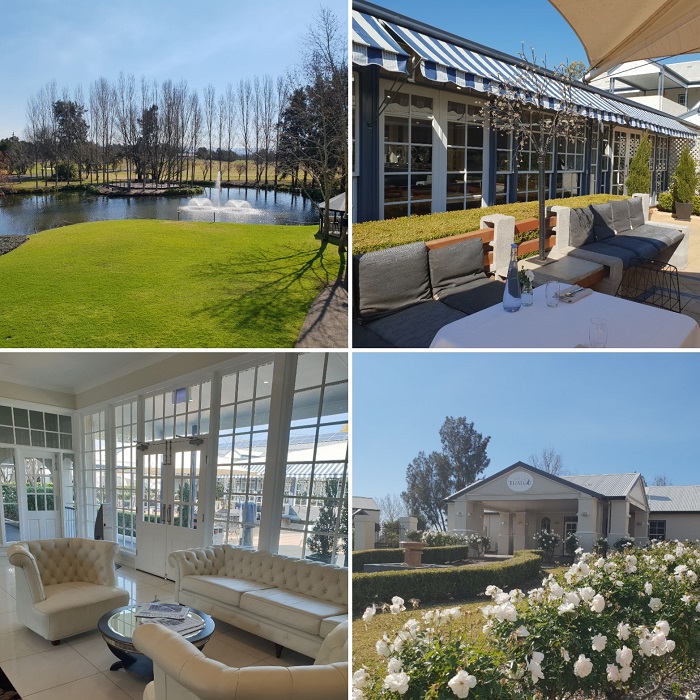 ---
Crowne Plaza Hawkesbury Valley
61 Hawkesbury Valley Way, Windsor.