When you mention George's Gourmet Pizzeria to someone born and bred in the Hills you're often met with the words – "George's, it's a Hills institution!". Posts on Hills District Mums evoke comments such as "OMG THEY HAVE THE BEST PIZZAS! Yummmm!", "George's rocks!", "Such a beautiful family! God bless. Can't wait for the new shop!" and "Hubster goes on and on about them haha, his favourite is Kelly's special".
Their food has always been hugely popular with locals and the service is warm and friendly, like you're part of their family. But with a redevelopment hanging over their heads for the last 15 years, let's just say their shop in Baulkham Hills was well overdue for a makeover.
While they knew the move was going to happen eventually, this is a huge change for a family that has operated out of the same shop for the last 30 years. Owners George and Kelly have literally raised their children in the old shop and now grandchildren have joined the tradition. But this family decided to embrace the change and the result is great. The best of George's Gourmet Pizzeria is still there. The food is fabulous – as Kelly says "When you walk into my restaurant you walk into my home" – and the service is still warm and friendly. The only thing that's changed is the location and décor – the fit out of the new shop is really cool and firmly brings the Pizzeria into 2015 without freaking out the regulars!
We were really excited to be invited to road-test the new restaurant before it officially opened. And we were lucky to be able to take some Hills District Mums and their kids with us. This is George's in a nutshell, with kids and families at its heart – the first people to be fortunate to visit the new digs are 4 mums and 5 children ranging from 15 months old to 4 years old.
The new restaurant is directly across the road from Norwest Private Hospital at CircaRetail Shopping Centre Norwest (note to the dads with children to be born next door, massive bonus points if you grab a takeaway pizza from here!). Parking is easy and George's is located on the corner of Norbrik Drive and Elizabeth Macarthur Drive.
First impressions – wow! Bright, spacious and trendy, with a brand new logo designed by a Hills District Mum. We were warmly greeted and welcomed into their new home. We love everything about the new fit-out, but particularly like the table that was made by the son of the family, Anthony, out of timber salvaged from their old shop – a lovely homage to where they've come from.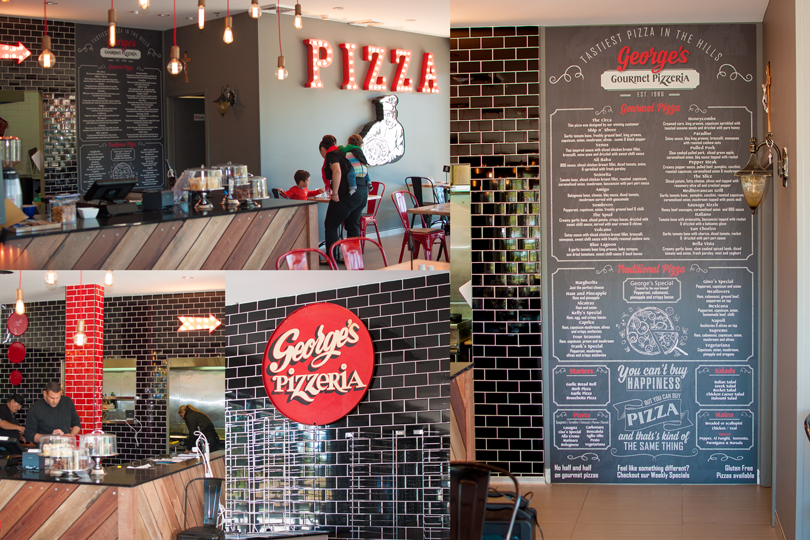 We were seated at a nice big table (important with numerous kids) and were looking forward to sampling the new menu. Cool coloring book menus were brought out for the kids and for the bargain price of $9.50, kids choose their own pizza toppings on a 6 inch pizza and get a pop top juice and donut treat. As a mum, it's nice to feel welcomed as a family and these little touches go a long way.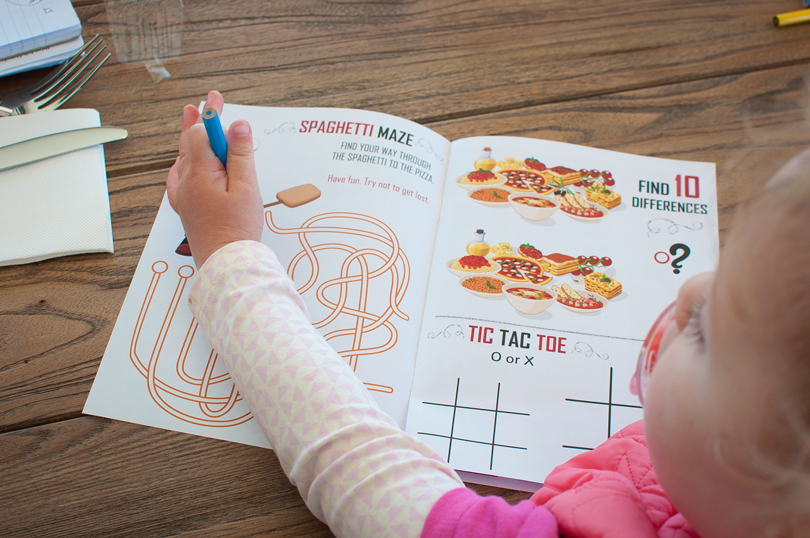 It was 12.15pm by the time we were settled properly and the kids were already getting restless! The sign of a good family restaurant is how quickly they can get kids' meals out and the mums at the table were pleased to see that it was fast! Phew, all was quiet.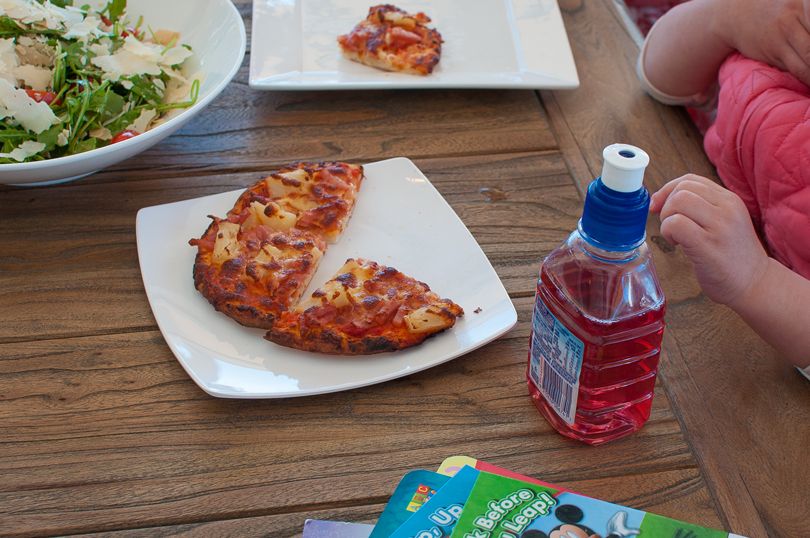 The mums started with two salads both new to the menu. The Rocket Salad, a combination of rocket, freshly shaved parmesan cheese and cherry tomatoes drizzled with balsamic and olive oil dressing and the Haloumi Salad – mixed lettuce, cherry tomatoes, capsicum, avocado, and grilled haloumi, all drizzled with George's home-made Zaa'tar vinegarette. Both were beautiful and fresh and a great start to the meal.

As the kids were quietly smashing their personal pizzas the Spaghetti Aglio Olio was delivered for the mums. However, the kids decided to tuck in too and loved the spaghetti tossed with cherry tomatoes, shallots, rocket and feta in garlic and olive oil.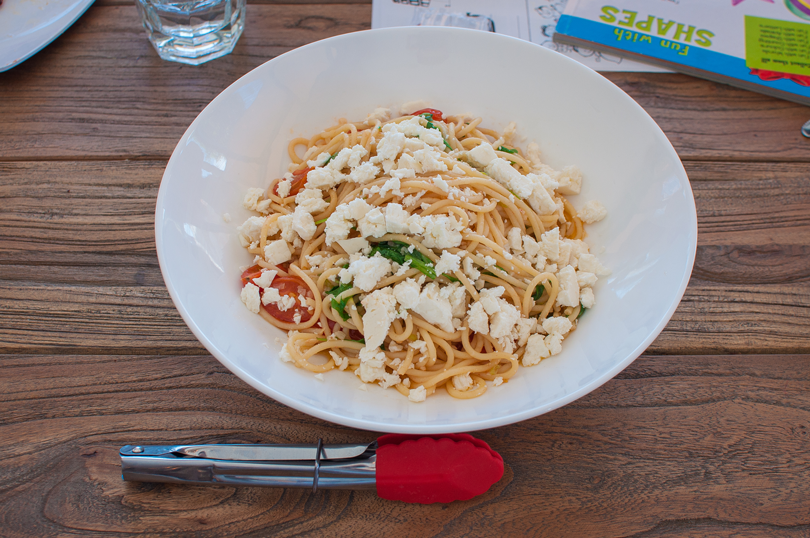 At this point the kids started to get restless again and the mums were feeling a little defeated as we hadn't even tried the famous pizzas yet. Out of nowhere comes Lisa, George and Kelly's daughter, who is also a Hills District Mum, with pizza dough for each child to play with. A huge hit!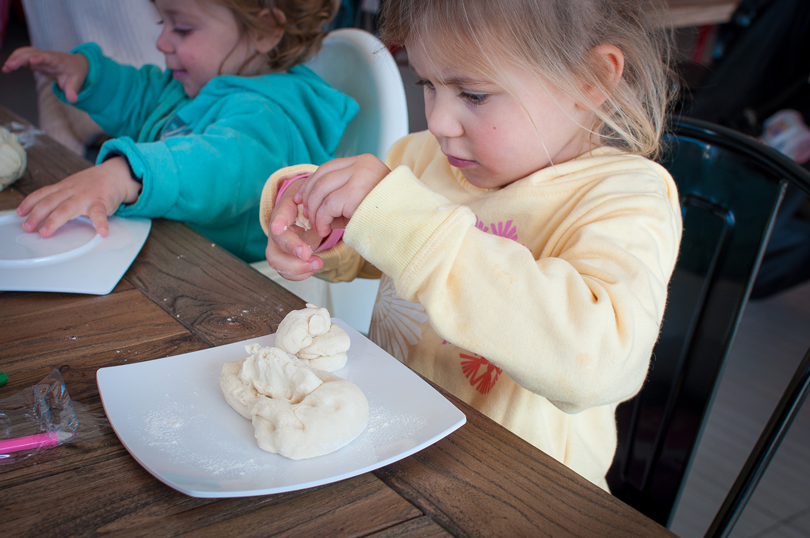 And then the pizzas appeared. We tried three – the Pulled Pork, with slow-cooked pulled pork, sliced green apple, caramalised onion, BBQ sauce topped with rocket – this was like roast pork on a pizza! The Pepper Steak – a creamy pepper sauce, pulled beef, pumpkin, zucchini, roasted capsicum, caramelised onion and mushroom – yum! And the Bella Vista, which was my favourite – with a creamy garlic base with slow cooked spiced lamb, diced tomato, onion with fresh parsley mint and yoghurt. The base of the pizzas is the perfect balance between thin and thick. And like everything at George's, the toppings are all fresh and the meats are slow-cooked by the restaurant and just delicious!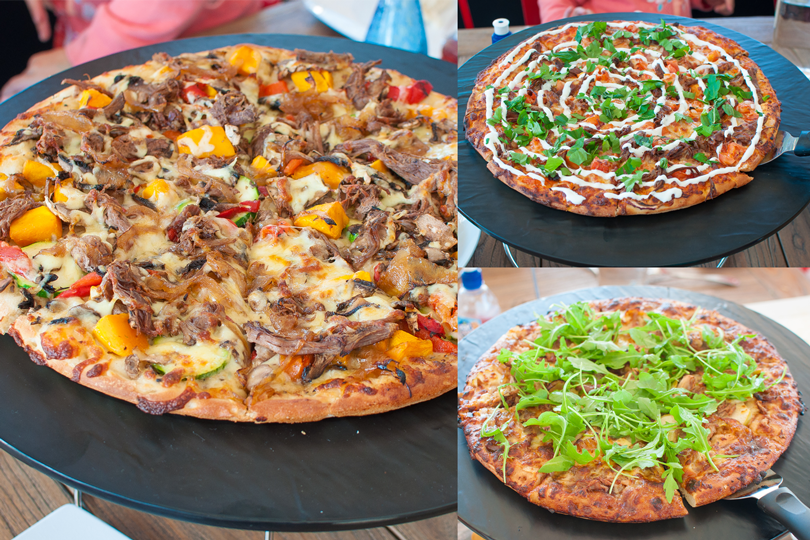 Overall the verdict from the four mums was a big thumbs up! A definite winner. And the kids, well all of them smashed their meals and they also tucked into ours.
Thank you so much for letting us preview George's and good luck for this exciting new chapter in a beautiful Hills family's story. You have so much passion and love for what you do and that is infectious!
---
George's Gourmet Pizzeria
Shop 15 1 Circa Boulevarde, Norbrik Drive
Bella Vista, Sydney, NSW