We were really excited when we heard Lil Miss Collins was springing up for the entire Summer at Bella Vista Farm! We'd visited when the pop up cafe was based in Parramatta and we loved the idea of it. Two clever brothers have managed to pack a cute little cafe into a shipping container and can now move around to pretty spots throughout Sydney. Genius! And we've got Lil Miss Collins in the Hills at Bella Vista Farm until the end of February.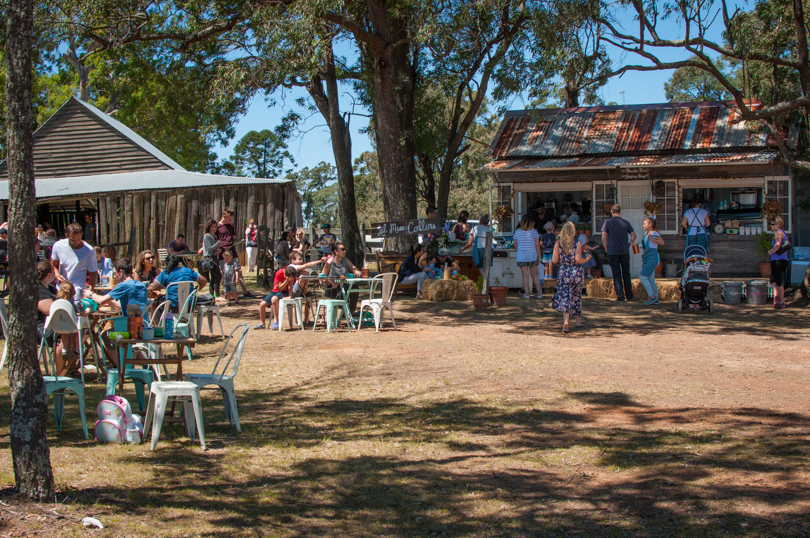 Styled to look like a rustic farmhouse, we love the little quirks and small details such as hanging baskets, hay bales and the retro bicycle. We also love that you're outdoors in the fresh air  – great for kids! There are tables but you can also throw a picnic rug down if your kids are more comfortable on the ground.
You're at the mercy of the weather so definitely consider this when planning your visit. The gorgeous tall gumtrees do cast dappled shade, but hats and sunscreen over summer would be a good idea.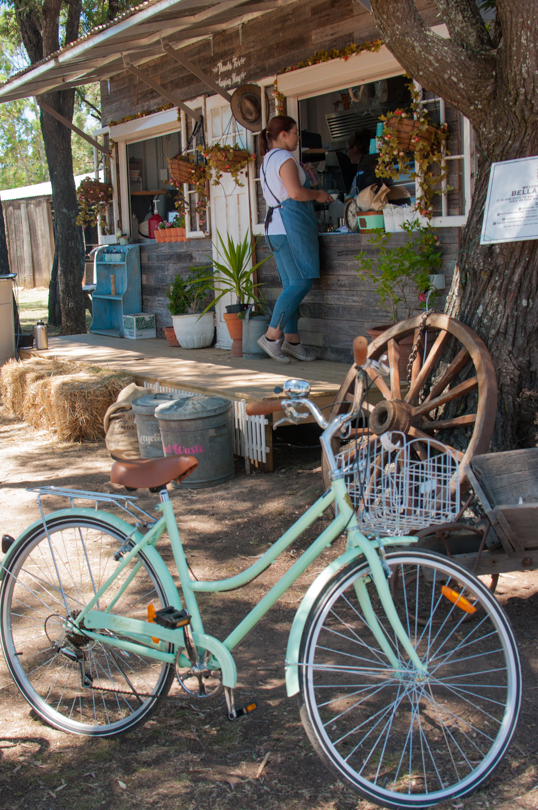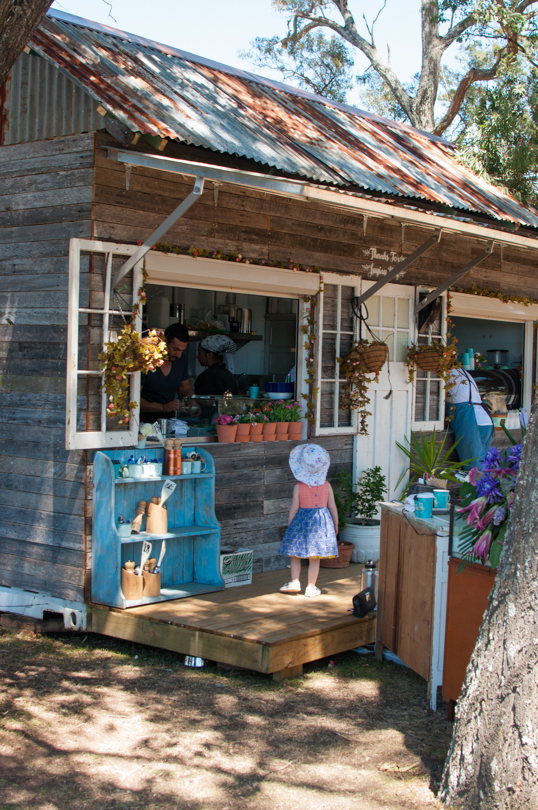 It's a relaxed vibe and the food echoes this. You can get breakfast and lunch and there's also a little kids menu with things like a cheese burger and chicken burger. We opted for brekky dishes and enjoyed the barn house smashed avo with green peas, cherry tomatoes and Persian feta, as well as the sweetcorn zucchini fritters with avocado, baby spinach, poached egg, pesto, olive oil and zaatar dressed flat bread.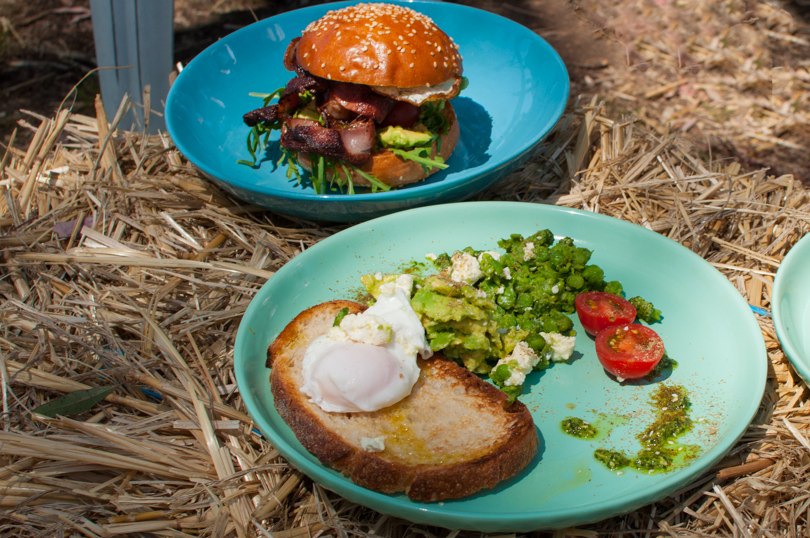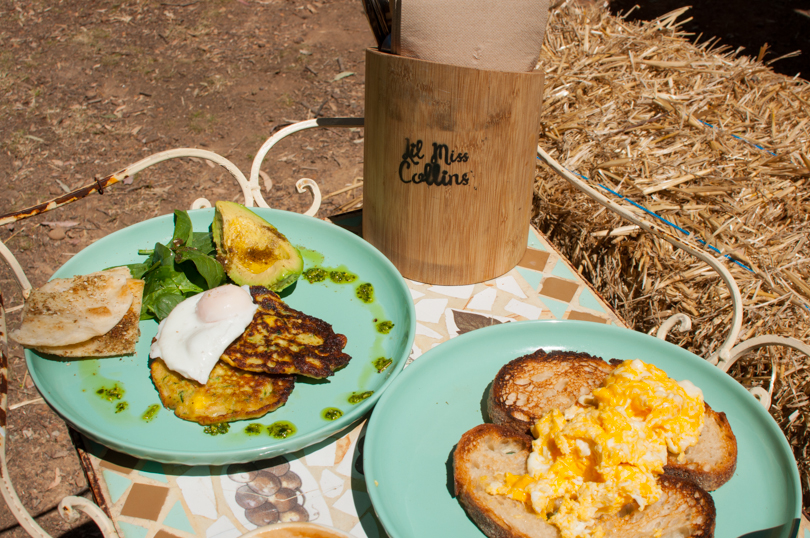 We liked what we spied on the lunch menu so we'll have to visit again. There's a wagyu burger, crispy chicken burger, Phoenician kafta and grilled barramundi, just to name a handful of the dishes. And for a great school holiday treat they're also doing two awesome looking shakes – the 'choco block' which contains outrageous amounts of chocolate such as Oreos, chocolate ice cream, Tim Tams and melting chocolate souffle – we're not sure what's involved in the 'melting chocolate souffle' component but my it sounds good! Then there's the 'Nutella tower' constructed with Nutella, peanut butter, vanilla ice cream, candy popcorn and a wafer stick among other things!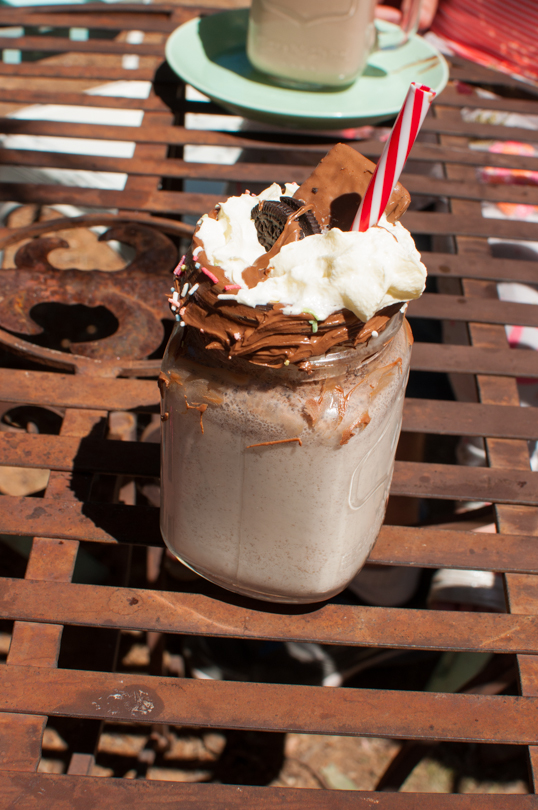 As far as the logistics go, there's lots of easy parking, highchairs, the loos are close by and it's pram and dog-on-leash friendly. The guys are also planning to have kiddies activities there each weekend so if you're going on a Saturday or Sunday maybe check out their Facebook page to see if there are any updates.
What we really love about Lil Miss Collins is that it's getting people visiting the beautiful historic Bella Vista Farm. This is such a special part of the Hills and its history and it's great that locals are soaking up the space and enjoying the surrounds. Thanks for visiting us Lil Miss Collins! We hope you enjoy your time in the Hills.
---
Lil Miss Collins
Bella Vista Farm, until 28 February 2017
Cnr Norwest Blvd & Elizabeth MacArthur Drive, Bella Vista.
Thanks for hosting us.