We were recently lucky enough to be gifted a couple of tickets to Luna Park from a school mum who couldn't get there before they expired. We went along with no expectations and had such a great day! Here's why.
We hadn't visited Luna Park for years and years – since we were young children. In that time it's closed and re-opened a couple of time and undergone several face lifts and restorations. But it's always had a special place in the hearts of Sydneysiders because of childhoood memories and its stunning location. The day we visited was an absolute cracker! The sun was shining and the harbour and city were looking spectacular. Win number one.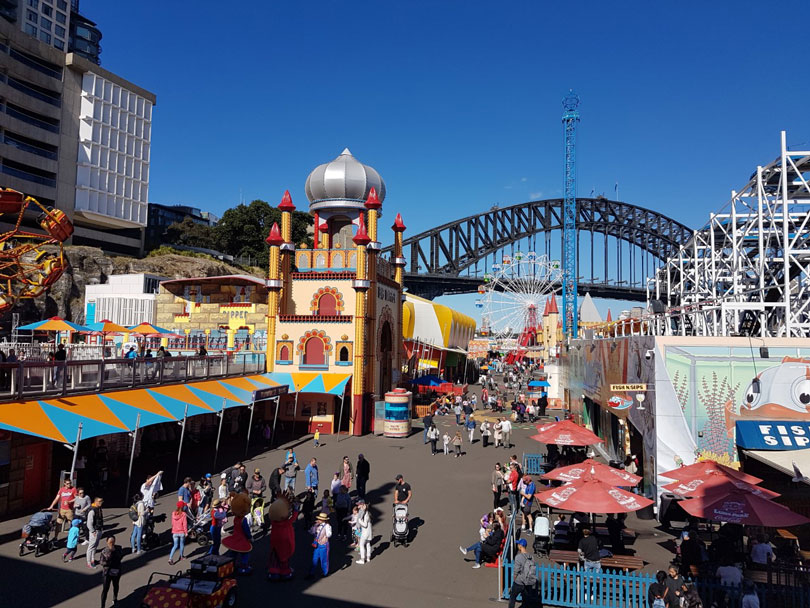 When you visit places like Luna Park, you have to be prepared for the fact that you're going to spend money, there's no two ways about it. We usually save up places like this for a serious treat rather than a standard weekend activity and we were very lucky to have two tickets already, but we then bought another two tickets. The staff member was extremely helpful, spending a few minutes to work out what would be the best and most cost-effective option for our family. (Win number two.) It's worth noting that many rides are based on height – our very tall 3.5 year old found herself able to go on some of the more full on rides like the wild mouse, which she loved!
We visited on a Sunday and we arrived about 45 minutes after the park had opened. There were no overwhelming crowds at all. In fact, during our 3 hour stay, the crowd stayed completely bearable for this crowd-hating mum! Win number three. This also flowed through to the queues for rides – we never waited more than a few minutes for each ride. Win number four.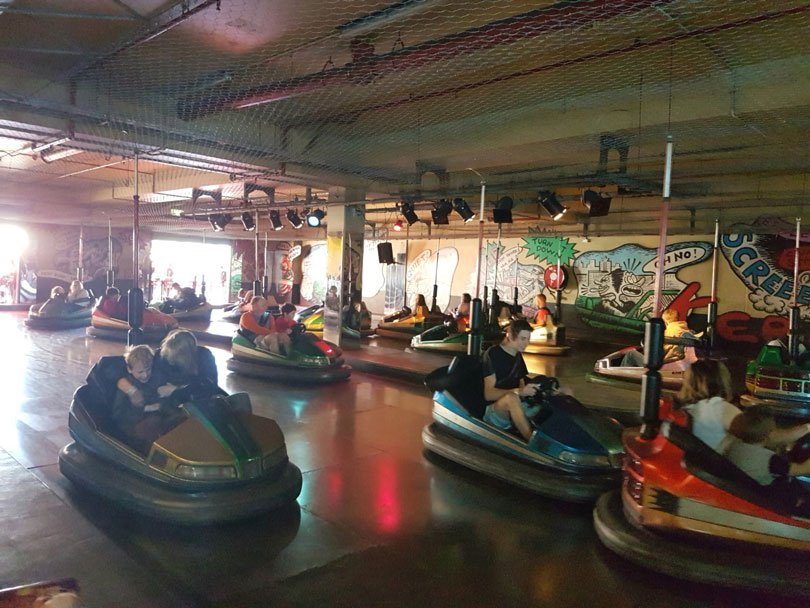 The park itself is very manageable. We were happy for our kids to run ahead a little without fear of them getting lost or swallowed up by the crowd. This made for a much more relaxing day! Win number five. We also loved that it seems to be in great condition and is clean and well maintained.
Another point worth mentioning is that there's lots of staff around and there seemed to be very stringent processes and checks in place for each ride, which we really appreciated. Stand-outs on the ride front were the old school carousel and dodgem cars, the wild mouse and the ferris wheel – a must do and a fantastic way to view the incredible harbour and bridge! It's safe to say us parents loved all of these rides equally, if not more than the kids! There were lots of screams and belly laughing from all. Win win win.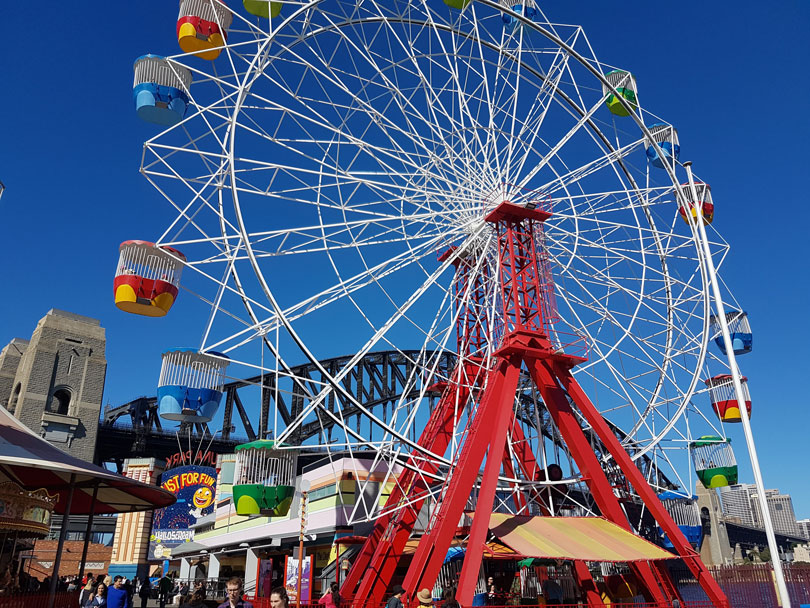 There are sideshow games as you head towards Coney Island, like the classic laughing clowns. These lure the kids in so be prepared to open your wallet as you pass by. Prices weren't too outrageous though and everyone wins a prize.
Coney Island is basically as we remembered it 30 years ago! We love that the park has maintained that feel of a bygone era and Coney Island is where you feel that the most. You can't help but recall childhood memories and good old fashioned fun.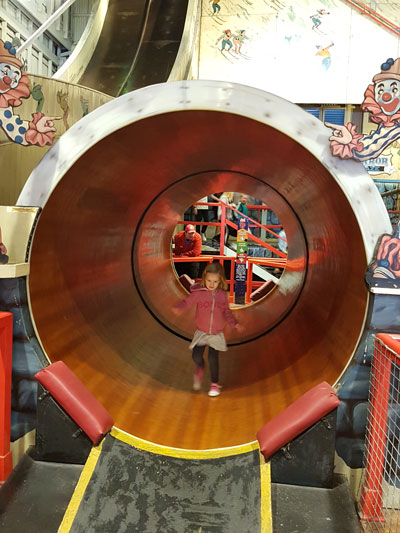 The giant slides are awesome and even the 3.5 year old insisted on tackling one herself. We appreciated the small touches too – like the use of old style hessian bags to sit on to go down the slides. Also in Coney Island you'll find mazes, mirrors, the joy wheel and vintage arcade games which fascinated the kids.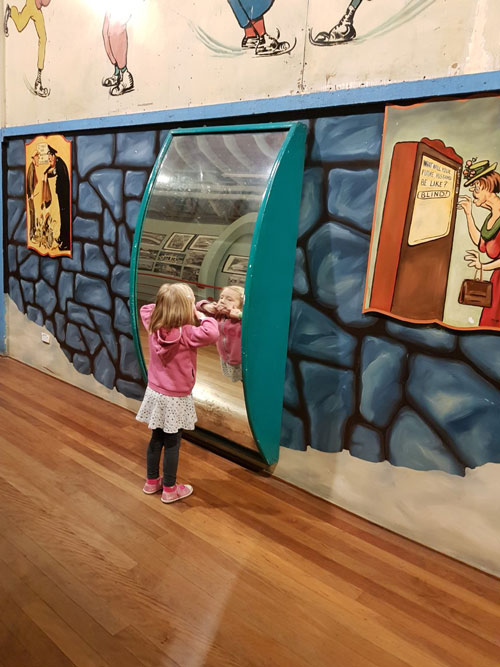 It really was a lovely day and we'll definitely visit again for another special outing. It's a perfect day if you have overseas visitors and the weather is good, as it showcases Sydney in all its shimmering blue glory. We loved the history and nostalgia of Luna Park and felt like we were creating memories for our own kids that will last a lifetime.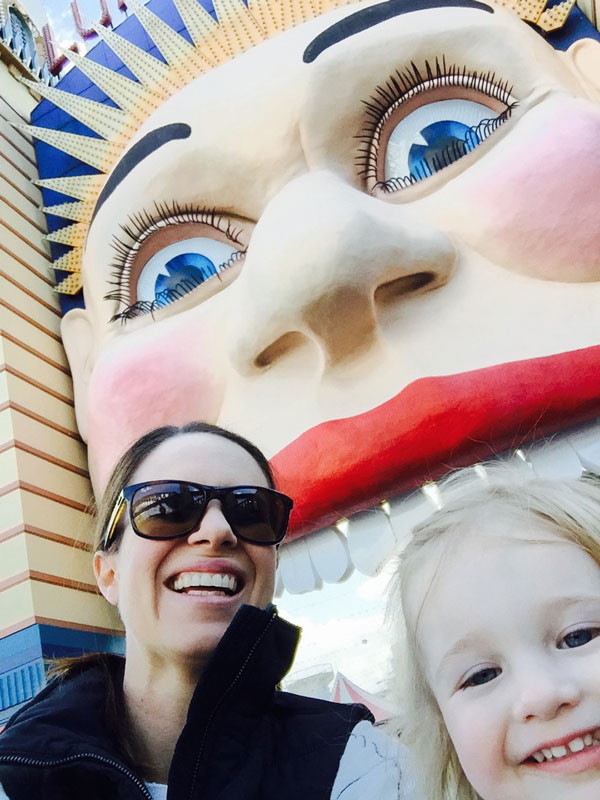 ---
Luna Park Sydney
1 Olympic Dr, Milsons Point.