Have you heard of PappaRich? We actually hadn't until we saw it was coming to Castle Hill. It seems we must have been living under a rock because, judging by the bustling venue, everyone else knows about this fab global Malaysian restaurant! Here's a rundown of what we loved about our lunch at PappaRich in the Piazza at Castle Towers.
We're really pleased at least one of our children is at the age where they're happy to be a little more adventurous with their eating now, i.e. actually order something other than nuggets and chips! It means that we can go back to dining at more 'exotic' restaurants without some sort of meltdown at the mere site of a vegetable or herb on a dish. And it was this embracing of something a little new that was one of the most enjoyable parts about our visit to the new PappaRich Malaysian restaurant in the Piazza at Castle Towers.
If, like us, you're not familiar with PappaRich here's a little background. It's a truly global restaurant chain, with locations across Australia as well in another 10 countries including New Zealand, the US and Brunei. If you're not exactly sure what Malaysian food entails, it's heavily influenced by Indian, Chinese and Indonesian cuisine. So, for example, if you've been to Bali, you may see some dishes that remind you of your travels there – this was another part of our experience we enjoyed!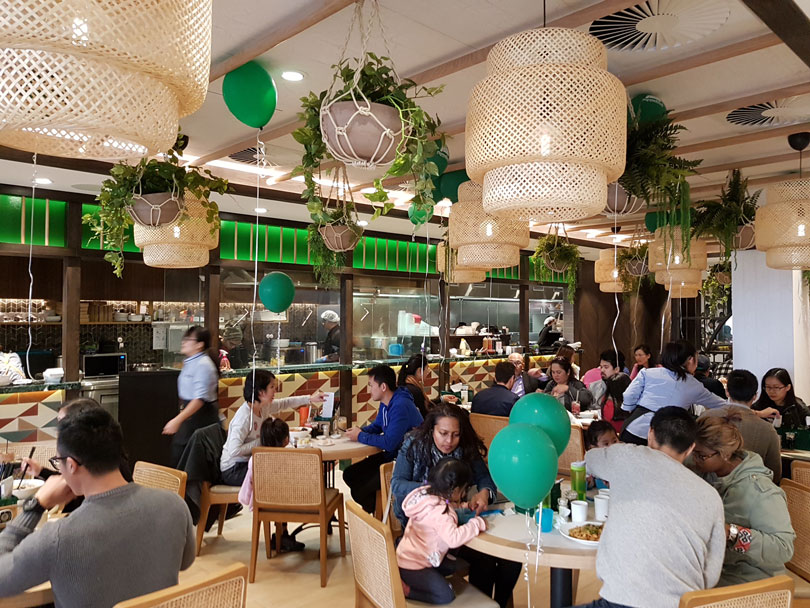 When we arrived, the restaurant was already heaving – and it was only midday! You may need to wait a little bit for a table, so keep this in mind – it appears PappaRich has many fans in the Hills! We quite like a bustling atmosphere when we eat out with kids as the rabble they make is drowned out. And we much prefer to dine at a busy restaurant rather than one that's deadly quiet – always a sign that it must be good.
Mr 6 loved the menu where he could see the pictures of the dishes – think this helped him to feel comfortable ordering something other than nuggets as he knew what he was getting. He also loved the novelty of writing down your order using the numbered dishes and then pressing the 'call' button to summon your waiter to collect your order slip.
Now let's get down to business and talk about the food. You'd be crazy not to share dishes at PappaRich. There's so much to try that sharing gives you the best chance of sampling as many dishes as possible. We ordered a variety of dishes including the roti canai with curry chicken and Pappa's special Nasi Lemak, which came with sambal prawns and the curry chicken – lucky given Mr 6's new found love of it! He enjoyed it as it had that tasty curry flavour without the heat. Worth mentioning the roti was delicious and it's hard to resist filling up on this!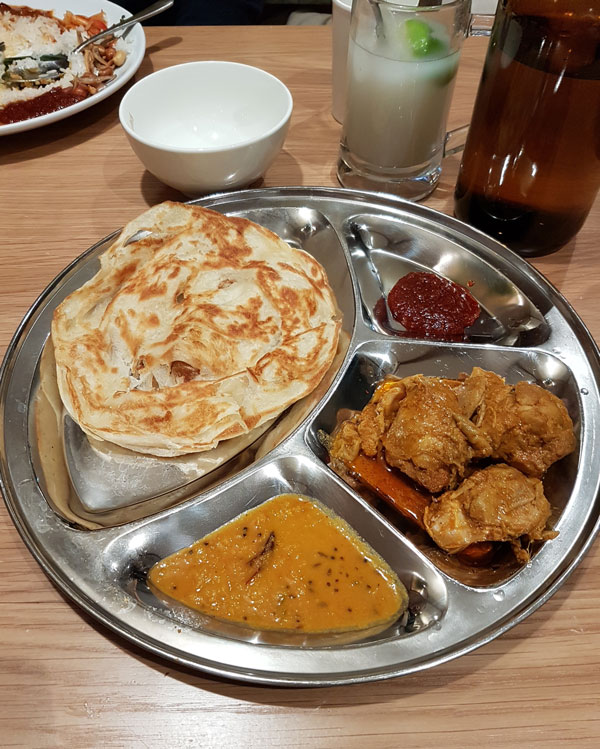 Another dish Mr 6 liked was the Pappa Chicken Rice with steamed chicken which was flavoursome, simple and clean – just how kids like it. He wolfed it down as he was starving after an energetic birthday party that morning!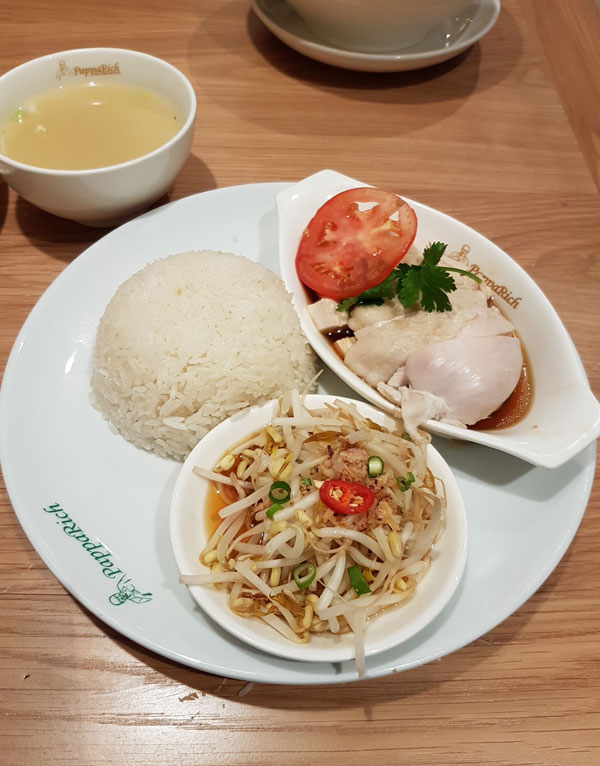 We also enjoyed a classic Char Koay Teow noodle dish, satay chicken skewers and of course a laksa, perfect in this chilly weather! While the kids didn't try everything, they gave more a go than they usually would. It's a very tactile way of eating which is great for little ones. You can slurp broth, pick up satay sticks and tear up roti bread and it's no drama if there's a bit of a mess at the end.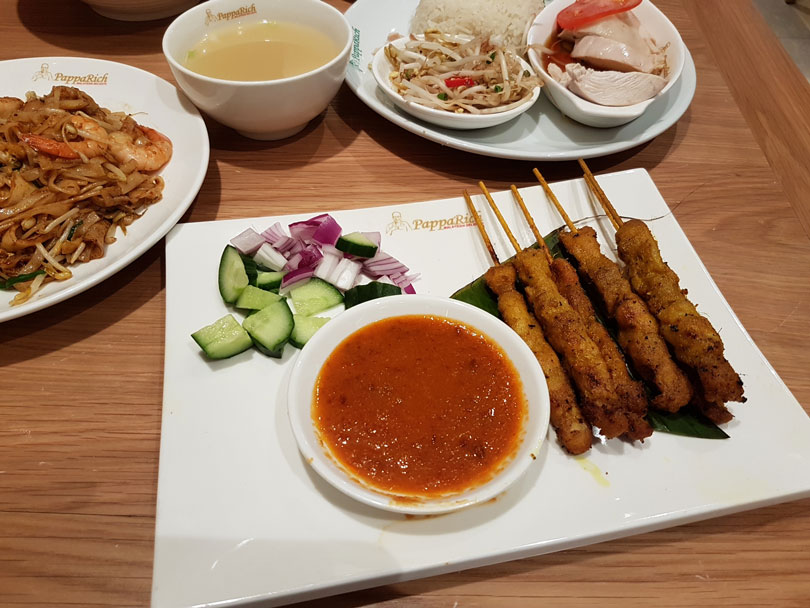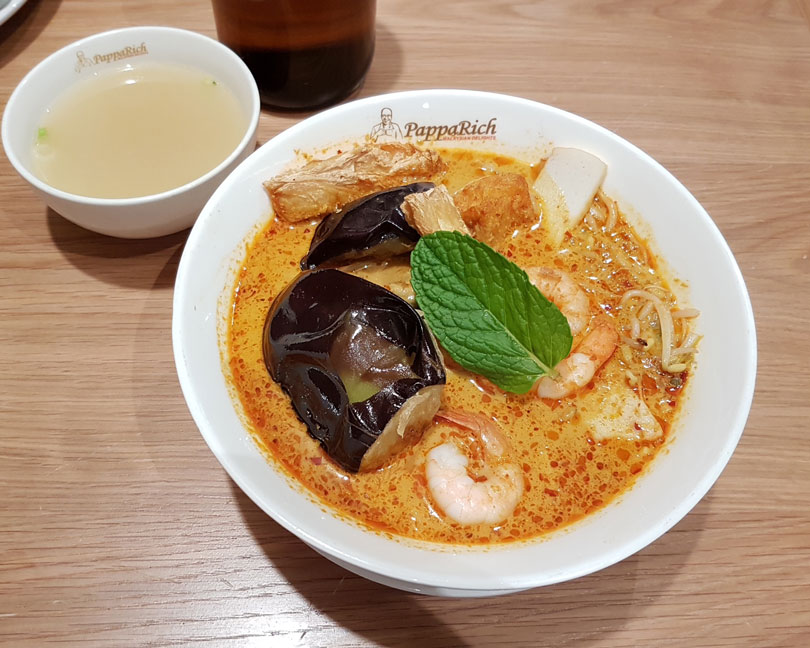 The desserts are worth checking out just for the visual impression alone! A specialty is the Ice Kakang – shaved ice topped with grass jelly, corn, red bean, skinless peanuts, sultanas and drizzled with palm sugar, red sugar syrup and mixed milk. We struggled to get our head around it a little but hubby gave it a red hot go! We did not struggle with the sago pudding though which was fantastic!
This is a great family venue to enjoy delicious cuisine in a relaxed atmosphere. There are highchairs and an alfresco area too. They also do take away if you're needing a fix. And ok, Miss 4 still had nuggets and chips – the more basic kid's palette is still catered for too! Can't win 'em all!! Be sure to take advantage of the great kids eat free deal through to end of June – details below.
---
Thanks to PappaRich for hosting us.
PappaRich
Shop 10, 6-14 Castle Street, Castle Towers, Castle Hill.
Phone: 02 86269436.