Like most parents, we rarely get the opportunity to head out for a grown up dinner without the kids! When we do get the chance there are limited fine dining options here in the Hills so we often head into the city. Good news! With the recent opening of Quoi Dining on Norwest Lake, we can have our fine dining experience right here in the Hills.
Quoi Dining opened quietly a few months ago. It totally slipped under our radar but once we'd done our due diligence (read: Facebook and internet stalking) it was firmly on our list to try out asap. The head chef Josh is seriously talented and has numerous industry awards to back it up.
Josh has a real love of food with a focus on Australian and French cuisine. Everything is seasonal and fresh and while the dishes are a little fancy, there's a simplicity to them that allows the quality of seasonal produce to be the hero.
Our fine dining experience commenced with an amuse-bouche to get us in the mood, a buckwheat tarte with smoked crème fraiche and smoked salmon roe. This is a great way to make you realise you're rather peckish and to get you excited about what's ahead.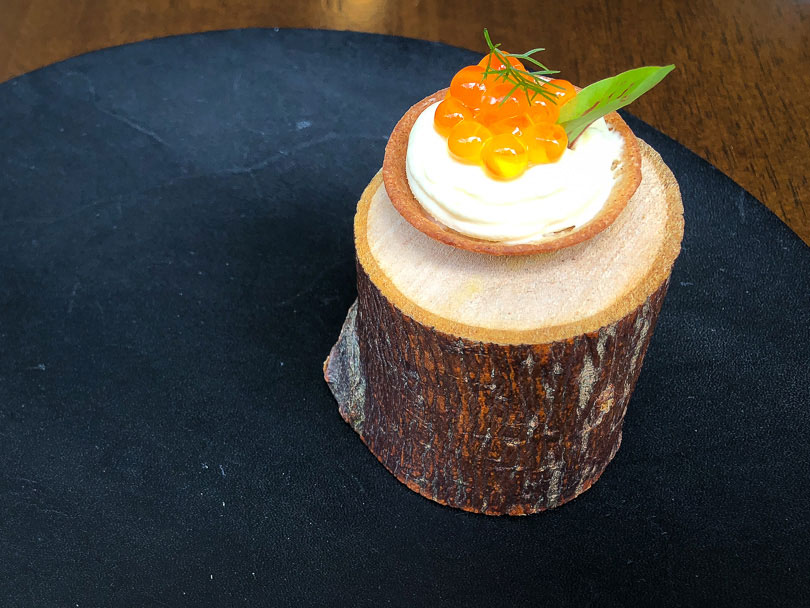 Next cabs off the rank were three stunning dishes – the pickled blue swimmer crab and avocado with compress apple, the steak tartare, cured egg yolk & eschallot and salt baked pumpkin, pumpkin textures & honey cream. We always have a little chuckle at steak tartare as it will forever remind us of the infamous Mr Bean episode, but we wolfed down Quoi's modern twist on the dish and definitely weren't looking for spots in the restaurant to hide small pieces!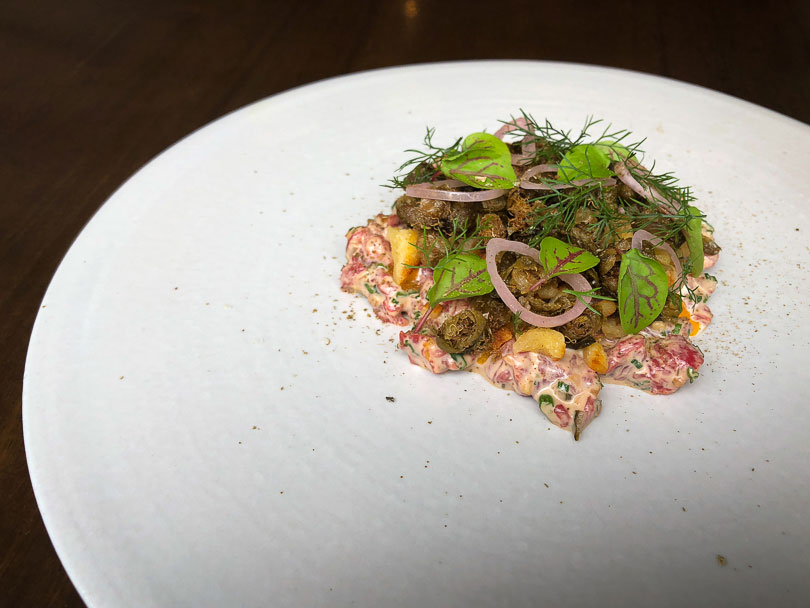 There was a depth to the flavours of the dishes and the pairings were spot on. We never imagined we'd get too excited about a pumpkin dish but this was something else. We appreciated the attention to detail and all dishes were visually gorgeous just as much as they were delicious.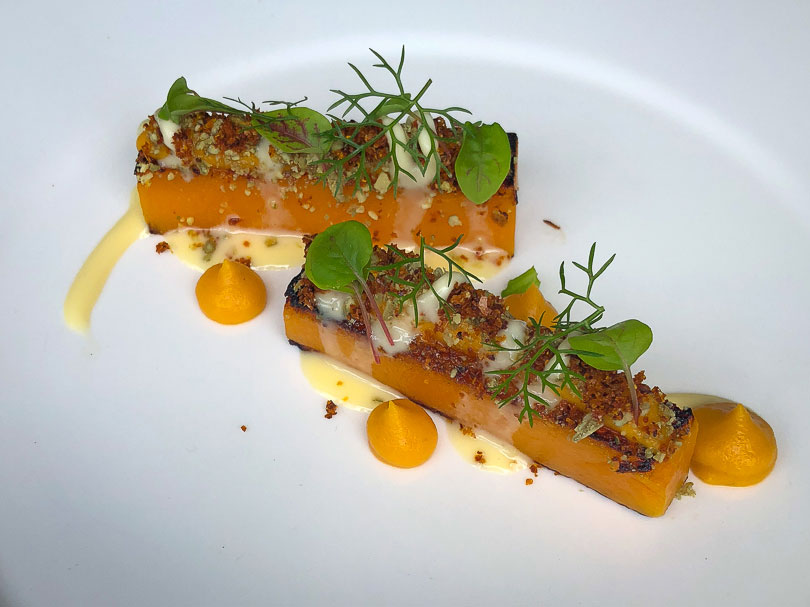 Next we enjoyed a classic Black Angus eye fillet with mushroom, pomme puree and jus which was melt in the mouth scrumptious. It was a great conclusion to the savoury dishes.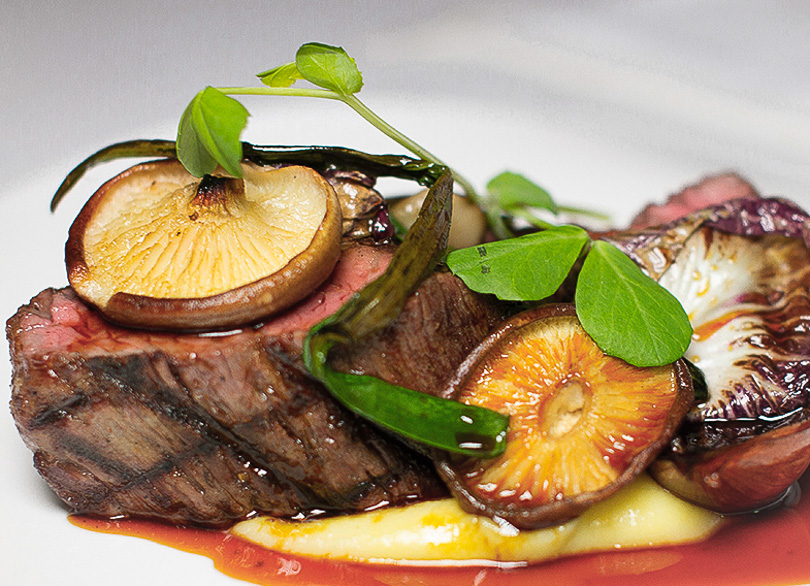 We're not big dessert eaters but when we saw the four textures of dark chocolate it certainly made us think twice – who could resist THAT?! We love that it was so restrained in size – just enough for your dessert fix without tipping you over the edge. We also loved that it wasn't sickly sweet, in fact far from it being dark chocolate, and the flavours were a match made in heaven – chocolate and raspberries, need we say more? It's without a doubt the best dessert we've had in a very very long while. It was new to the menu that day but we hope it sticks around for quite some time!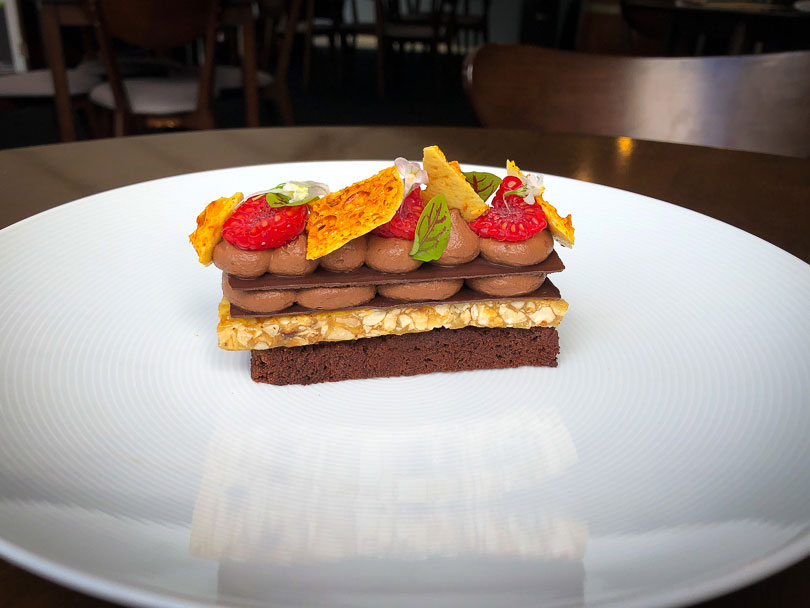 Often when you go out for a bit of a slap up celebration style meal, particularly a tasting or degustation menu, you roll out of the restaurant feeling completely stuffed and like you need a good lie down. But that wasn't the case at all – the dishes at Quoi Dining were light and complimented one another.
While the degustation option gives you the chance to experience a plethora of gorgeous dishes, Quoi Dining does do a great lunch special too if getting out at night is too challenging (kids huh?). It's a great spot for a romantic meal or a long overdue catch up with friends. At the end of the meal, our waitress asked what our favourite dish was and we found ourselves rattling off at least four of them, it was impossible to narrow it down to just one! So welcome to the Hills Quoi Dining – we're very pleased you're here!
---
Quoi Dining
6/8 Century Circuit, Baulkham Hills.
Phone 9899 3554     |     quoidining.com     |     Facebook.com/quoirestaurant