The cafe on the corner of Galston and School Roads has been somewhat of an institution in the area for many years. It's latest incarnation is Sugar Salt Cafe which locals love and visitors flock to on weekends!
Owners Alex and Mary have breathed new life into the cafe, modernising the decor inside, installing a wood-fired pizza oven and adding fresh signage. But most importantly, it's the great food that people are loving.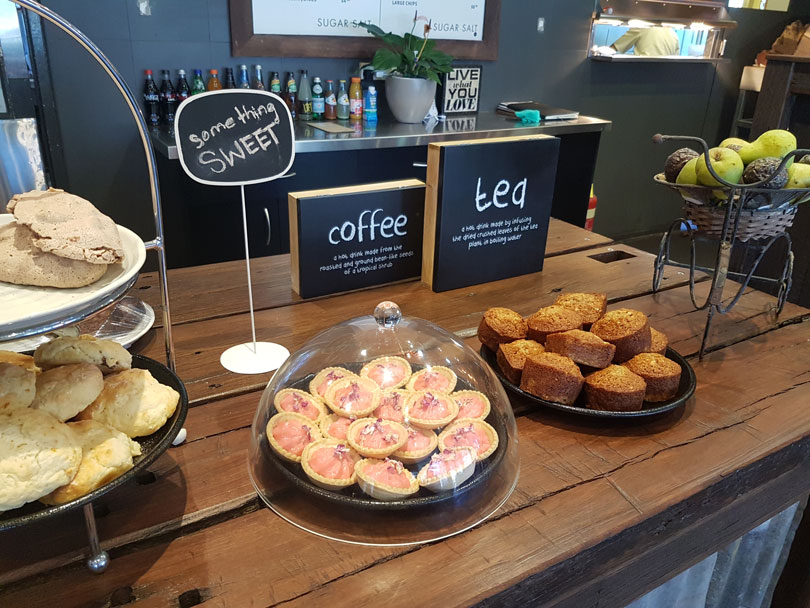 Alex is also the head chef and comes from a strong background of kitchens throughout the Hills, most significantly at an extremely popular cafe just down the road from Sugar Salt, so he knows the drill as far as cafes go and this shows. His signature style is sprinkled throughout the menu, like the beautiful edible flowers and fairy floss on many dishes! And sure, while this isn't for everyone, we love it – it's pretty, it's fun and it can't help but make you a little happy as you tuck in. It's like a unicorn has made your meal and what's not to love about that?!
When we visited we kind of straddled the breakfast and lunch menu and had a little bit of both. First up was the grilled crispy skin salmon with shredded zucchini, shaved asparagus, sesame seeds and cashews, with a honey soy butter and green coconut chutney. It was super tasty, well cooked, generous in size and great to see lots of greens with it. We had never thought of pairing cashews and salmon and it worked really well.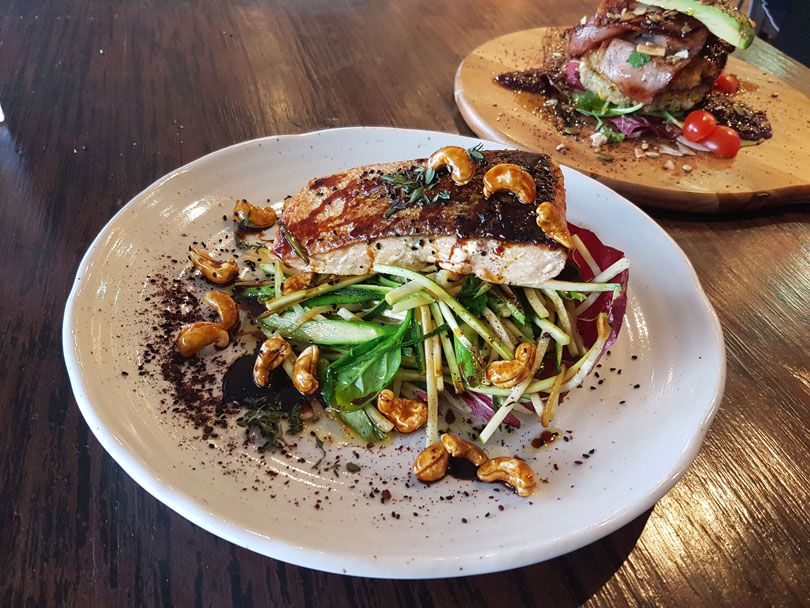 We couldn't go past the corn and quinoa fritters for our second choice – who doesn't love a fritter?! These were served with crispy bacon, baby spinach, avocado and house-made chilli jam and again were very generous in size. They tasted so darn good though that we had no problem polishing them off completely!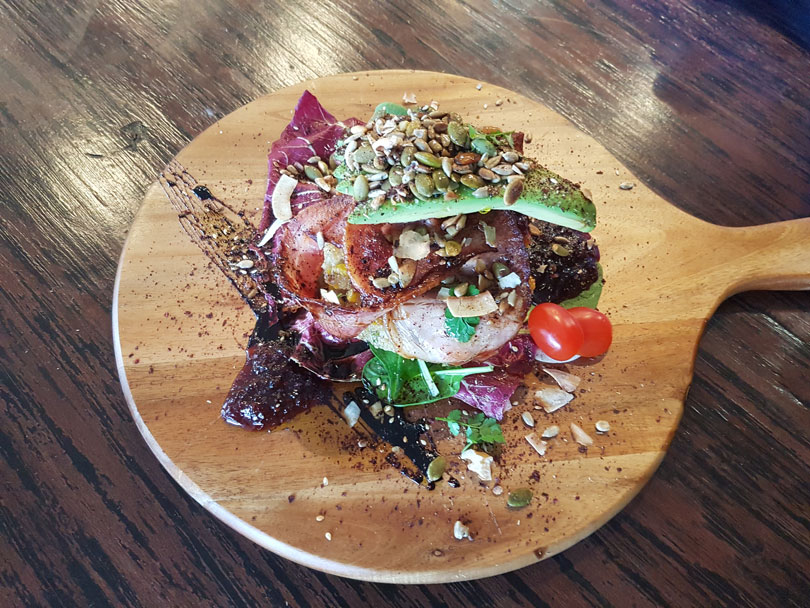 If breakfast is your favourite meal to enjoy out, then you're well catered for, with all the usual egg options and a big breakfast. There's also house made beans, Spanish baked eggs, house made porridge, a bacon stack and French toast among the dishes on offer.
We like that there are lots of healthy options including seafood dishes and salads, as well as some classic lunch options like the beef burger and beer battered fish and chips – everyone's covered! All gnocchi is freshly made on site so we love the sound of the prawn gnocchi and may have to return to test that out. The lamb cutlets with scorched tomatoes, sumac, feta, sugar snap peas and roasted pumpkin also looked delicious as they were delivered to another table.
Our two meals were generous in size which meant we were quite full. However, we did spy some seriously gorgeous looking sweet treats whizzing past our table, so if that's your weakness you'll be well looked after at Sugar Salt. All sweets are made in house and we ogled both the pancakes and a cute little flourless orange cake, both dolled up with fairy floss and double cream – wowsers!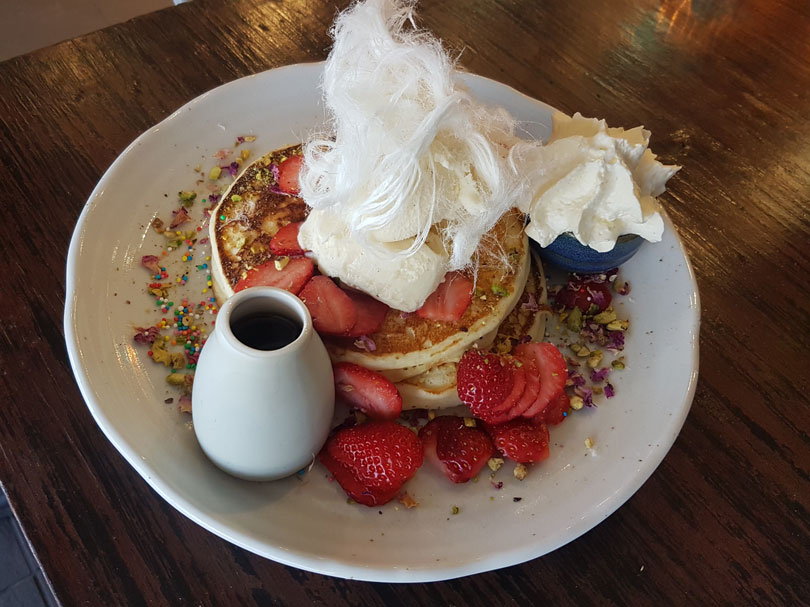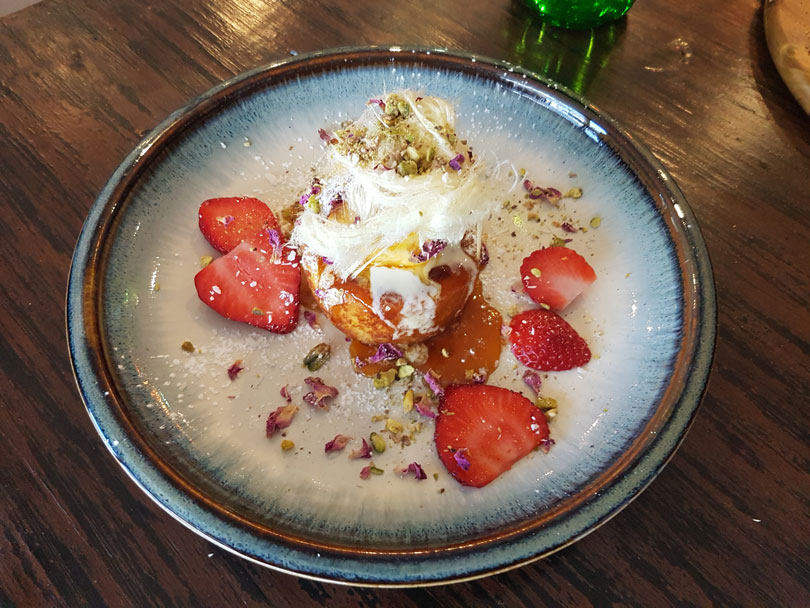 Space wise, there are a few tables inside and then a covered deck area outside. You can park in the small on-site carpark, although this has been quite busy of late! If there are no spots, you'd be able to find something on the street easily enough. It's a flat venue too which is good for prams and there's a small kids' menu with their favourites. We also spotted a table of retirees enjoying a bottle of wine over their lunch so feel free to BYO.
Galston is fast becoming a foodie destination, not unlike it's neighbour Dural. This is great for the area and the Hills in general and we're happy to see venues like Sugar Salt Cafe bringing fab food to this little suburb. So if you're looking for a new breakfast, brunch or lunch venue it's well worth checking out.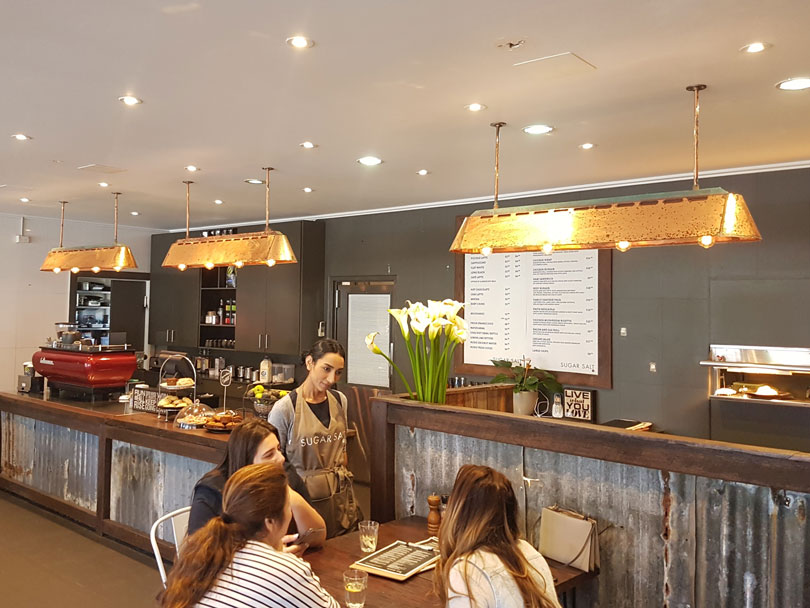 ---
Sugar Salt Cafe
344 Galston Rd, Galston
Ph: 9653 2808
Open 7 days a week for breakfast and lunch, 7.30am – 4pm.
Thanks to Sugar Salt Cafe for hosting us.