Ultimate Sydney is brand new and totally cool! On offer are trampolines, a foam pit, basketball hoops, dodge ball, massive play equipment split by ages 0-5 years and 5-12 years, party rooms and a cafe. Covering 2500m2 this place is EPIC! And only phase 1 has been opened and launched!
And it's thanks to one of our very own Hills District Mums that we ended up with this gem in the Hills. Manager, owner and crazy mum of 5 Kate had nothing else to do in her life so decided to open a play centre! She's a teacher by trade and from the moment you walk in the door you can see how good she is with kids. She runs a tight ship and safety is a key focus for her, hence the rules they have in place for the centre.
With her own family in mind, Kate focused on creating something that would cater for all age groups. "It's hard as a big family to find things that suit everyone. This gives people options, especially when stage 2 is complete! Once we'd come up with the concept I then started to modify it to allow kids and adults of all abilities to use it. That's when I came up with the access ramp to the tramps and an all purpose party and sensory room."
For safety, and to ensure numbers are monitored closely, the Centre runs sessions. During weekdays sessions run every 2 hours starting at 10am. We attended the 10am to 12pm session.  Full session times can be found here. You can also do one hour sessions on the hour.  To save time, book online before you visit and complete the waiver online. Then you're ready to go when you turn up (after getting the right wrist band), making the most of your 2 hour session.
Important things to note:
Wear socks! You can purchase socks for $2.50 at Ultimate (and these are great as they have the grip soles otherwise it can get slippery).
No food and drink to be taken in from outside but there is a cafe.
When you first walk in, Kids World (0-5yrs) is to your left, with its very own play centre, trampolines and mini rock climbing wall. We'd say to get the most out of this area you'd probably be between the ages of 2 and 5. It was great having a designated spot for our little ones and they certainly loved their little trampoline area.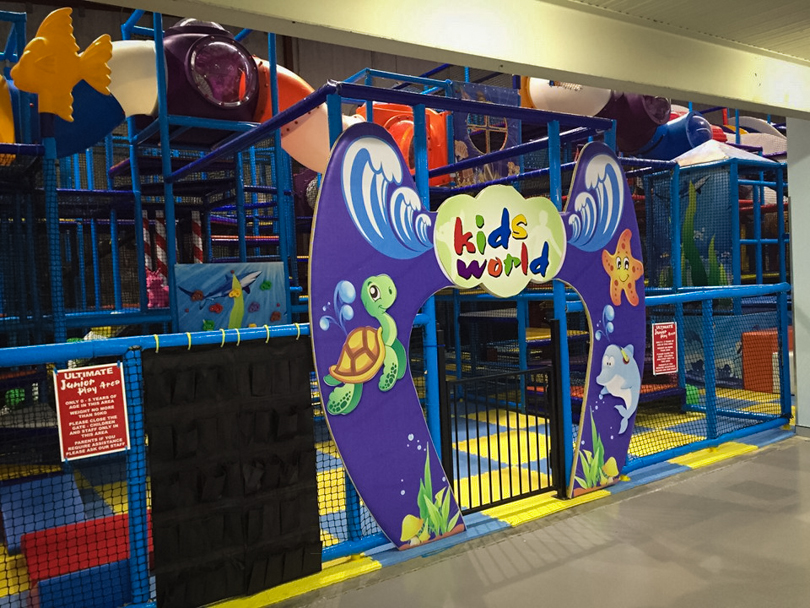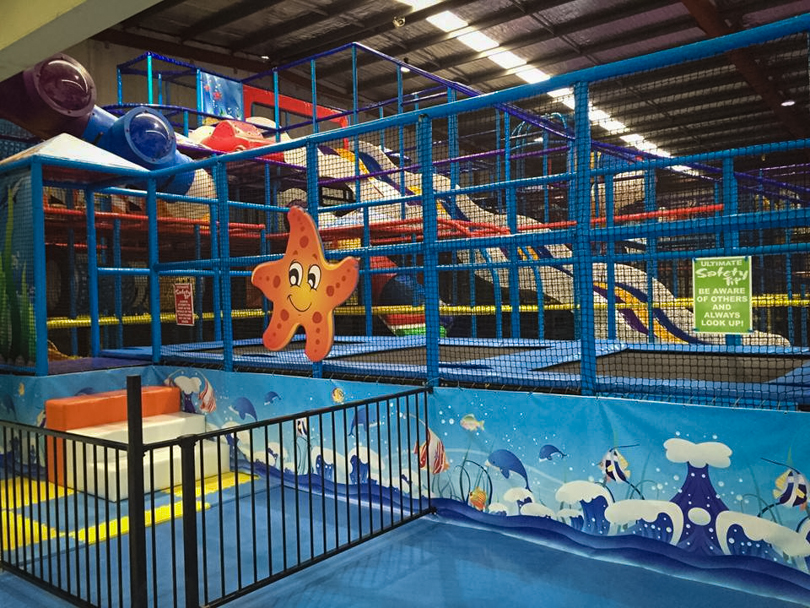 Next is the big kids play centre for ages 5 to 12. This is where the massive slides are, plus a zip line, mazes and more.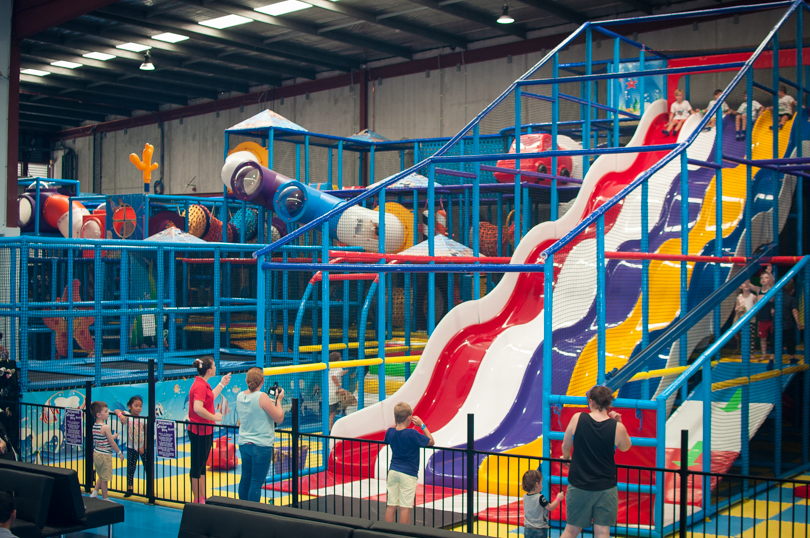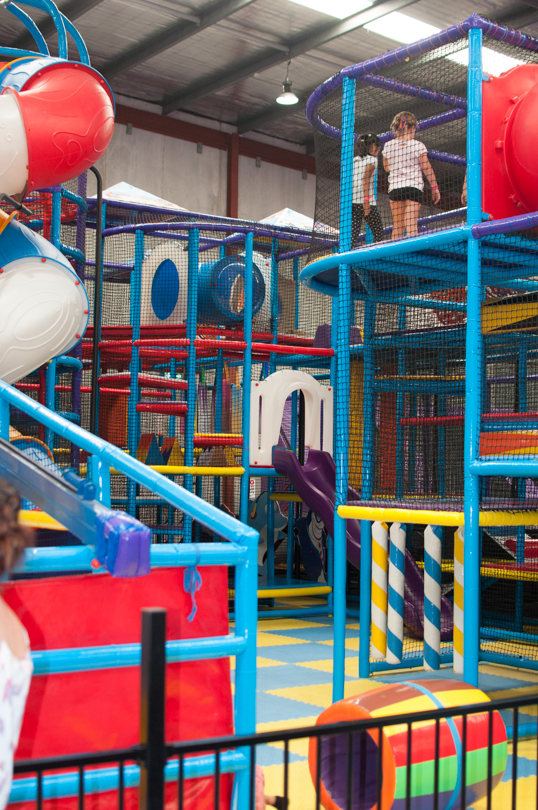 In the right hand corner and the back is the trampoline area which has dodgeball, foam pits with an awesome rock climbing wall and the main arena with basketball lanes. At certain times during the week this is open to all ages, so our under 5s had fun in here too. There's a ramp to the trampoline area to allow access to all abilities.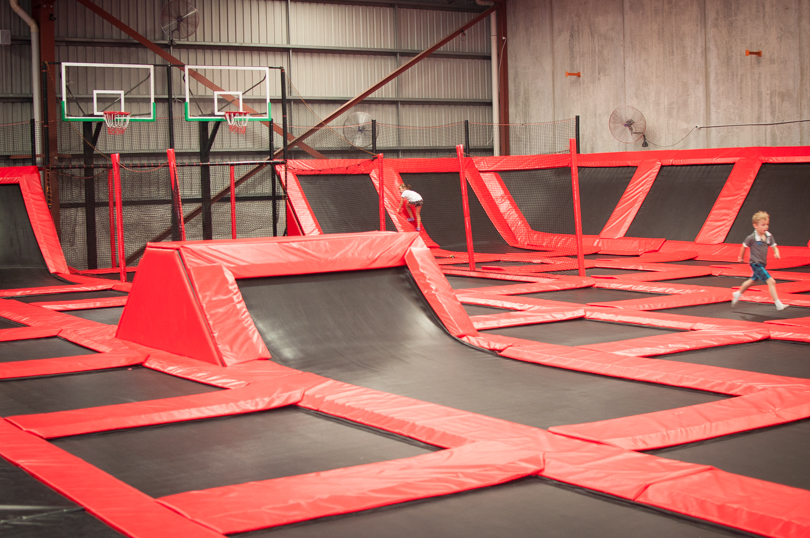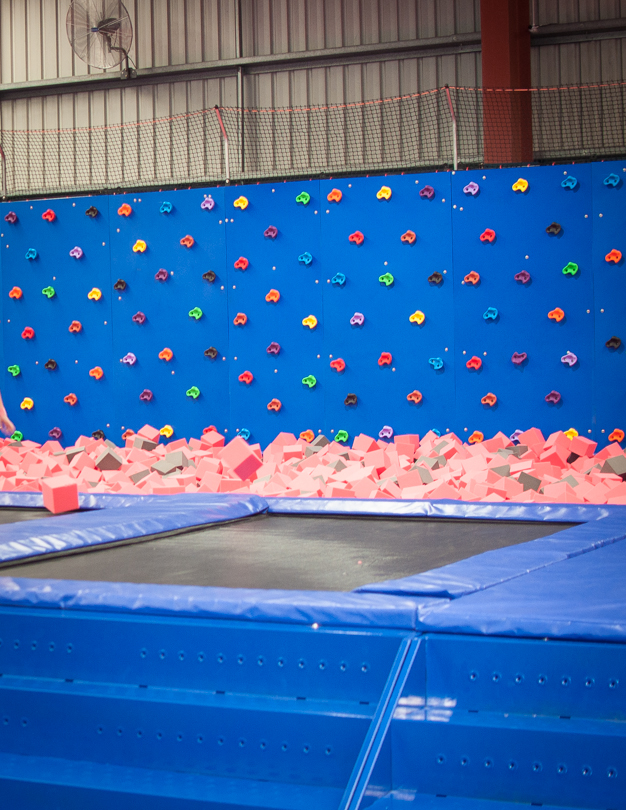 Other important things:
Parking was easy when we visited.
There's plenty of seating that allows parents to oversee kids playing afar.
There are change tables in the toilet.
Importantly, there's a cafe that serves coffee for mum and dad.
There was no air conditioning when we were there but the fans kept the temperature down. They're working on air-conditioning but it's difficult to air condition 2500m2! There's an air conditioned parents retreat upstairs.
Current pricing
Mid week:
5 to 12 year olds – $25 for 2 hours ($15 for one hour)
0 to 5 years it is $20 for 2 hours ($10 for one hour).
Weekends:
$15 for 1 hour and $25 for 2 hours regardless of age. There's also a family pass available.
We mentioned above the sensory room for special needs children is on its way and there's a phase 2 (although details of this are top secret).
All in all our kids had a fantastic time. Thanks for having us Ultimate Sydney!
---
Ultimate Sydney
Unit 5, 1B Redbank Road
Northmead (behind the Masters)
Phone: 1300 867 529
Website: ultimate.sydney