Some days the thought of a fancy or complicated dinner is just too much – usually once a week for us! Mum's tired, kids are tired and there's nothing wrong with something easy once in a while. So, if even the thought of doing something like chicken schnitzel for dinner feels too much some days, here are some ideas to get dinner on the table with minimal fuss.
'Whatever mum or dad can find in the kitchen' plates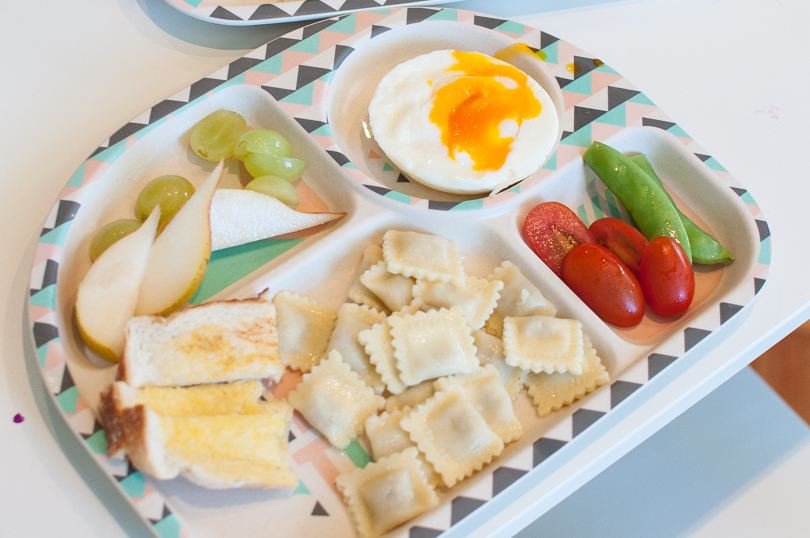 The fancy name for this is a tasting plate. But we all know what this really is – a hodge podge of whatever mum or dad can find in the kitchen! This is one of our most favourite dinners, particularly when kids often have a full meal at daycare or are hot and bothered from a big day at school.
Favourites for our tasting plates include:
poached or scrambled egg
Latina Fresh pasta squares – we get the kids ravioli squares
pasta (cooked, no sauce)
lavosh bread toasted to make it crisp with some hummus
cheese squares
smoked chicken breast – it's not cheap but the kids like it. You buy it vac packed from supermarkets.
soup (our kids love creamy chicken instant soup – we add some toast soldiers).
fish fingers
rice
baked beans
toast soldiers
potato gems
poached chicken.
Then we just add some fresh fruit and vegetables to the plate. Often in our house this is mini tomatoes, cucumber (the quackers are a bit of a favourite), corn, carrots, pear, orange, blueberries, strawberries, apple. Another favourite is to grate apple, cheese and carrot together and add to the plate. Some kids love little trees (aka broccoli – ours are yet to be convinced!).
Fried rice
This is popular in our house and dead easy. For ours we whisk 1 egg and cook it to make egg to break up for the top. Then we fry 2 diced short cut bacon rashers. Add in diced red capsicum and diced carrot to the pan. Then peas and corn. We always use the microwave rice and for 2 kids the 1 cup rice is enough – microwave for 40 seconds. Chuck it in with the bacon and veg. Top it off with a little store bought Honey and Soy marinade and serve with the broken up egg on top.
Corn and grated veg fritters
Again another favourite served with salad/fruit. We use a very basic corn fritter mix – roughly 1 cup of self raising flour, 2 eggs, 1/3 cup of milk. Mix it all up and then add corn (we use about 350g of canned corn kernels). We add some grated carrot and sometimes grated zucchini and a little grated cheese and it's a hit. Pan fry in a little butter (only lightly greased pan).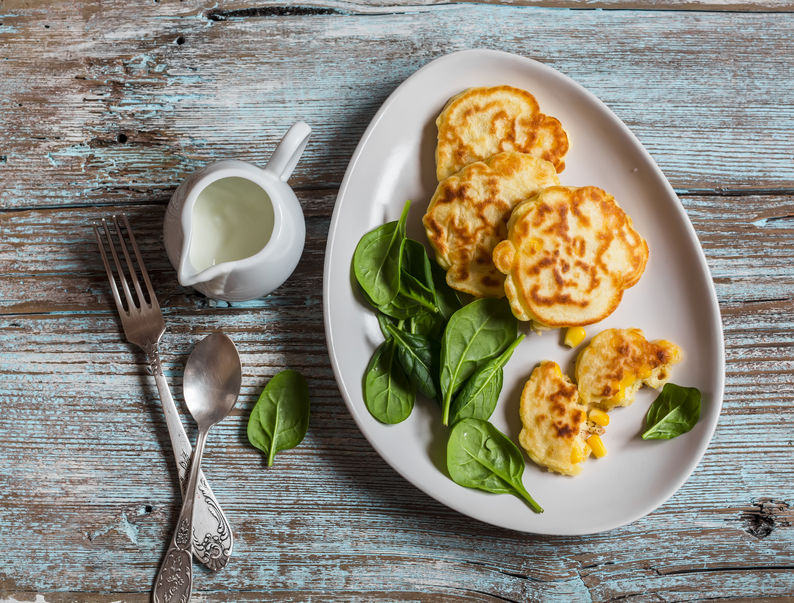 Antipasto platter
Olives, dips, cheese, veggie sticks, crusty bread and crackers. Hummus is always a dip we have in our fridge and another favourite is making your own tzatziki – plain yoghurt, grated cucumber and a squeeze of lemon.
Sandwich platter
Just fill it with whatever you have in the house. Tinned tuna and mayo, mashed boiled egg, ham and salad, straight salad.
Omelettes 
Add whatever is handy. Bacon, ham or chicken. Grate some veggies in such as carrot or zucchini. And then add some cheese. You can do the same with scrambled eggs if your kids would prefer that with toast.
Brinner
Bacon, eggs and baked beans with tomato.
Gado Gado
This is just an exotic name for poached chicken and boiled egg with garden salad. Boil eggs. Take the eggs out of the water and pop in chicken breast that has been cut in half lengthwise. Boil for 3 minutes then turn off heat and pop lid on pot for 10 minutes (check the chicken is cooked through). Mix peanut butter with soy sauce, honey and a bit of water. Add peeled boiled eggs and chicken to salad and drizzle peanut sauce over top.
Chicken stir fry
In a bowl mix chicken stir fry strips in a honey soy marinade (or mix honey, soy and a little garlic). Fry off, add in a couple of veggies (red capsicum, carrots, corn, peas), cook up some noodles (the egg noodles are great for a quick meal – boil the kettle & pour over water and let them sit to cook) add to pan and mix with chicken.
Mini pizzas
You can buy mini pizza bases at the supermarket (we've spotted them in the fresh refrigerated pasta section of Woolworths) or use English muffins. Little packs of pizza sauce come in sachets and then just top with what your kids like. Ham, sliced hot dog,mushrooms, bacon, pineapple and cheese.
Other ideas from Hills District Mums:
A mixed stick plate. Sticks of cucumber, cheese, carrot, baby beets and cold meats (you can use kebab sticks or little toothpicks). Kids also like corn kernels. Then serve with tzatziki.
BBQ Chicken. Can have with salad or in wraps.
Soft boiled egg and toast soldiers.

Lamb souvlaki wraps – simply lamb steak marinated in lemon juice oil and oregano, cooked and served sliced with tzatziki and salad in a wrap

Mexican – tacos, burritos.
Pasta salad – cook a handful of pasta. Add in a small tin (the ones you get in the 4pk) of 4 bean mix, some tinned corn kernels, some chopped ham, a tablespoon of pesto & some grated cheese.
Rice paper rolls with a BBQ chook, noodles, cucumber, carrot etc
Chicken caesar salad
Toasted sandwiches
Tuna and cottage cheese with salad
Sausage sizzle
Spaghetti and meatballs. Use frozen meatballs (the ones from IKEA are always a hit) and a jar of tomato sauce.
Cheese on toast
Sweet potato fries – even sprinkle with a little nutmeg
Coles Dinosaur pasta and sauce
Pasta nicoise – tinned tuna, tomatoes, boiled egg, beans, olives.
And if all else fails, there's nothing wrong with Weetbix for dinner!