We'd had Meadowbank Regional Playground on our list for months. We finally got there recently and WOW, it's completely mind blowing! In terms of playgrounds it's without a doubt one of the best we've ever seen and our kids were talking about their next visit walking back to the car!
Every now and then you find yourself with a free day – this is what happened recently, thank you NSW teachers' strike. We made the most of the last rays of sunshine before a few days of rain and jumped in the car for a bit of an adventure. Meadowbank is about half an hour from Castle Hill and we found parking easy when we arrived, just off Constitution Road West on Federal Road. This may not always be the case, particularly if there's sport on. But we can't imagine it would ever be impossible, even if you have to walk for a few minutes.
The best way to describe the playground is to break it into two sections. There's an 'outer' section which has been there a while, with an epic skatepark as well as other slightly different equipment for older kids, like a rock climbing structure, climbing net and table tennis table. There's also a play structure and swings for smaller kids too in this outer section. Scattered around are benches to sit as well as some grassy areas where you could put down a picnic rug. Flat paths weave around the area and they're great for scooting. There's a couple of tables as well as BBQs and water fountains/bubblers.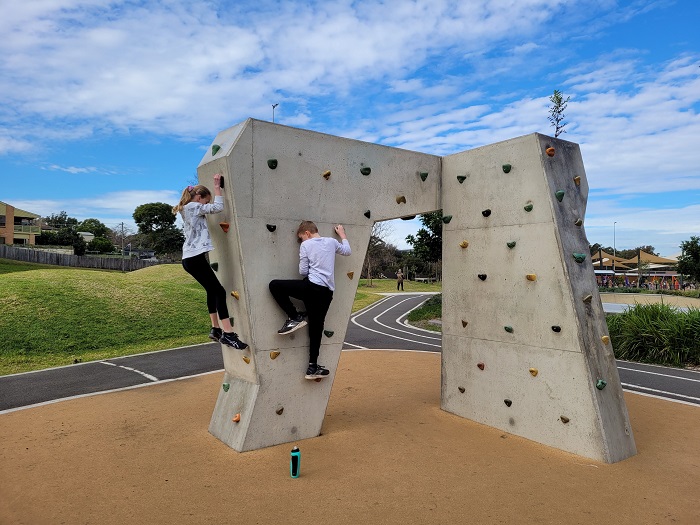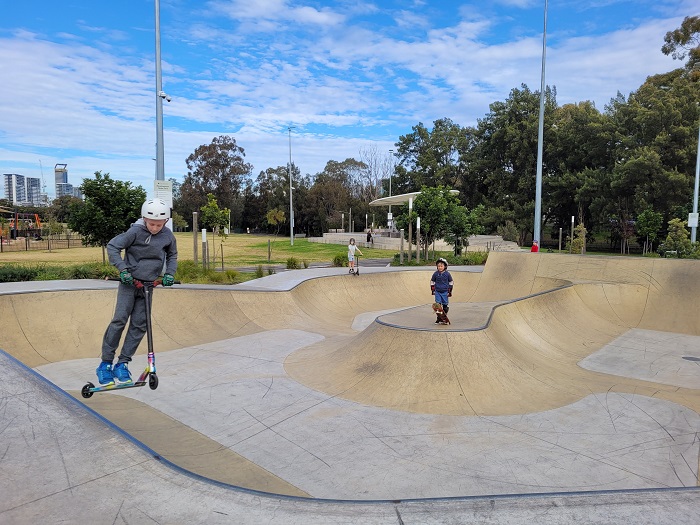 Then there's the new playground placed in the 'inner' section of the space – it's away from the road, is fenced and has an amenities block right beside it. This incredible $3 million dollar inclusive sensory space opened in Febrary 2022.
There is SO much to do in this playground! We'll try to paint a picture for you, but the photos probably do the best job. Again, paths weave around the whole area and there are lovely sandstone blocks that act as both seating and a natural means of separating the spaces.
When you enter the gate (pool gate style, so reasonably tricky for small people to open) there's a large sandpit on your right complete with 2 hand diggers. On your left is a space for toddlers, with a little cubby structure.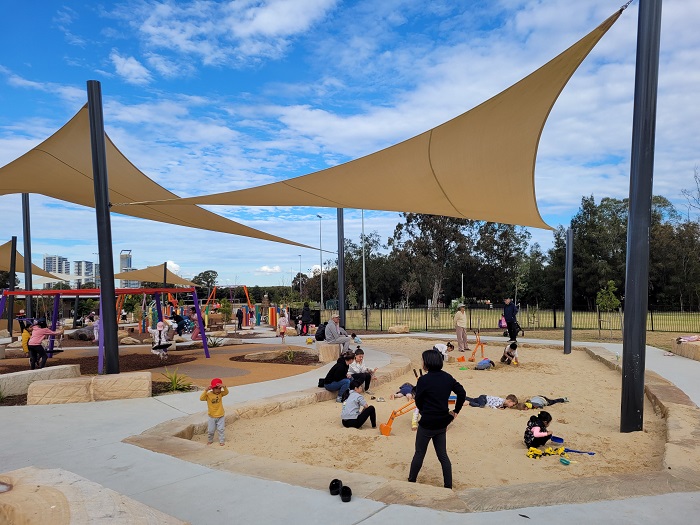 Moving into the playground past the sandpit there's a swing 'pod' – where multiple swings face one another. Kids love these! On the left of this is another play area suitable for about 3 – 6 year olds we guess. There's a small rope structure, a couple of slides and some climbing footholds.
And running along two thirds of the left hand side of the space is a climbing frame with a walkway kids can traverse. On the opposite side are brightly coloured poles and some natural balance beams and stumps.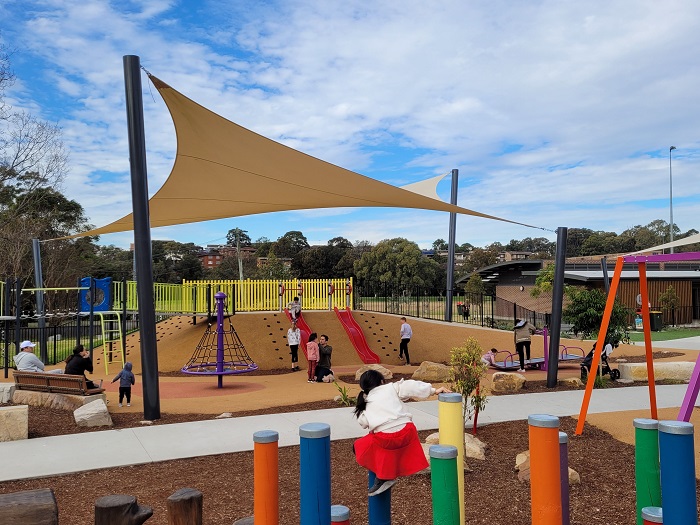 In the 'rear' of the playground you'll find a flying fox and, in warmer months, a water play section!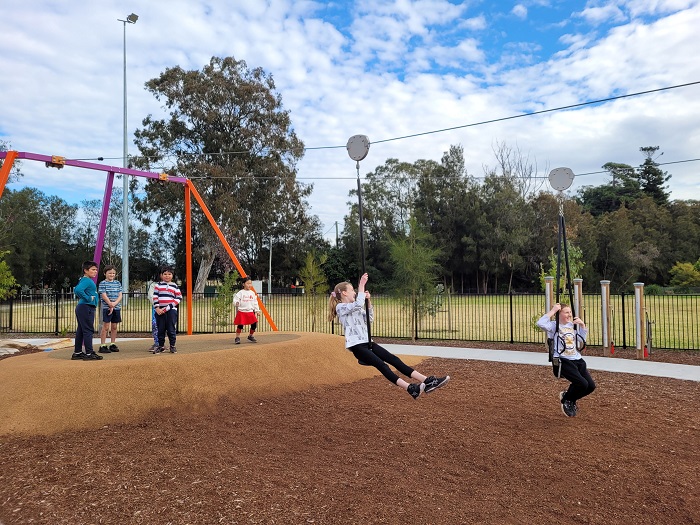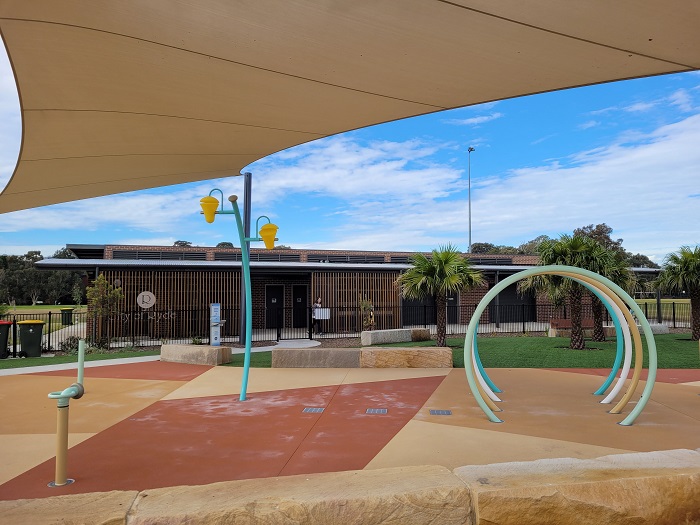 Sprinkled throughout are musical instruments such as drums and a xylophone, as well as a distorting mirror, which provide a lot of laughs for mutiple kids when we were there!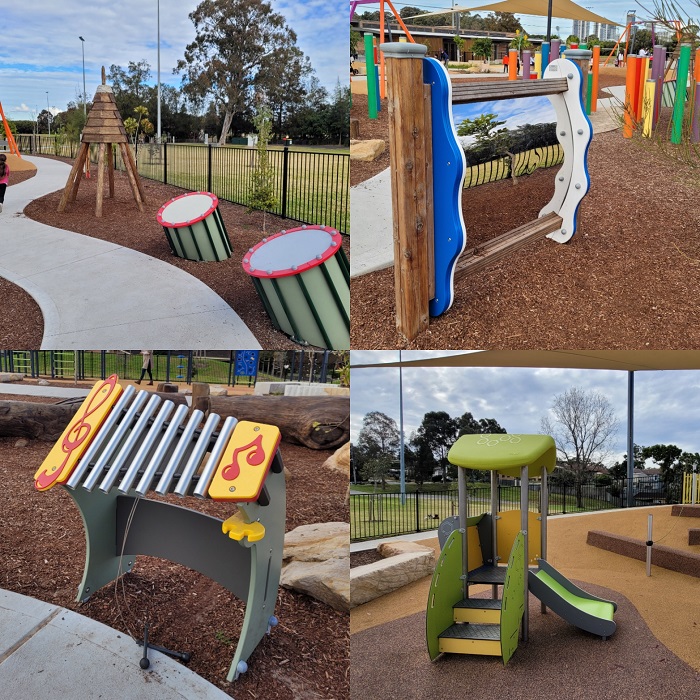 If you're wanting a free day of fun where kids are outdoors, stimulated and having the time of their lives, Meadowbank Regional Playground delivers this in spades! We can't wait to visit again.
---
Meadowbank Regional Playground
Constitution Road West.