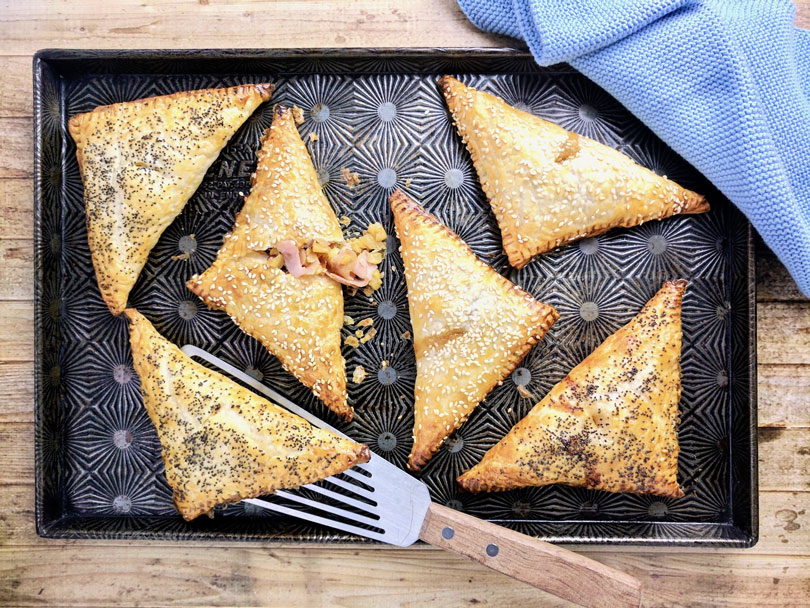 These pockets make a great light lunch or add a salad or steamed vegetables for a more substantial meal. Kids love them with their ham and pineapple flavours and crispy flaky pastry.  
They're super simple and easy to 'whip' up with things most people will have in their fridge, freezer and pantry. I matched the barbecue sauce version with the sesame seeds (which the kids loved!) and the mustard version with the poppy seeds. Enjoy!
Ham and caramelised pineapple pastry pockets
Makes: 6
Prep time: 30 mins
Cooking time: 30 mins
Ingredients:
1 tablespoon olive oil
1 red onion, finely chopped
½ small pineapple, peeled, cored, finely chopped (you'll need about 1 cup finely chopped pineapple)
100g shaved leg ham, coarsely chopped
3 teaspoons fresh thyme leaves
1 ½ sheets frozen puff pastry, just thawed
2/3 cup coarsely grated extra-tasty cheddar cheese
2 tablespoons barbecue sauce or american mustard
1 egg, beaten
sesame and poppy seeds, to garnish.
Method:
1 Heat oil in a medium frying pan over medium-high heat. Add onion and cook, stirring, for 5 minutes or until softened. Add pineapple and cook, stirring, for 3 minutes or until golden and caramelised.
2 Add ham and thyme and cook, stirring, for 1-2 minutes or until warmed through. Set aside to cool. Preheat oven to 200°C/180°C fan-forced. Line a large baking tray with baking paper.
3 Cut whole pastry sheet into 4 squares and half sheet in half to form a total of 6 even squares. Divide cheese over one side of each square. Top with ham filling. Drizzle over barbecue sauce or mustard (whichever you prefer to make).
4 Brush edges of pastry with egg and fold over to form triangles and enclose filling. Press edges with a fork to seal. Brush triangles with egg and sprinkle with seeds. Make a small slit in the top of each triangle. Bake for 20 minutes or until golden and crisp. Serve.
TIP: Easily modify these pastry pockets with salami, turkey or a combination.
---
kitchenink.com.au     |      Facebook/kitcheninkau       |       Instagram/kitcheninkau