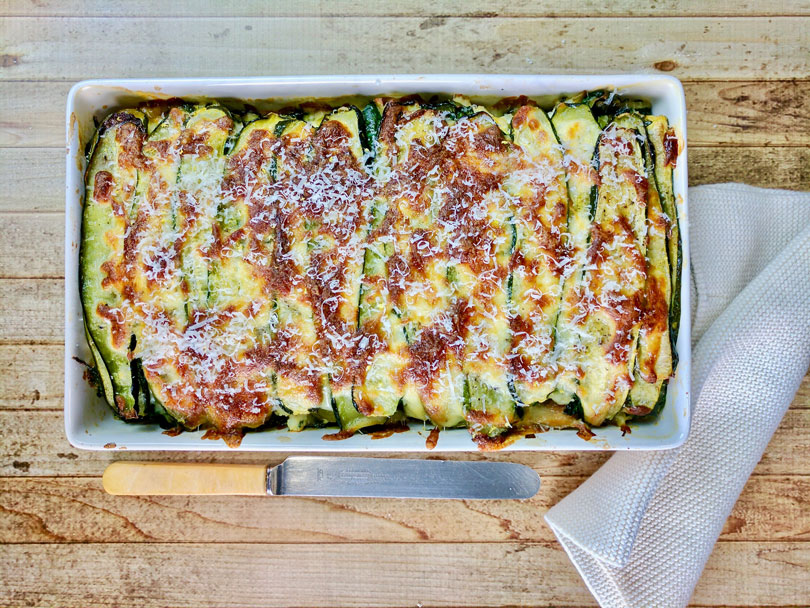 This recipe is a cross between lasagna and a vegetable gratin. It's low-carb, but more importantly it's packed full of flavour (and vegetables!). It's a simpler and quicker version of a traditional lasagna which makes it ideal for a weeknight meal. Enjoy!
Zucchini and ricotta bake
Serves: 4-6
Prep time: 15 mins
Cooking time: 45 mins
Ingredients:
8 zucchini, cut into 5mm thick ribbons
1 tablespoon olive oil
1 brown onion, thinly sliced
3 garlic cloves, crushed
1 teaspoon dried oregano
2 leeks, thinly sliced
280g baby spinach leaves
500g fresh ricotta
1 tablespoon finely grated lemon rind
½ cup finely chopped fresh basil
1 ½ cups grated pizza cheese
Method:
1. Preheat oven to 220°C/200°C fan-forced. Grease an 8-cup capacity baking dish. Line 2 baking trays with baking paper.
2. Place zucchini, in a single layer, on baking trays. Spray with oil and bake for 15 minutes or until tender.
3. Meanwhile, heat oil in a large frying pan over medium heat. Add onion, garlic, oregano and leeks and cook for 5-7 minutes or until softened. Add spinach and cook, stirring, for 2-3 minutes or until wilted. Season.
4. Place ricotta, rind and basil in a medium bowl. Season. Stir to combine.
5. Layer one-third of the zucchini over the base of prepared pan. Top with half the ricotta mixture and half the spinach mixture. Sprinkle with one-third of the pizza cheese. Top with half the remaining zucchini and then the remaining ricotta and spinach mixture. Sprinkle with half the remaining pizza cheese.
6. Top with remaining zucchini and sprinkle with remaining pizza cheese. Bake for 25-30 minutes or until golden and warmed through. Stand for 10 minutes. Serve.
NOTE: You may find the zucchini release water during baking (in step 6). This won't affect the recipe or the taste.
---
kitchenink.com.au     |      Facebook/kitcheninkau       |       Instagram/kitcheninkau