I absolutely love Christmas! Growing up, we didn't have a heap of money but mum and dad always managed to make Christmas extra special. Christmas for us was built around family traditions and we did the same thing year in year out. The Christmas tree was put up as a family with the same Christmas carol cassette playing in the background. We had a pillow slip for Santa to put presents in and a football sock for lollies. We left milk and carrots out for the reindeers and a beer and some Jatz for Santa. When I look back on childhood Christmases, it's not the presents that I remember the most, it's the time that we spent as a family and the stories that we still share to this day about Christmases in years gone by.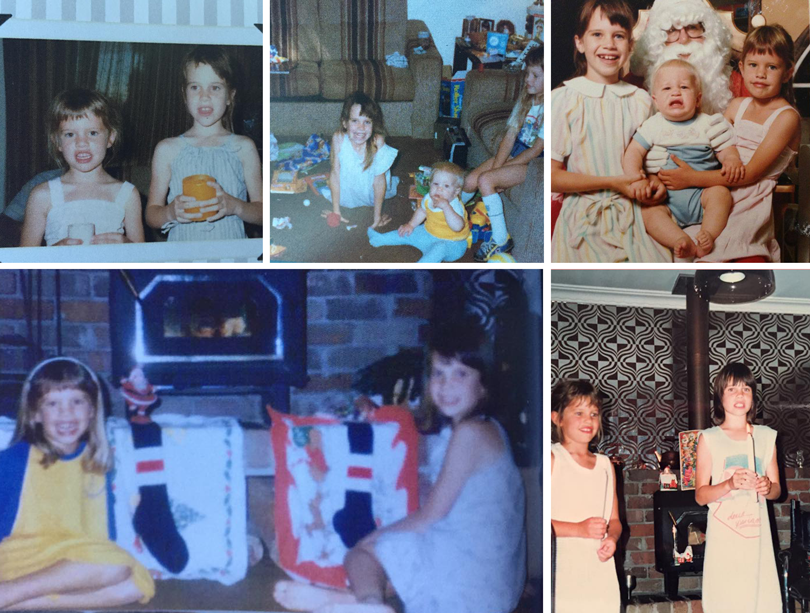 So now that I have my own family, it's important to me to start our own family traditions. I've tweaked them over the last few years but I think I've now settled on things for the time being.
Beforehand, there are a few key decisions that needed to be made and were the basis of extensive discussions with the husband, as it seems each family does things differently and everyone is very attached to how things were done when they were kids! Do Santa's presents come wrapped or unwrapped? If wrapped, are they individually wrapped or grouped together? Are they put in a sack or straight under the tree? Does Santa give ALL the presents or just a portion? Depending on the answer to the previous question, do parents buy a present or not? When does the tree go up? Seemingly simple things, but they form the basis of family tradition so they're good to consider and debate!
For the record, presents are wrapped, we have a sack for presents and a football sock for lollies, we give one present from mum and dad (why should Santa get all the glory?!) and the tree goes up on 1 December. I also LOVE our placemat that we put out on Christmas Eve.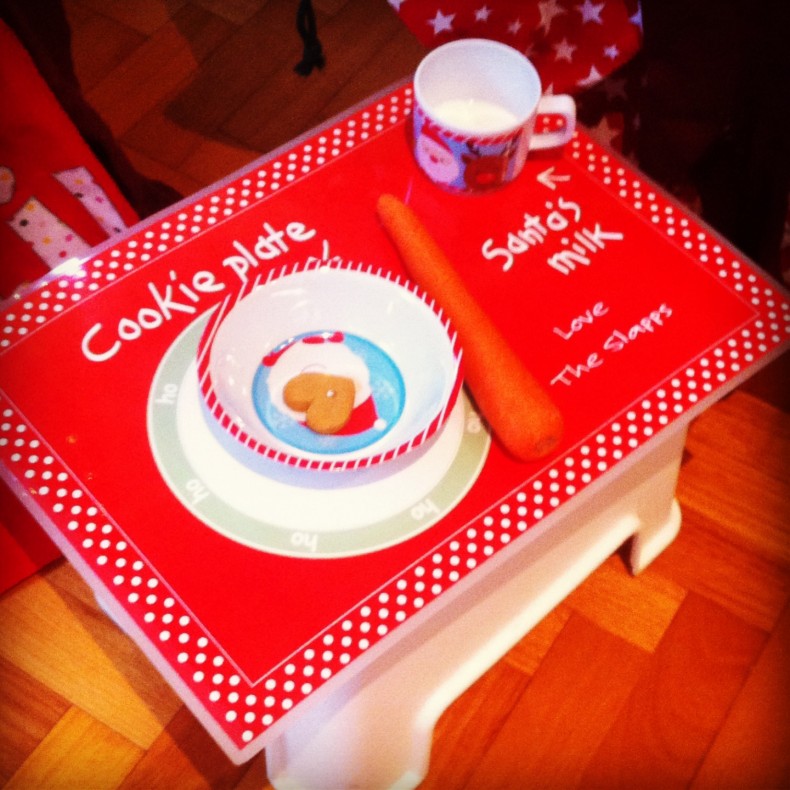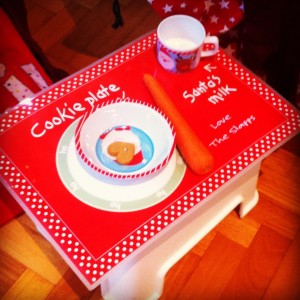 Here are five other things that my husband and I have settled on as part of our Christmas family traditions.
Elf on the Shelf
This is great for mums who like to use the threat of Santa for the whole of December. And this is me! The Elf on the Shelf is a scout elf sent from the North Pole to help Santa manage his naughty and nice list. Each night the Elf flies back to the North Pole to tell Santa Clause about the day's adventures. The Elf then returns home to a different spot in the house to watch the children. When the kids get up in the morning the race is on to look for their Elf.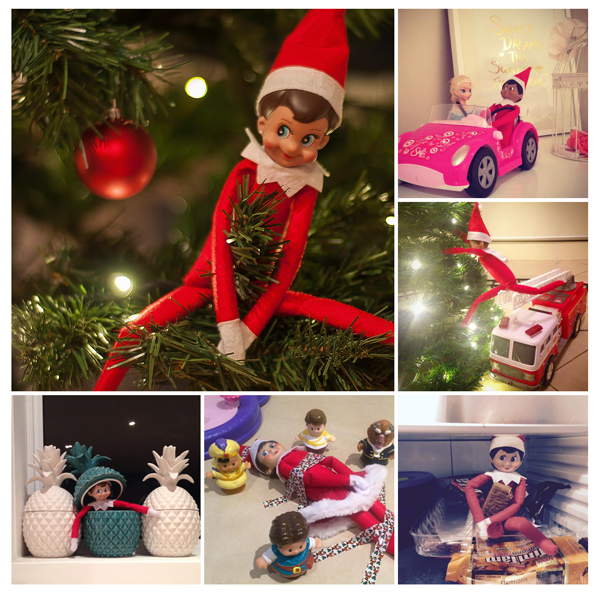 It's actually a lot of fun and something that you can get quite creative with as the photos above from Hills District Mums show! And if you start the Elf on the Shelf tradition make sure you join the HDM Elf on the Shelf Facebook Group (no, not joking) to share your funny poses and for inspiration as Christmas draws closer.
Christmas Eve box
Traditionally this is a box that is opened by the family on Christmas Eve containing goodies for the family. A traditional box includes new pyjamas, a Christmas book, a Christmas movie and snacks to watch with the movie. We actually open our family's box on 1 December so that we can get use out of it all December. Things I put in ours include Christmas pyjamas, a new decoration for the tree, advent calendars, christmas pillow case, christmas book and a Christmas teddy (this year we went with the Christmas themed Beanie Boos).
Presents from Santa – "something you want, something you need, something you wear and something you read"
This is the mantra that I use to guide my present shopping and we have been doing it for a few years now. Prior to doing this, Christmas often left me feeling deflated as presents that I'd spent months sourcing were tossed to the side in preference for the crappy cheap stuff or worse…. the packaging! So much time and effort was put into present giving but it was all a little excessive, particularly when combined with presents from grandparents, aunts, uncles etc. And quite frankly, they didn't appreciate the time, effort and money that went into it all.
The one thing I've learnt with young ones is – start small. It's very hard to rein it back in as they start to get older. But if you start small in the beginning they know no different and get the same buzz out of the day.
Family photo
This is something that can easily be overlooked in the mayhem of the day but is probably the most important one of all. It doesn't need to be a perfect family portrait, even a family selfie is great. But a family photo every Christmas will be something you treasure forever.
Charity
Every year I've bought each of our kids a charity gift card from World Vision. They're really affordable so for $10 you can buy a chicken or for $40 a new mum gift hamper. You'll see the World Vision stalls set up in local shopping centres, so this is a really easy thing to do. This year the Hills District Mums Charity Partner Ward Angels is doing a Christmas Food Drive.  Volunteers will be collecting items at the Hills District Mums Night of Christmas Cheer on 1 December at Bella Vista Hotel.
This is just a little insight into our family's Christmas traditions. Some other traditions that our HDM admin team do with their families include:
Lee: We love to drive around and look at the Christmas lights.
Trish: I make an advent calendar from books. I wrap 24 books (a mixture of old and new) and pop them under the tree. Every night my daughter unwraps a new book for her bedtime story.
Amanda: We do Santa photos every year! We also do new pjs for the entire family on Christmas Eve. Last year I went with a Batman/Batgirl theme for all of us!
Cherry: We decorate a gingerbread house together every year. We also have a big BBQ and swim with all our friends at our house and then walk down and watch the Glenhaven carols and fireworks.
Karen: Christmas carols will be on in our house on Christmas Eve. We also watch 'The Year Without a Santa Claus' without fail every Christmas Eve. I also make a big deal of our Christmas breakfast, as we travel a lot during the day.  So that's our time to connect as a family.
Janna: Our advent calendar has activities in it and is one you can pop notes in. I try to do a mix of festive, creative, spiritual and family activities. Some are really easy – listen to Christmas carols, have an ice cream treat, read a story. Some you would do anyway – decorate the tree, go see Christmas lights, make/write Christmas cards, wrap presents.
Ali: We get a REAL Christmas tree every year! We also have a massive sleepover on Christmas Eve with our extended family after a big Christmas Eve lunch.
From us to you, enjoy the lead up to Christmas and don't let it stress you out. Focus on the important things and take care of yourself and your family.
Tell us about your Christmas traditions.