Everyone has a few favourite go-to recipes up their sleeve that they pull out consistently. They're almost like your own signature recipes – just written by someone else. With three step kids, two toddlers and a husband that loves food I have some serious critics in my house, but I've managed to find a few fool-proof recipes that keep everyone happy.
Family meal – Pork and Veal Ragu
Sounds fancy but really it's just spaghetti bolognaise. A really yummy spag bol! This recipe is approved by all my kids ranging from 14 down to 18 months and adults love it too. I've shared this recipe with countless friends and it's always a big hit.
Don't be put off by the milk – seems slightly strange but somehow it works. The only things I change in this recipe is the addition of garlic at the start plus 2 tablespoons of tomato paste when the tin of tomatoes goes in. And yes, unfortunately, the alcohol in the wine cooks out.
The picture doesn't look fancy – it is what it is. A good, old-school family meal.
For the recipe click here.
Healthy kids' snack – Carrot Cookies
If you haven't come across One Handed Cooks yet make sure you check it out. Founded by a Sydney mum, this website is full of fabulous food ideas for little ones. They also publish a monthly magazine. It's hard to choose my favourite recipe from One Handed Cooks but the goodies I make the most are carrot cookies. They're simple to make and full of goodness. And for those with allergies they're egg, milk and nut free!
For the recipe click here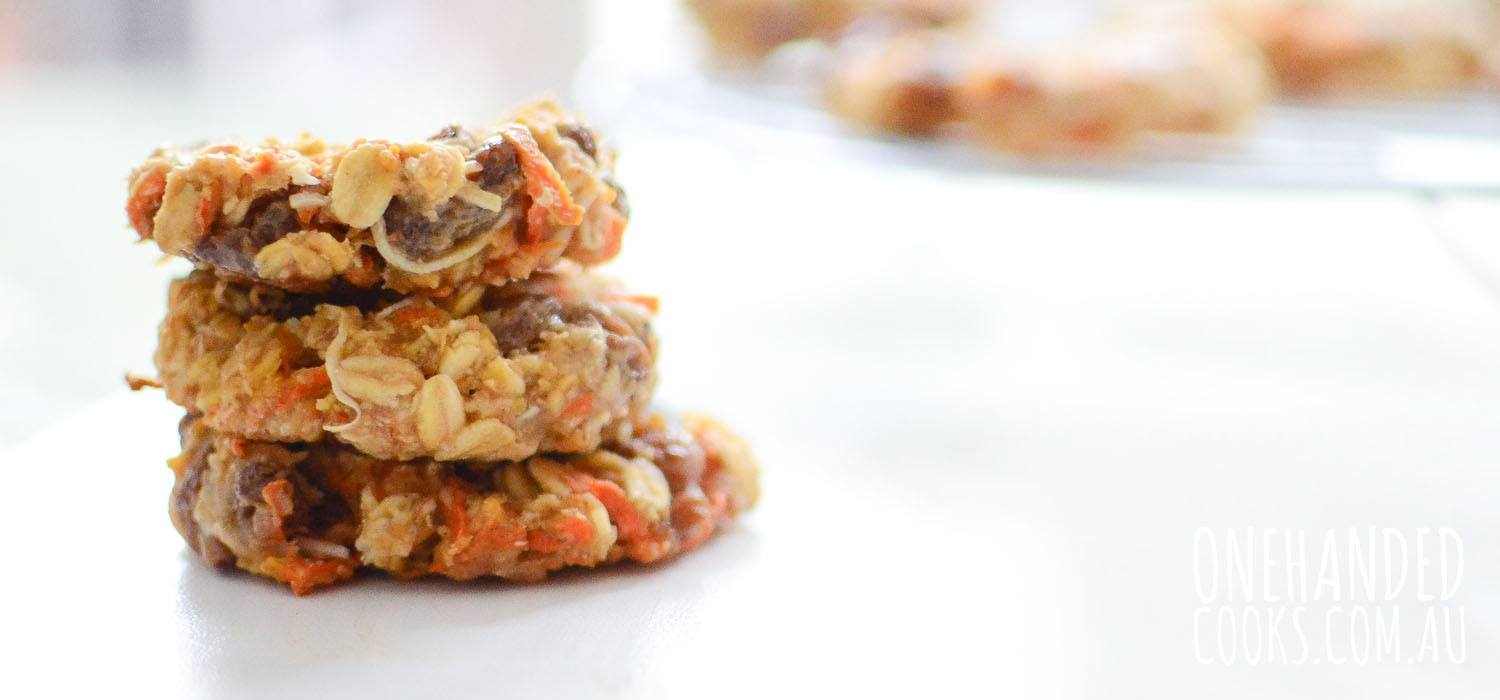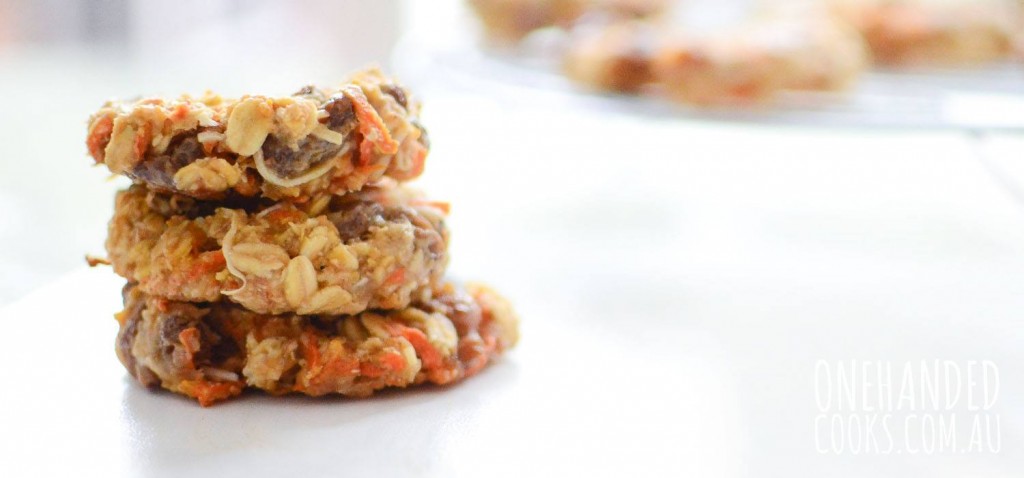 Mid-week salad – Pearl Cous Cous with Lemon Marinated Chicken
This recipe is totally made up by me and is a healthy, quick and tasty option that we never get sick of.
Marinade 4 chicken thigh fillets in the juice of one lemon, a clove of garlic, some dried oregano and a splosh of olive oil (mix marinade first then marinade chicken up to 1 hour).
Toast some almonds first then cook the chicken thigh fillets in the pan – a griddle pan gives that nice bit of char if you have one.
At the same time cook the pearl cous cous to directions on the pack (we just boil half a packet in water or stock for 10 minutes).
Add mini tomatoes, dried figs (diced), baby spinach and toasted almonds. Squeeze over some extra lemon juice and a dash of olive oil if you like.
Serves 2.
You can take this salad whichever way you like – sometimes we go a bit Mediterranean and add some feta, any fresh herbs kicking around in the salad crisper and a dollop or two of Greek yogurt. Hubby likes to add sweet chilli sauce to his. Each to their own!
And I've even cheated with the chicken and used the Jamie Oliver pre-marinated chicken pieces from Woolies when I'm super busy or being lazy!

Dessert – Self-Saucing Butterscotch Pudding
Last winter the Hills District Mums went nuts for this recipe. Simple to make and absolutely delicious, this gooey pudding is absolutely scrummy and dead easy to make. This is comfort food at its best and perfect with winter on its way!
For recipe click here.
Something sweet for morning or afternoon tea – Chocolate Brownies
OK, I'm totally cheating here but I always have a packet of Donna Hay Molten Chocolate Chunk Brownies in the cupboard. These brownies are a hit and are regularly devoured by my mummy friends! Why bake from scratch when something this awesome exists?!
What are your never fail recipes?