Lakes Edge Park, Camomile St, The Ponds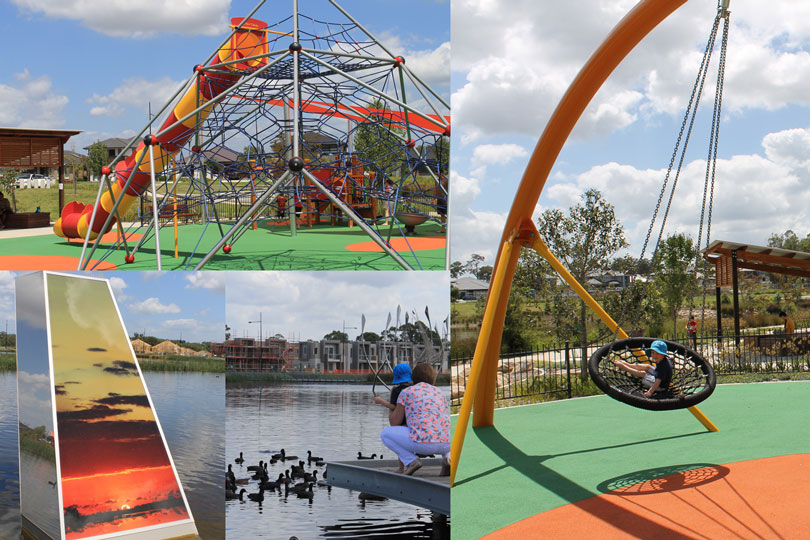 I'll admit to being a little bit excited about checking out this new park. Pre-kids I would have been excited about checking out the latest new bar and sipping on several mojitos (yes, my choice of drink betrays me – it's THAT long ago.) My, how times have changed – now it's new parks and a skim flat white.
But let's face it, parks are essential to any mum's sanity and flash new ones are few and far between. So it's a teeny bit exciting when you go to a new one – I mean for my toddler, not me. Definitely not me.
We visited the park mid-morning on a lovely sunny Saturday. But before we talk ducks and tube slides, let's get the boring stuff out of the way first.
Parking was no problem – we got a spot right out the front. Worst case scenario, you might need to park in an adjacent street. It's partially fenced on the lake side not the road side, so you can't tune out completely with the little people around. The toilets are a bit of a hike over to the other side of the lake. So, note to toddlers – don't leave it until the last second to declare you need to do a wee. There's a shade sail over the toddler equipment but not over other equipment. It's got the spongy soft-fall stuff on the ground for unsteady toddlers. There are plenty of benches and some shaded seating for the adults which I was grateful for, because it was darn hot. There's no café at the park, so you'd need to be organised and pick that up en route.
Now, on to the more exciting bits.
The first thing that struck me about the park was how peaceful it was. I think it was the vast open space and water that contributed to this feeling, not so much the hum of various power tools – standard for a Saturday morning in an area where many houses are still under construction I imagine.
My son clocked the ducks immediately as he has quite a thing for them. So this park had scored points before he was even out of his car seat, with its enticing duck/playground combo. Before we road-tested the playground we wandered down to the lake to see them at close range. He was even more impressed by the array of water fowl here – not just your garden variety duck in the Ponds, thank you very much!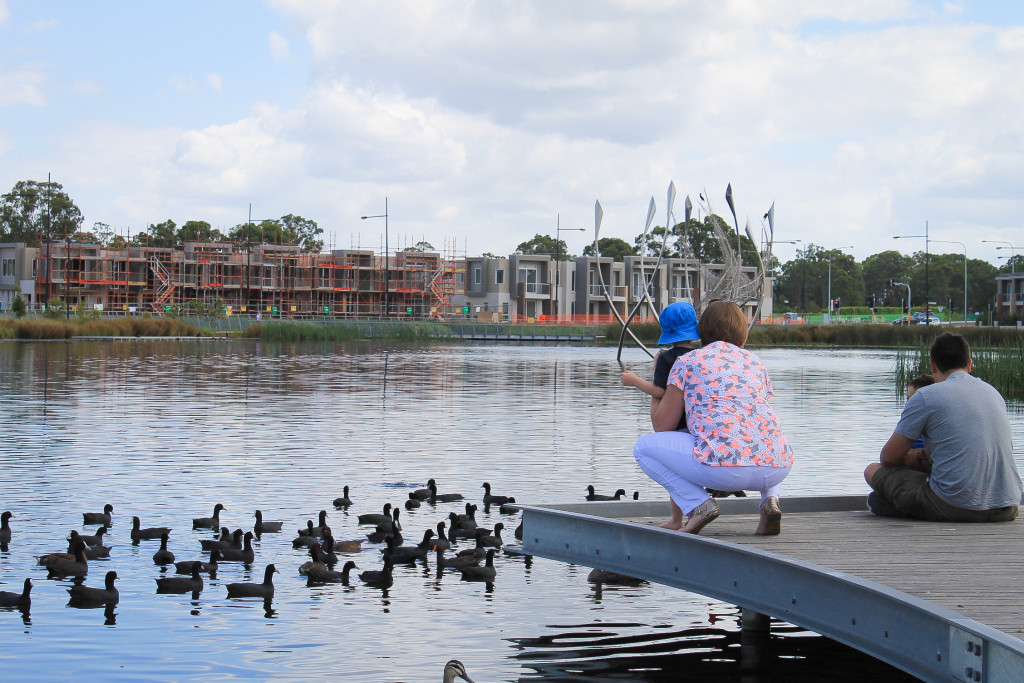 The play equipment was bright and BIG! Actually everything was kind of super-sized – the houses, the climbing net, the birds nest swing. I'll focus on the latter two as we didn't test out anyone's house on this visit.
The giant climbing net is pretty hard core and clearly aimed at the older kids market. And the prize for managing to scale it to the very top is the express way down – an awesome tube slide! The toddler pondered this structure for a while and though desperate to go on the slide, his little brain did the maths on the climbing net and, thank goodness, he conceded defeat. A slight shame as he would have LOVED the slide. Curse those cunning and clever playground equipment designers!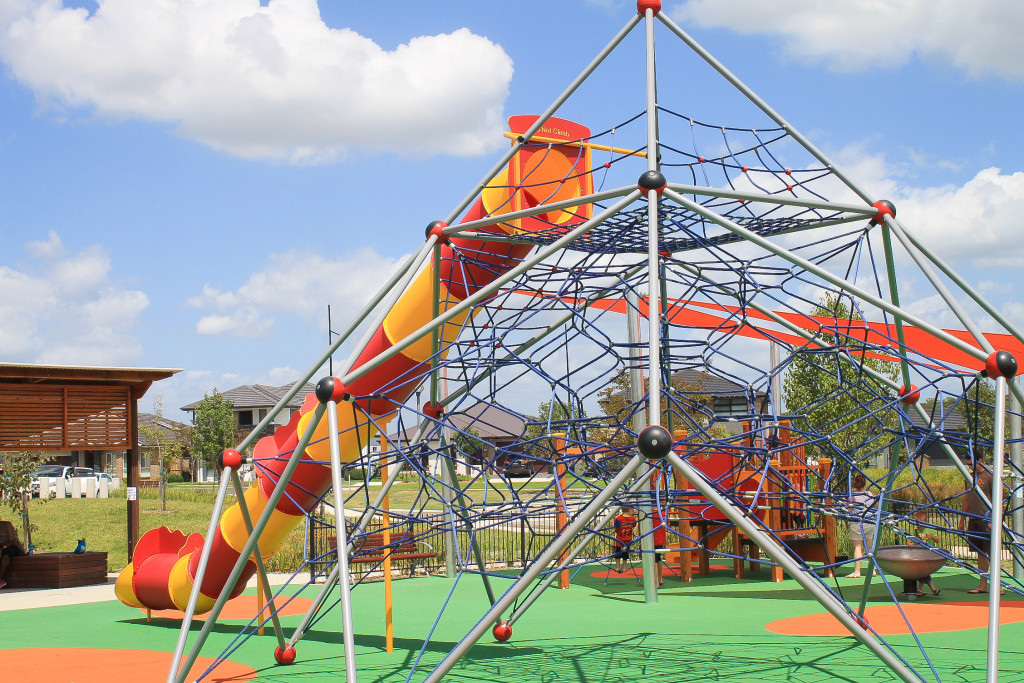 He then moved on to the birds nest swing. Now, I hear you say 'big deal, these are a dime a dozen in parks now'. Ah, yes … but not ones like this! I'm no engineer so I'll use layman's terms here to describe it – it hangs from a really high height, which means it gets loads of air. (Is this something to do with a fulcrum??). And it swivels, so it can go in a circle or any which way you want it to, rather than just back and forth. If this review doesn't get you visiting this park, your curiosity as to what on earth I'm talking about here surely will!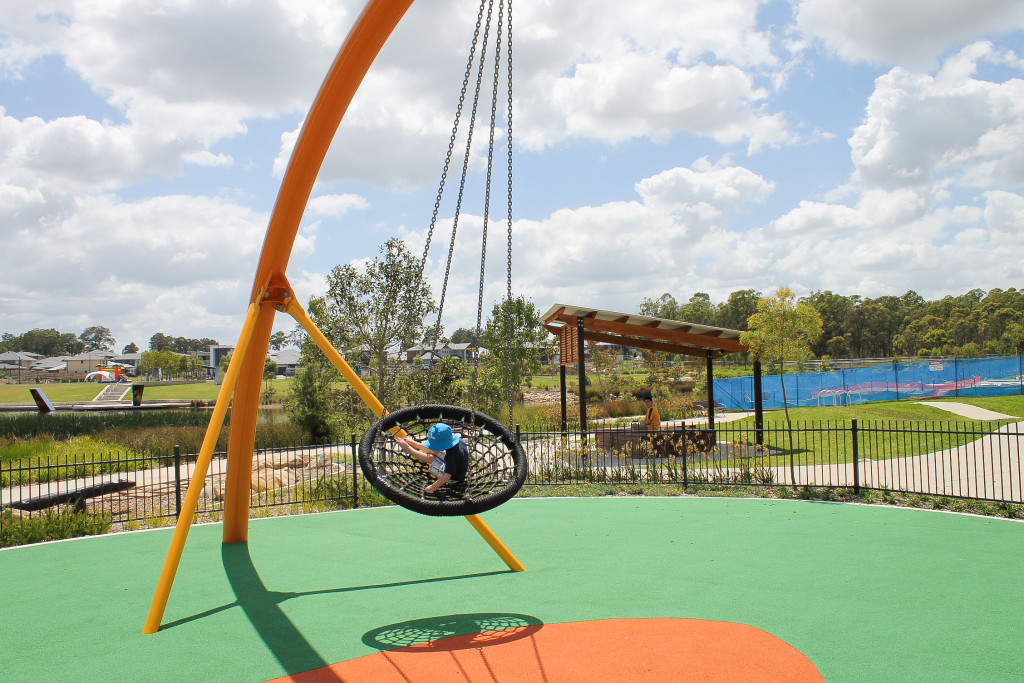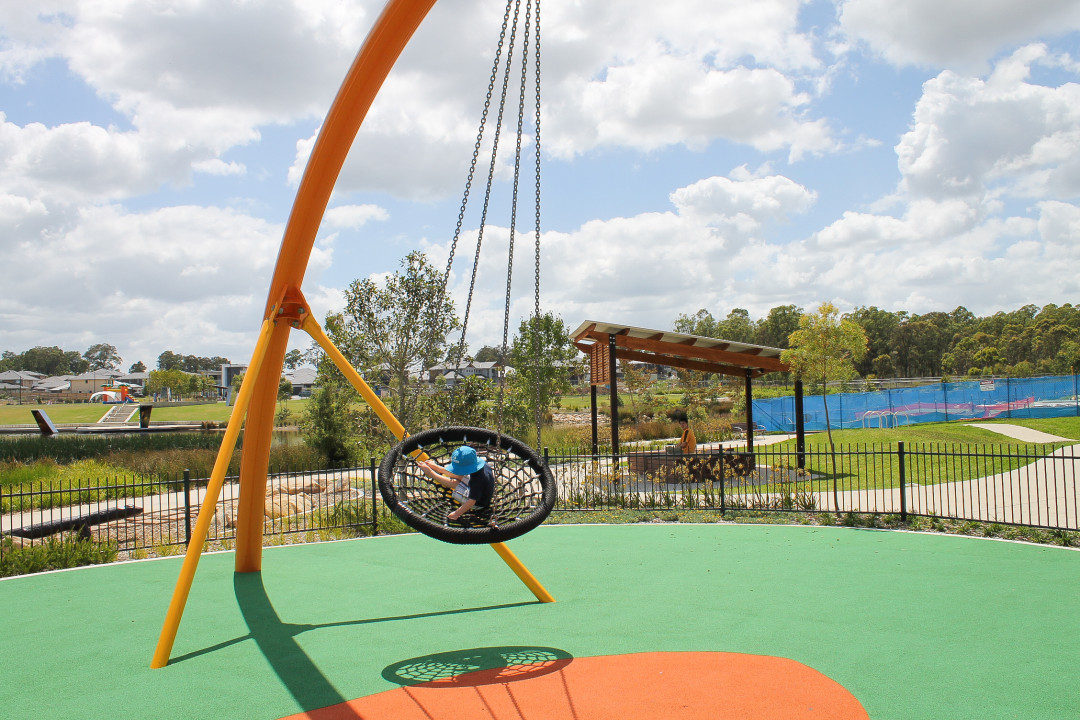 It's also got a fun spinning bucket/disc type thingo (yes, that's its technical name), your standard swings and a smaller scale climbing structure with a little slide for sensible toddlers.
If you do make the journey over to the loos, you'll see the lovely spacious flat green area with shelters and bbqs. It really adds to the community feel – as we arrived a jumping castle was being erected and a party was obviously about to start. Also, there are some interesting arty structures in the water for grown-ups to contemplate.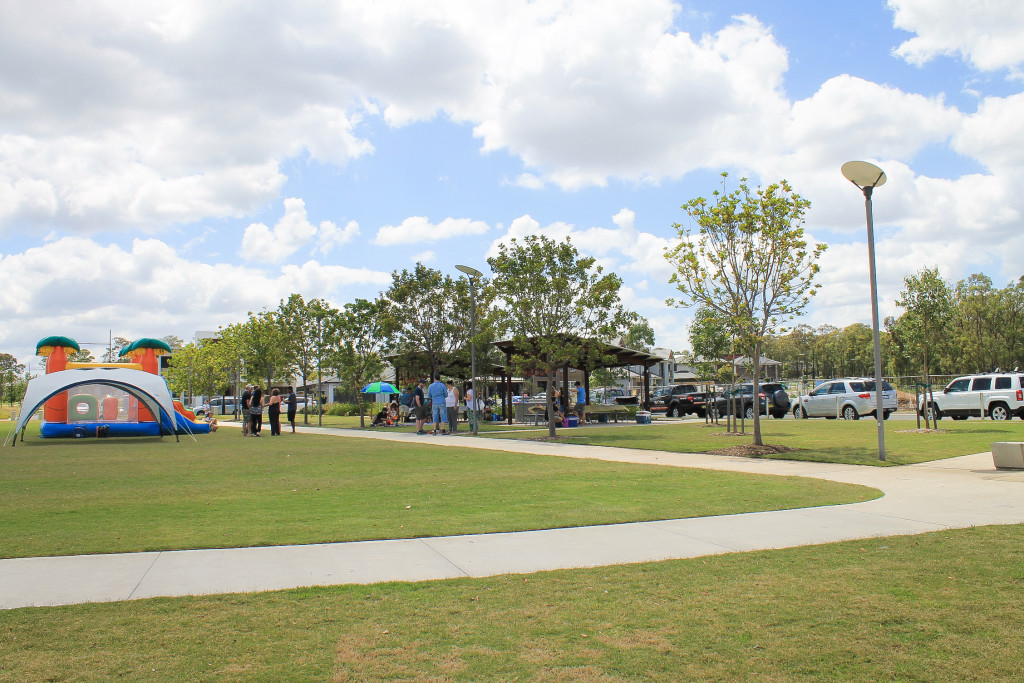 All in all it was a lovely morning and the park certainly delivered. All that was missing was a mojito for mummy, uh I mean a skim flat white.