I believe the ambience of any room in the house is key and with a child's room you can have so much fun creating a magical and functional space for them. Here are a few of my styling tips that work in my household.
My sources of inspiration? I love Pinterest and Instagram and as a result I follow a lot of designers, stylists, bloggers, and magazines for inspiration. Save images or looks you like for inspiration or future design plans.
Rest or reading nook
Encourage reading and quiet time with a reading nook in their bed or play room. The area must be comfortable and relaxed – if children enjoy their environment it's more likely they will be happy to spend time there. Floor cushions are in at the moment and look fabulous in any room. Add a few scattered cushions for extra comfort, along with a soft toy or two for them to cuddle up to as they read. Display a selection of their favourite books nearby, perhaps on a shelf making it accessible and also stylish. Softness and texture in the furnishings will make it cozy and inviting.
Velvet floor cushions available in 3 colours – pink, silver, black.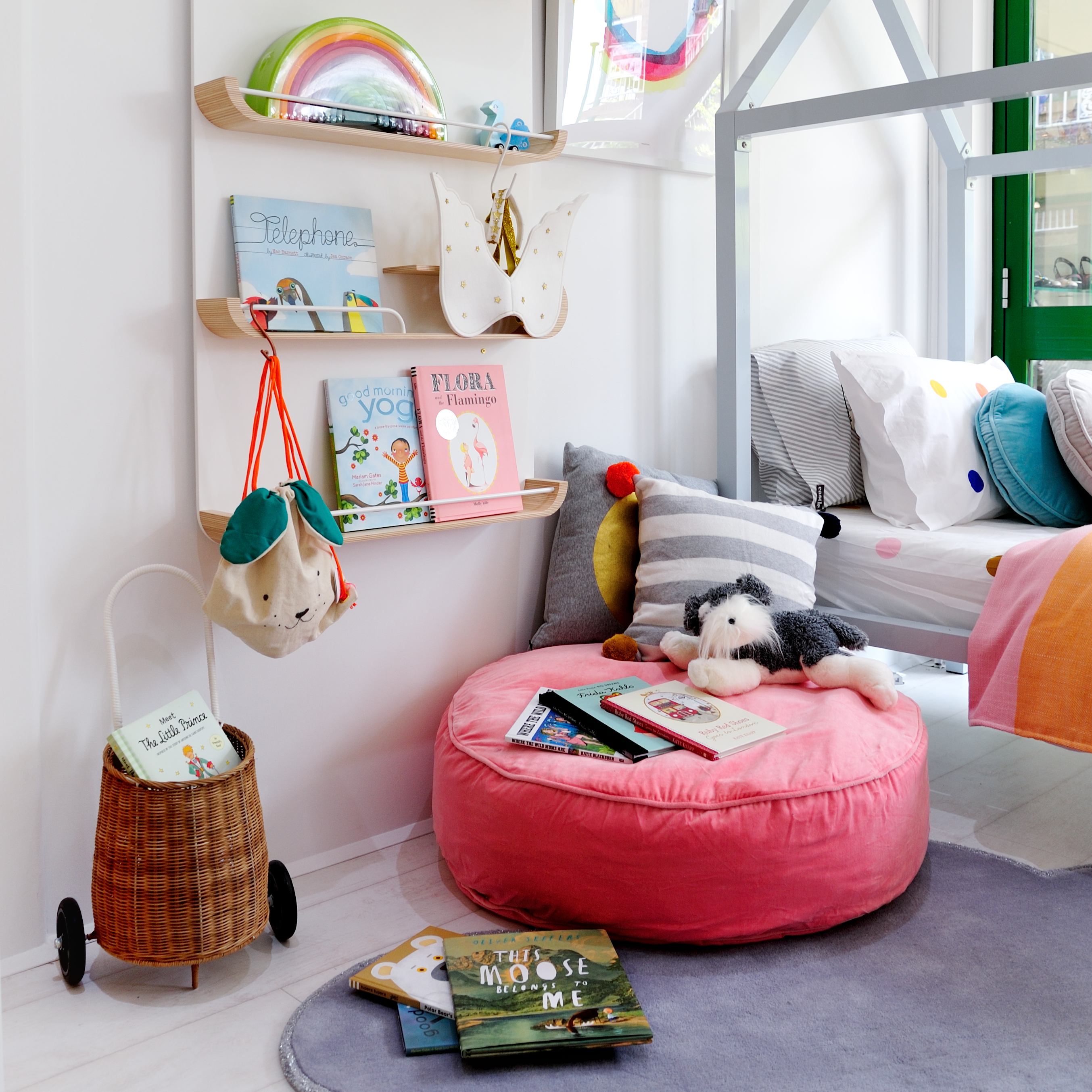 Bench or table for playtime
Creative play is important for every child's development. If you are limited for space, Rafa Kids has designed these functional and stylish benches, which can sit up against a wall, at the end of a bed or in the middle of a room. Beautifully crafted so that kids can explore as they sit and play, draw and read on them. Versatile and sleek in design these benches look fabulous in any room of the house, or even the hallway, as a dedicated spot for coming and going.
Rafa Kids B Bench shown start from $435. Image by Rafa Kids.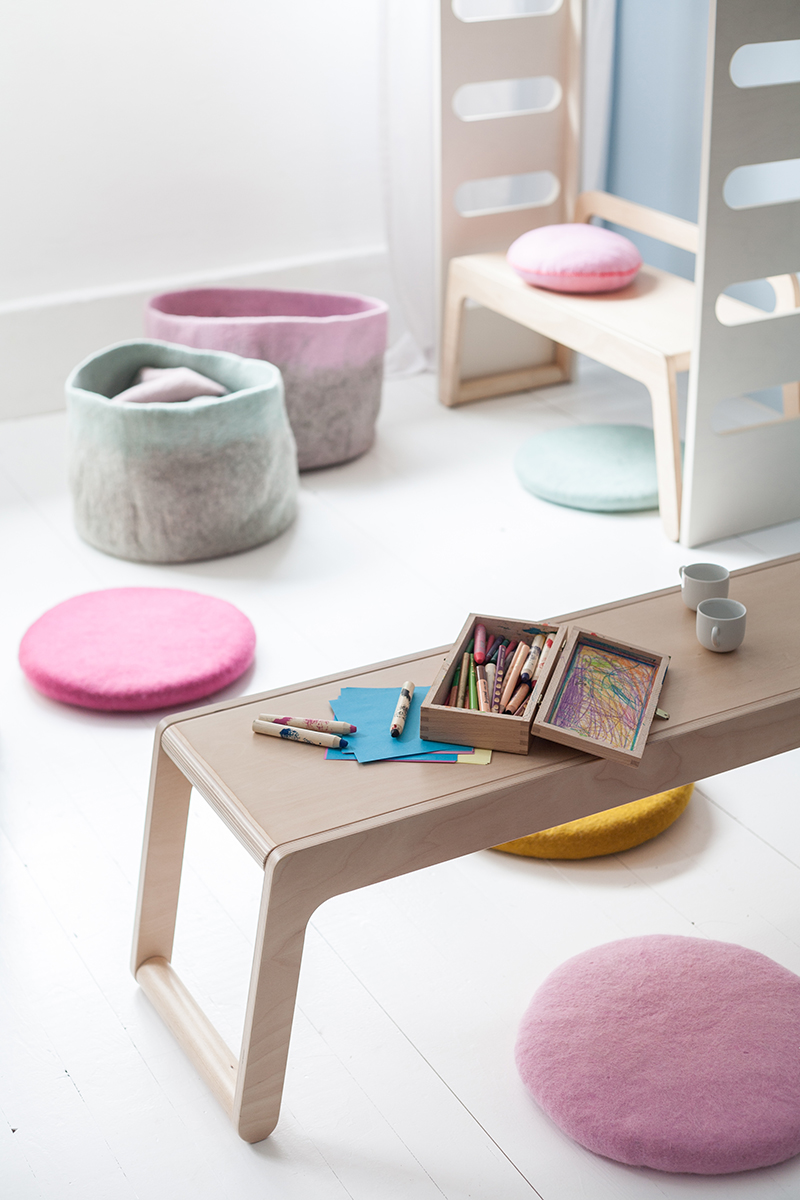 Shelfie
A great way to show off your child's treasures is with a shelfie! Select a wall that you would like the shelving featured on. Don't over style the shelf; add a few keepsake items, fun toys, a doll, a feature storybook and even a little pot plant can also make for a lovely feature. Space within the items on the shelf creates visual balance. Have the colour palette of the room flow through to the shelfie and, if you like, add a highlight colour that's featured elsewhere in the room.
Our L shaped Rafa shelving is a statement piece for little treasures. It's a functional shelf featuring a rail for you to hang special items, like a tutu, princess dress, or Batman dress up. Rafa L Shaped Shelf is $499.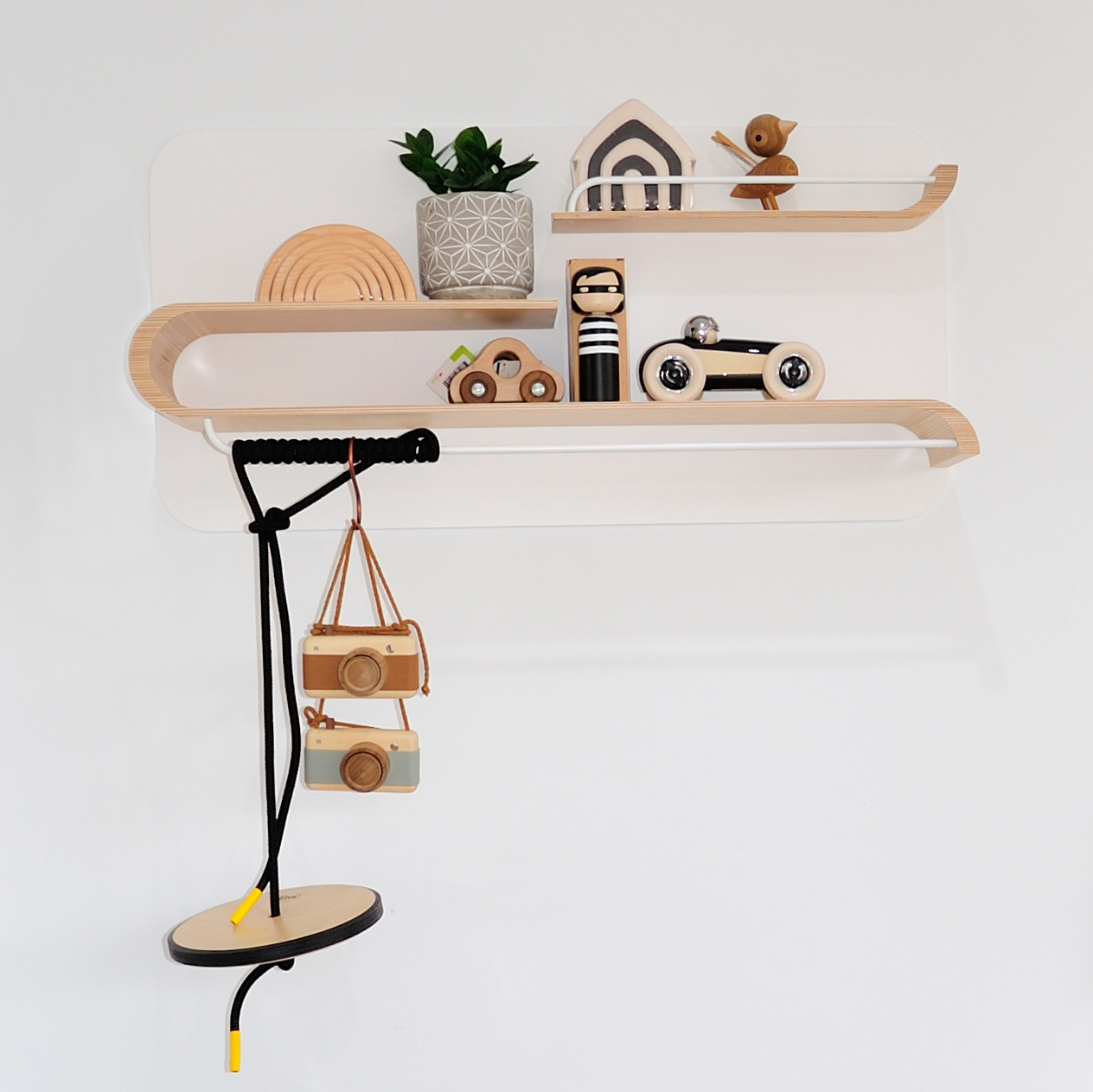 Storage
Storage baskets and boxes are a great way to hide everything! Select storage that is functional and will also compliment your existing home furnishings. Opt for styles that are easy for children to access so that they can tidy up themselves. Canvas baskets are affordable and durable, great for storing just about anything. A lidded basket keeps the clutter out of sight which is great for little toys and a fancy dress collection. Throw it all in, and then cover it up! I love a classic natural belly basket, also very versatile for plants, or a collection of soft toys. Try grouping a selection of two to three baskets at different heights and sizes, keeping the colour palette consistent with the room.
Small canvas basket $24.95, large canvas basket $29.95, lidded diamond basket $115.00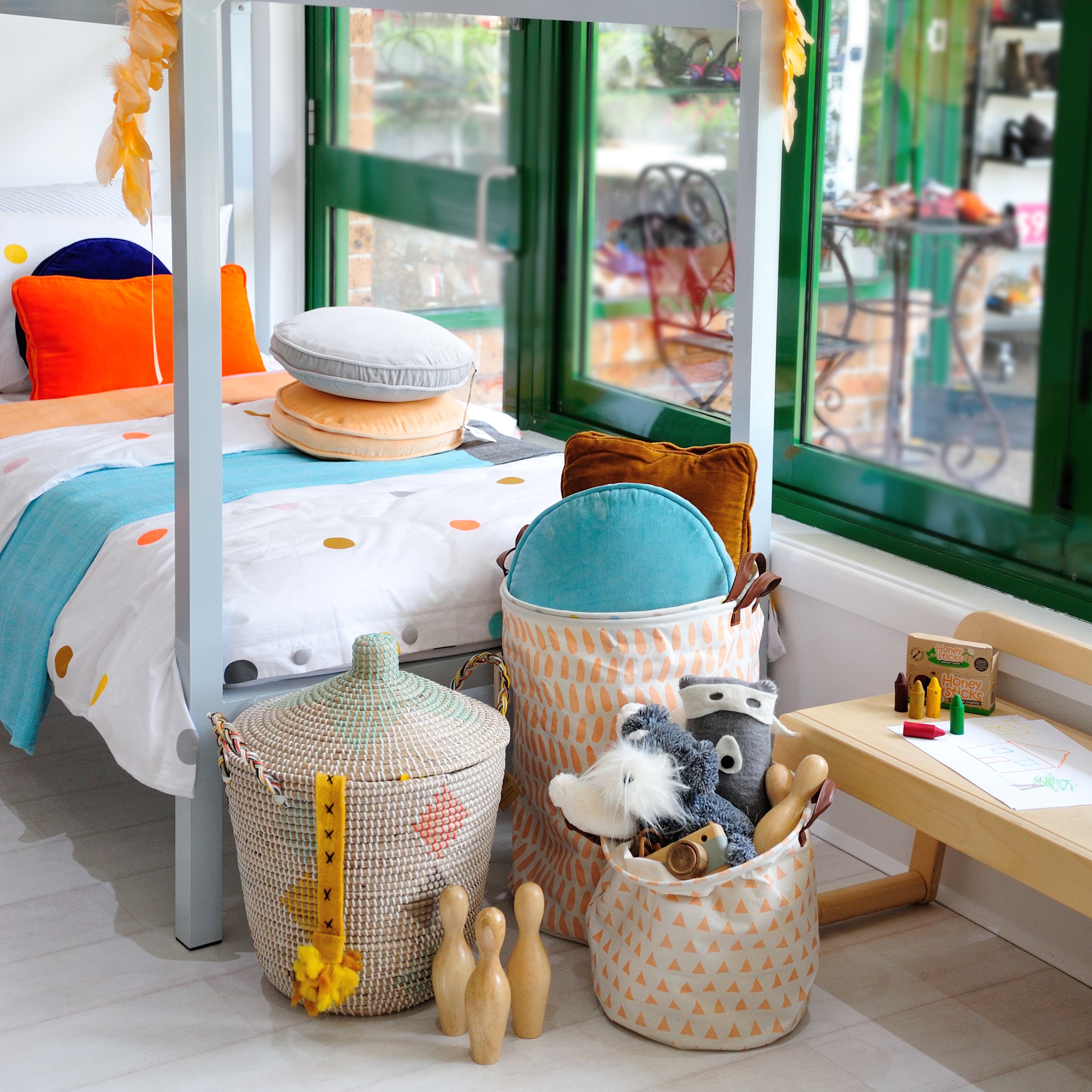 Wall art
Add a wall print, and/or an animal head on a wall for you all to enjoy looking at. We all appreciate a nice piece of art! Select wall art that's cohesive with the room and choose something that everyone will love looking at. Large pieces of art on a wall or propped on a chest of drawers can have such a wonderful impact. However if you can't find one that you love, opt for a few smaller prints grouped together. Oversized animal heads are very popular in nurseries and play rooms as they create a magical feel within a room. Placing them on a contrast or wall papered wall makes a statement and can really bring them to life.
Animal heads starting at $180.00. Pax & Hart prints $55.00. All available from In My Hood online and in store. Images from Live Loud Girl.
---
You can find In My Hood online or visit the store at 3 Ward Place Dural.
Penny will also be at our Night of Christmas Cheer markets at the Bella Vista Hotel on Thursday 1 December. Full details here…