One of the most popular articles on hillsdistrictmums.com.au is our list of cafes next to play areas. Parents LOVE a place where kids are occupied for some of the time. You can then usually eat, drink and even have an adult conversation in relative peace, while of course keeping a responsible parental eye on your offspring! Unfortunately, most of the cafes listed aren't open for dinner…but don't stress, the Hills and surrounds are full of pubs and restaurants with play areas! Here are some venues in or near the Hills where the kids can have fun while you do too!
A couple of disclaimers on this one: we haven't tried out all these venues so can't vouch for the food or service etc. Also, sometimes these kids play areas can get pretty full on and hectic. So do keep an eye on your little ones between sips of your beverage!
Before you visit, it's worth phoning or checking websites and/or Facebook pages to ensure opening hours etc.
The Australian Brewery – 350 Annangrove Road, Rouse Hill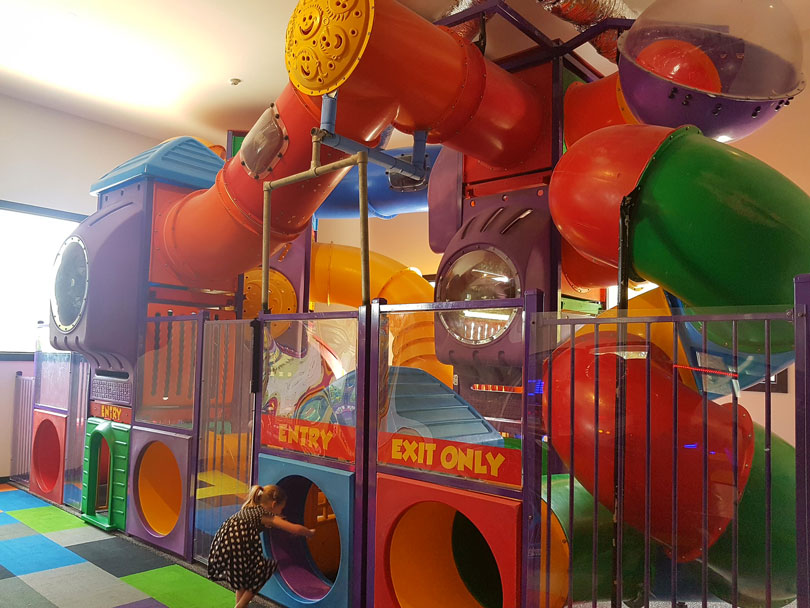 This is a favourite for dinner with kids and the Brewery upgraded the play area last year too. There's a small area for toddlers and a larger area for bigger kids. It does get busy so you need to be keeping an eye on things. Read more here.
Blacktown Bowling Club – 15 Lismore St, Blacktown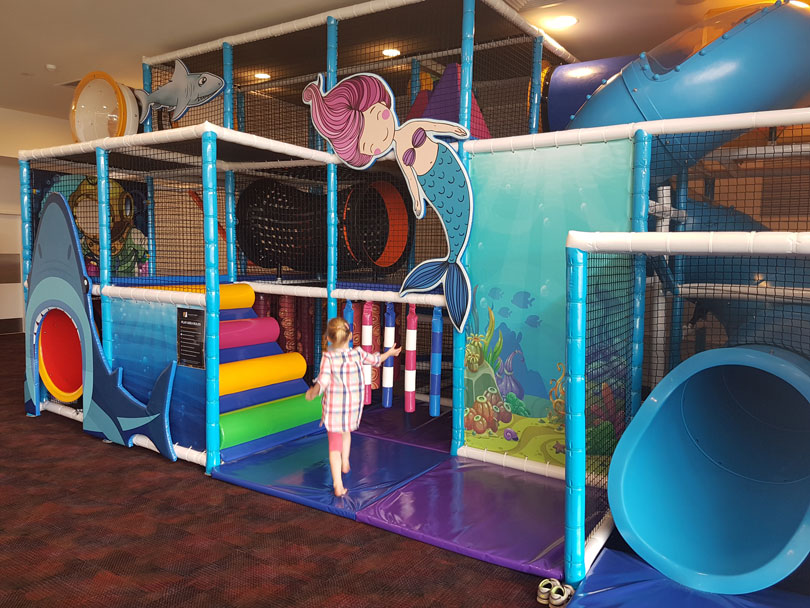 A major renovation a while ago includes this cute little play area, and with an Italian inspired bistro and lovely deck, it's a great option for families. Find out more here.
Castle Hill RSL – 77 Castle Street, Castle Hill

This play area is a bit of a beast! There are two separate areas for smaller and bigger kids, and it's fully fenced and undercover. It's massive so just make sure smaller kids can deal with the higher sections should they venture up there because it would be tricky to get them down if they freak out!
There's also an entertainment area for tweens and teens who are often overlooked. It's got some cool arcade style games and we're pretty sure you may find some dads in there every now and then!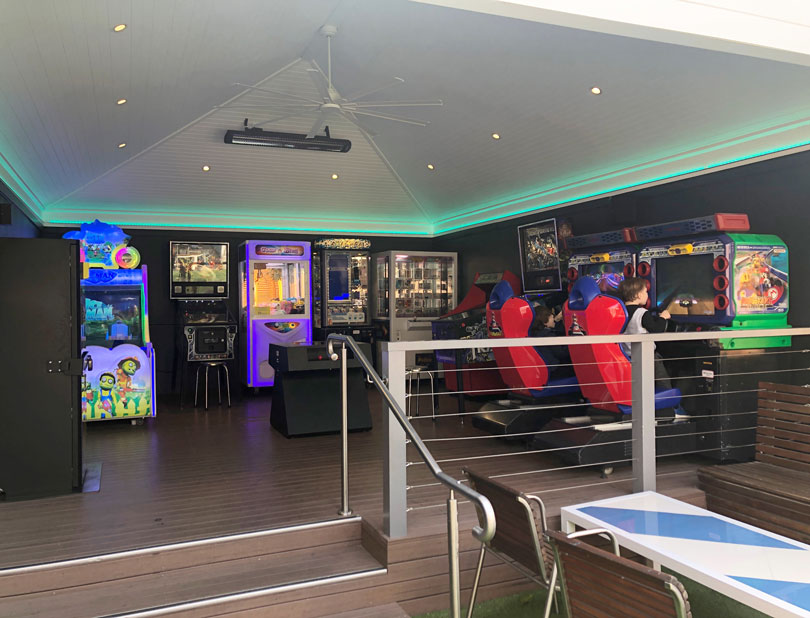 The Fiddler – Commercial & Windsor Roads, Rouse Hill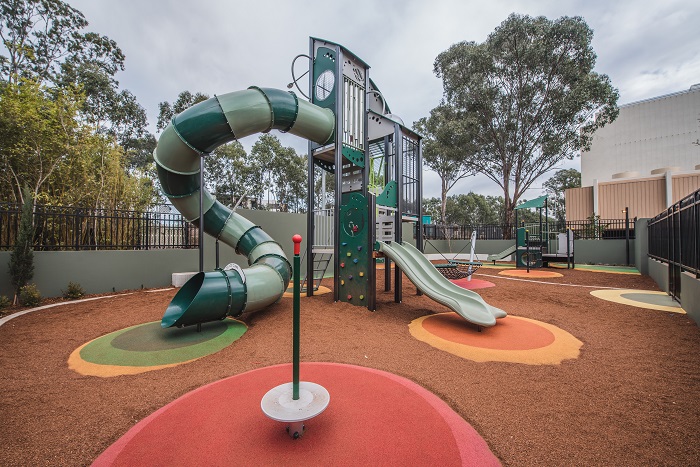 The Fiddler refurbed its play area not long ago and it's looking great! There have even been some shade sails added.
Glenorie RSL – 3 Post Office Road, Glenorie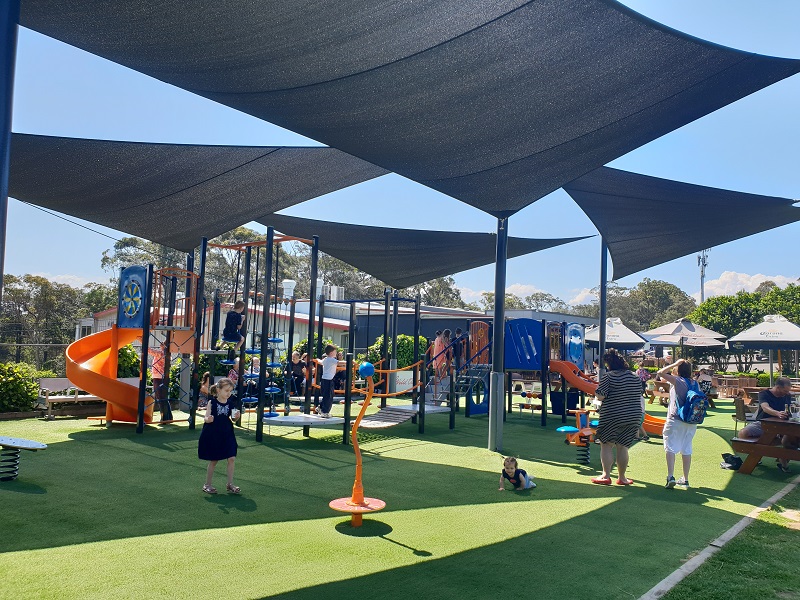 The Glenorie RSL has a fabulous outdoor area. The fully fenced grassed area has a great playground for younger kids to enjoy and plenty of space for older kids to play footy or tip. Both areas are within sight of your dining table if you're sitting outside. And the outdoor play equipment now has shade sails – awesome work guys!
Lynwood Country Club – 253 Pitt Town Road, Pitt Town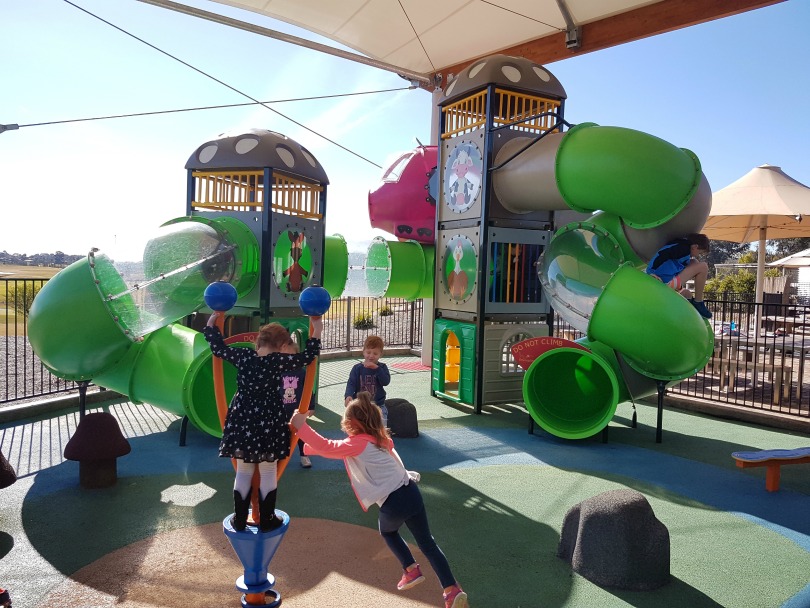 We love Lynwood Country Club. It's a great space for adults and kids alike. There's a great playground area and kids can meet farm animals at set times on weekends – just check out their website or Facebook page for the latest details. On a sunny Saturday or Sunday though, the tables by the play area get nabbed quickly.
The Marsden Brewhouse – corner Hawthorne Avenue & Richmond Rd, Marsden Park
This is a fabulous play space and worth the trip if you're not that local. There are several tables right by the play area and the area itself is quite enclosed which is good – we like it when you can easily see everything too! Little kids and slightly older ones all enjoyed the space when we visited.
Blacktown Tavern – 81 Kildare Rd Blacktown
The Blacktown Tavern has a good play area and an arcade room too.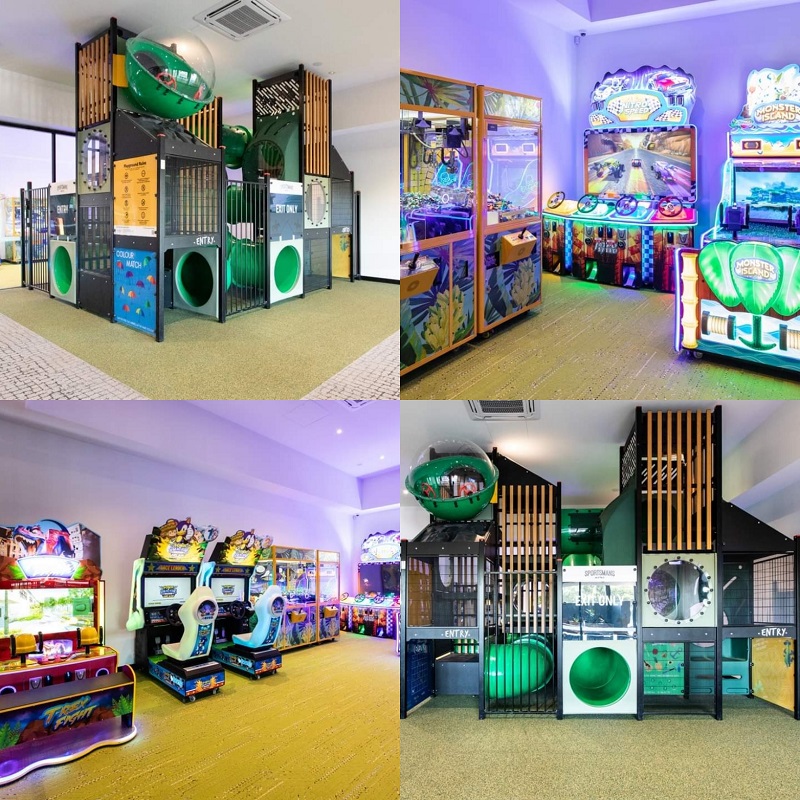 Hotel Seven Hills – 222 Prospect Highway, Seven Hills
There's a small play area for little ones at Hotel Seven Hills.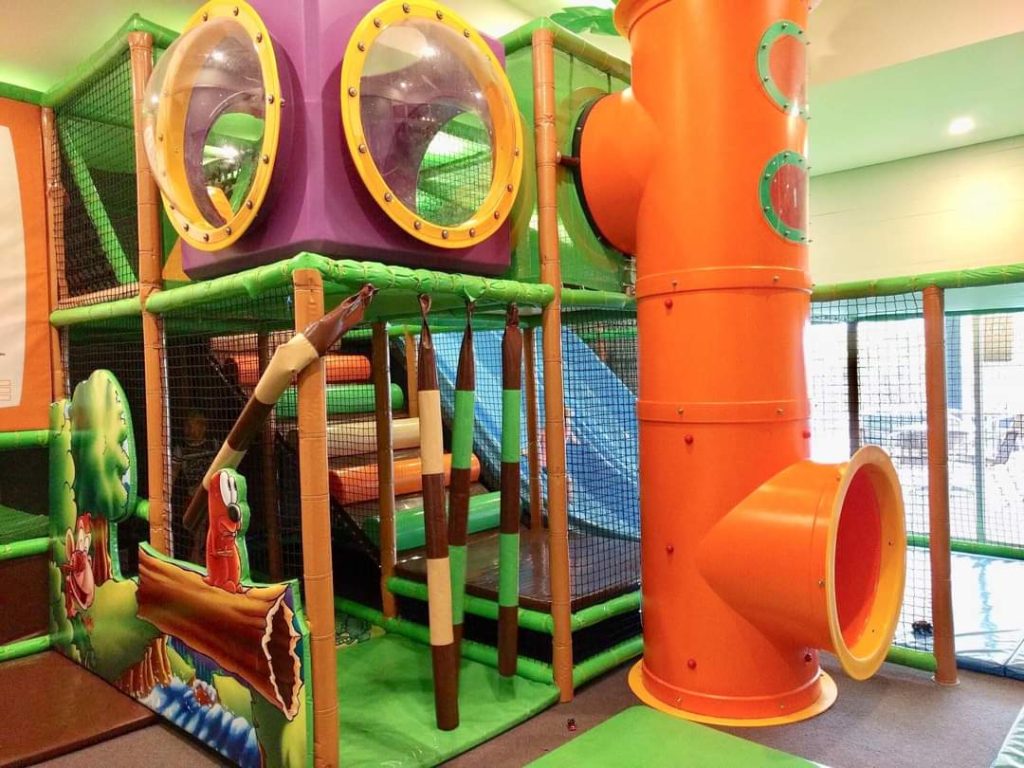 Hotel Pennant Hills – Corner of Pennant Hills Road and Railway Street, Pennant Hills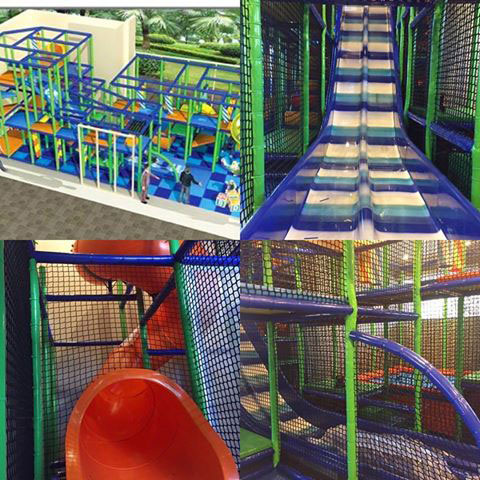 This venue offers a play area with 3 slide options, a mini trampoline and plenty of areas to explore. We were also really pleased to see a healthy kids dinner option on the menu on our last visit (Kids Healthy Platter – ham, cheese, fruit, vegetable sticks and bread) which the kids preferred over the standard deep fried fare.
Baulkham Hills Sporting Club – 11 Renown Road, Baulkham Hills
The Baulkham Hills Sporting Club has a fenced play area for kids in the courtyard. They also have both PlayStation 3 and XBox 360 available for members – just see reception for controllers and games. If you live within a 5km radius you need to either be a member or be dining with a member to enter the Baulkham Hills Sport Club.
Riverstone Schofields Memorial Club – 23 Market Street Riverstone
This fully fenced play area is great for young kids. Located right next to the bistro too!
NBC Sports Club – 166 Windsor Road, Northmead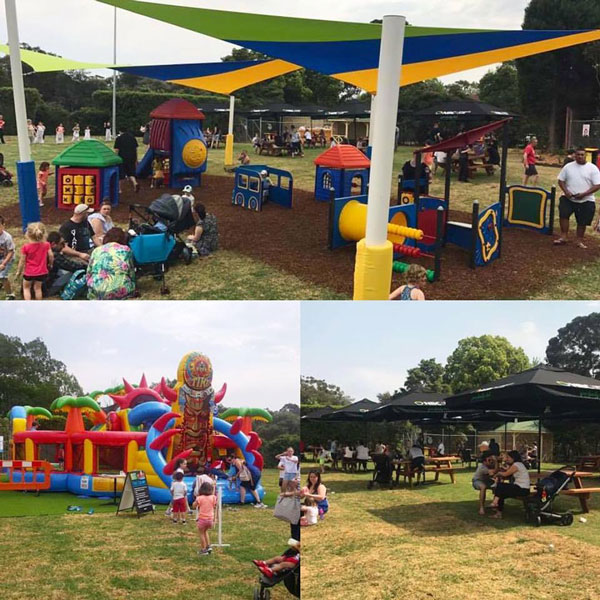 Kids Backyard is perfect for those who like the outdoors. They even have special themed days on weekends. Check out their Facebook Page for the latest.
Wenty Leagues Club – 50 Smith Street, Wentworthville
Hills District Mums love this place, apparently the food is great and the drinks are at club prices. And they did a major reno on the play area not long ago!
Stonecutters Ridge Golf Club – 86 Stonecutters Drive, Colebee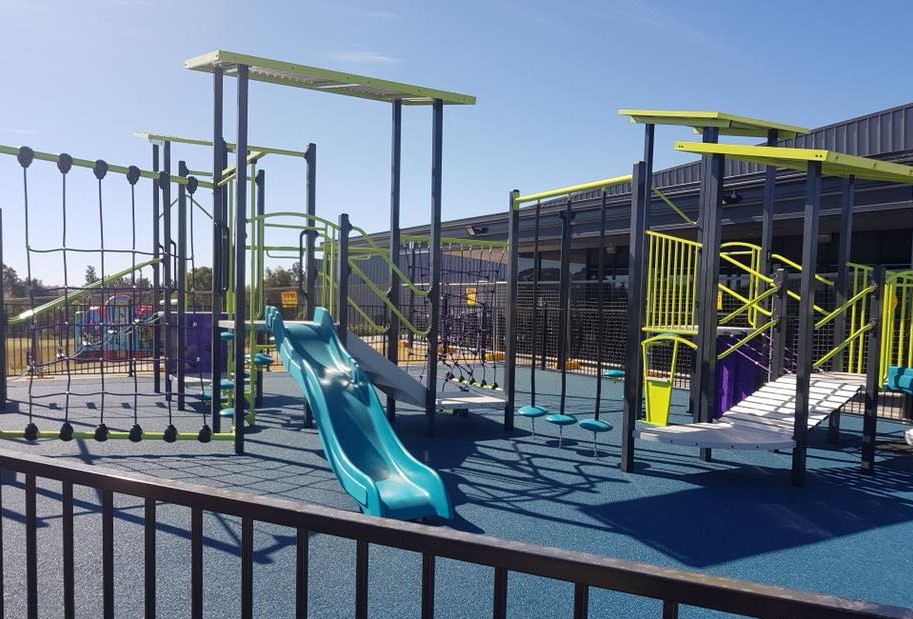 Stonecutters added an outdoor play area in 2018.
The Marayong Hotel – 6 Cobham St, Kings Park
The Marayong Hotel has a cool looking play area!
Wisemans Ferry Inn – Old Northern Road, Wisemans Ferry
This is a great spot if you're up for a day trip not too far from the Hills. There's a huge deck perfect for lunch or an early dinner and the kids will love the grassed area and surrounds with a tractor, play equipment and sometimes small animals like ducks or a lamb to pat. On Sundays and in school holidays there's face painting, a little animal farm and a jumping castle on offer for free.
The Galston Club – 21-25 Arcadia Road Galston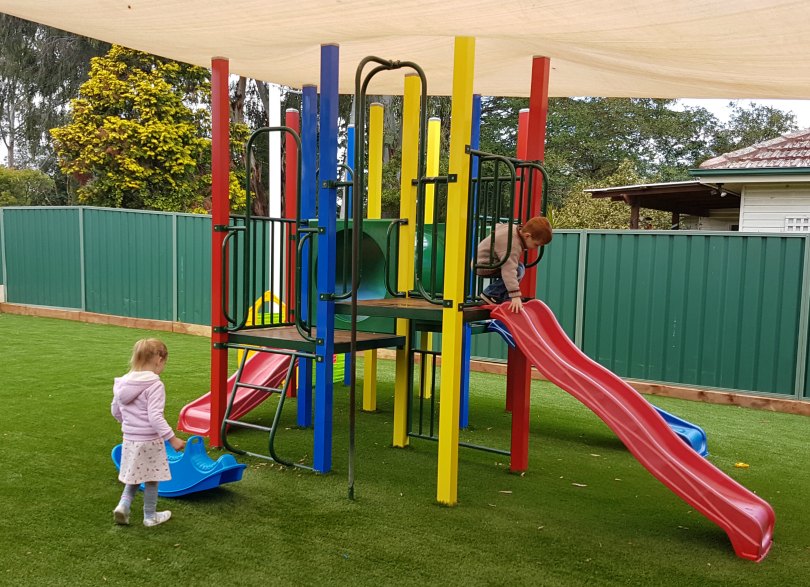 The Galston Club has a little kids playground with a shade cloth just outside the bistro. There are tables outside too so you can watch the kids as they play. It's not the newest but it will entertain toddlers for a little while.
Kings Park Tavern – 214 Sunnyholt Road, Kings Park
The fully fenced kids play area located in the corner of the beer garden is a perfect area to eat and keep an eye on your little ones.
Lily's Seven Hills – 5 Quinn Avenue, Seven Hills
The fully fenced playground at Lily's is located outside on grass. There's also a kids arcade room called Gizmo with a variety of arcade games for kids to play.
Quakers Inn – 7 Nirimba Drive, Quakers Hill
The Quakers Inn has a fairly substantial outdoor play area.
North Ryde RSL –  Cnr Pittwater and Magdala Rds, North Ryde
Again this is not the Hills but it's worth a mention as you can actually drop your kids and run! They have an area called the Tribal Zone. You pay $6, check your kids in with qualified staff, you get a buzzer and they buzz you if they need you (or if the kids want you). The Tribal Zone has a big adventure playground with ball room (height restriction of 150cm tall), arcade games, mini carousel and air hockey and is suitable for children and teenagers from 3-17 years old.   There is a maximum of 2 hours supervision – (or at the discretion of staff).
The Ranch – Cnr Epping & Herring Rds, North Ryde
The Ranch has a cool little kids area located outdoors, an arcade area, kids ping pong tables and face painting every Friday and Saturday night and Sunday lunch.
Greystanes Hotel – 701 Merrylands Road, Greystanes
Again, The Greystanes Hotel is a little further afield but it also has an outdoor play area which is spacious and fully enclosed.