If you've been to Canberra, or even if you haven't, you've probably heard of Questacon, the amazing National Science and Technology Centre. It's been around for 30 years now and if you're visiting the nation's capital, with kids or without, we think it's well worth a visit!
How long you visit Questacon for largely depends on the ages of your kids and how long you're spending in Canberra. We think it's best for kids of about 4 and up. We spent 3.5 hours there recently but could have stayed longer – that was with a 4.5 and 6.5 year old. If you're in Canberra for a short time there may be other things you're wanting to see which may also restrict the amount of time you're able to spend at Questacon.
What we really loved about it is that the whole family enjoyed it, parents included! So, if you have the time, you could easily spend a few hours at Questacon. If you have older kids, they'll also think it's great and you could even let them wander around on their own.
The space is really easy to navigate and is divided into 8 galleries, each with a different theme and focus. This keeps it interesting, and if you do have limited time, it means you can choose to visit those that interest you. There are also live shows, so find out what's on that day and make a note of the time. We really enjoyed the show and it gave everyone a chance to sit down for a rest for about 20 minutes.
Here's what you'll come across as you explore Questacon. Note, the galleries do change every now and then.
GALLERY 1 – FUNDAMENTAL
In this next gallery you can explore simple scientific principles and phenomena. Explore forces, light and momentum in cool exhibits like Harmonograph and Frozen Shadows.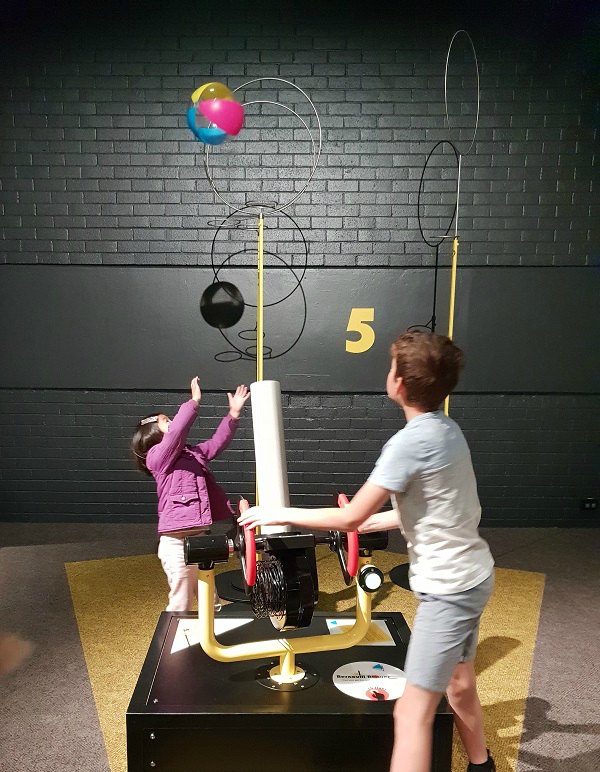 GALLERY 2 – AWESOME EARTH
This gallery is all about the awesomeness of our planet. You can explore the phenomena that drive Earth through heat, gravity and momentum. The two highlights were definitely the caged lightning and simulated earthquakes! Very cool.
GALLERY 3 – Q LAB
Is this gallery you can watch live demonstrations and experiments. We watched a cool yet simple experiment involving a plastic bottle, a pump and polystyrene balls – and the outcome wasn't what we expected!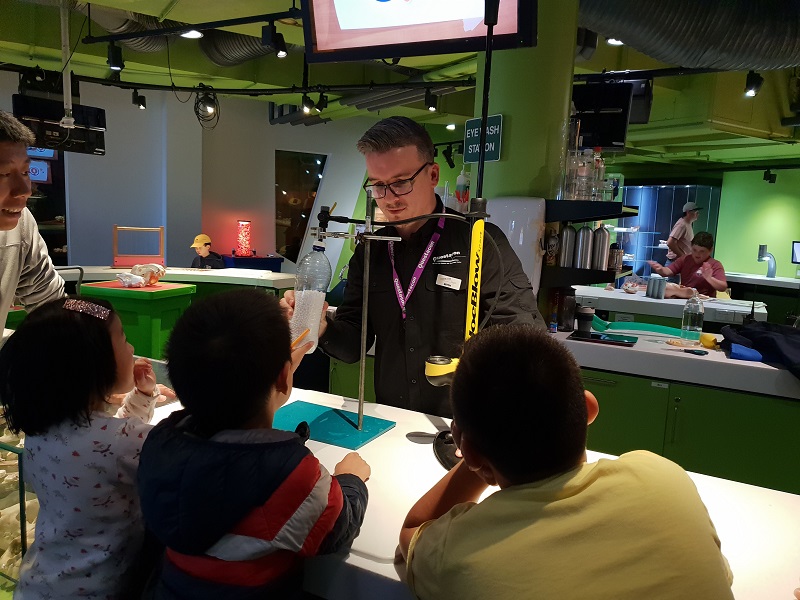 GALLERY 4 – THE SHED
The Shed is a creative place within Questacon dedicated to experimentation with ideas, tools, science, technologies and art. The space includes hands-on exhibits, artworks from artists and makers, and a tinkering studio where visitors can design and make. This simple wind machine was heaps of fun!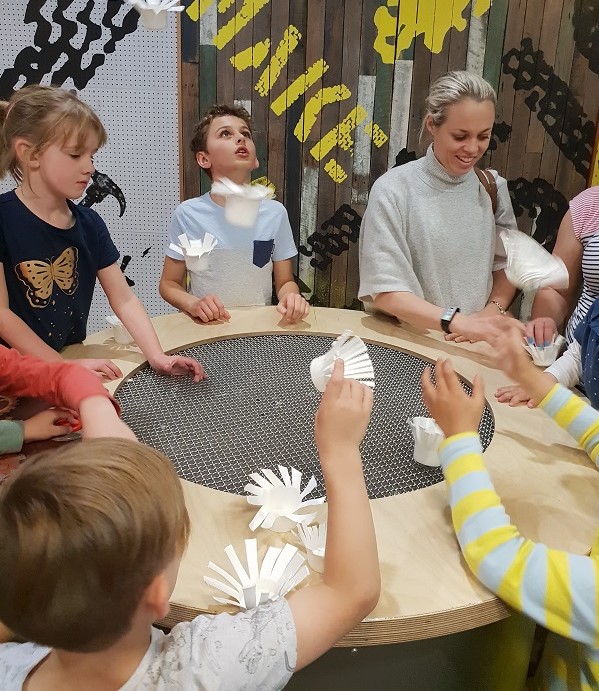 GALLERY 5 – MINI Q
This is the space for little people up to age 6 and involves lots of imaginative play and water!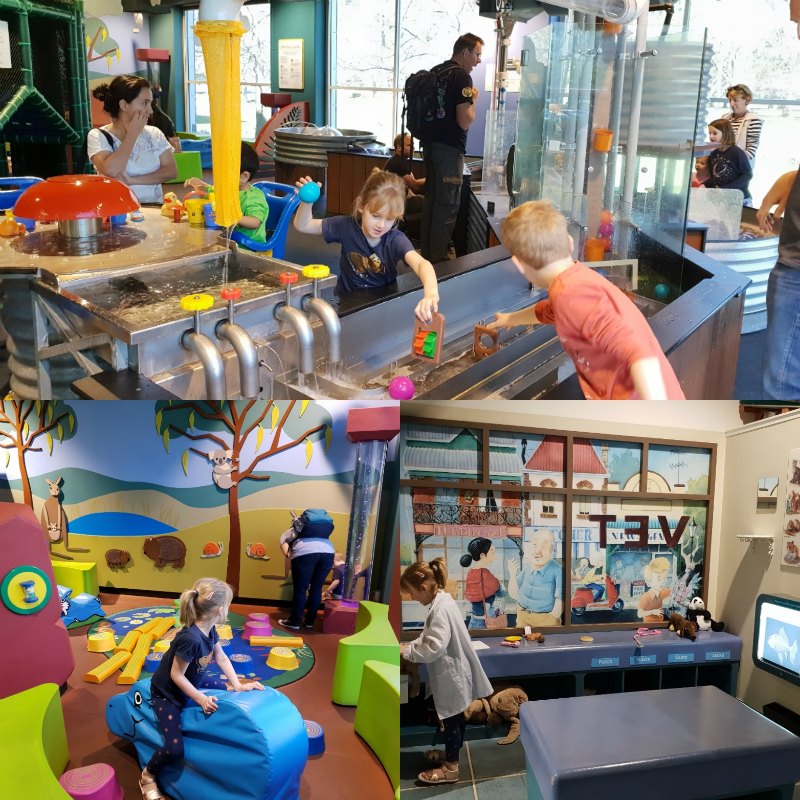 GALLERY 6 – EXCITE@Q
This space is very cool, with lots of interactive, high paced activities – the kids loved the air hockey and the handkerchief chute (for want of a better description), dad loved testing his pace in the cricket-style nets and also the reflex tester game! There's also a six metre free fall slide.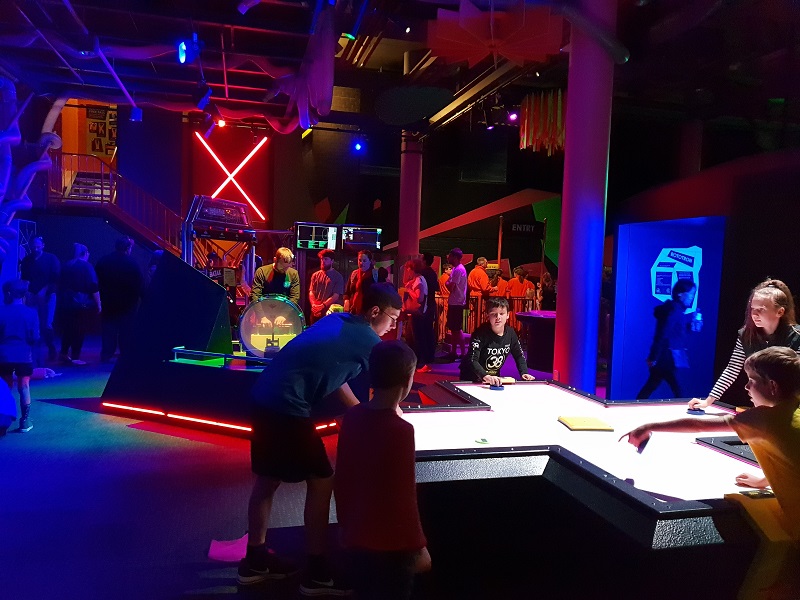 GALLERY 7 – BORN OR BUILT?
This gallery is really interesting and challenges your thoughts and views. It examines the similarities and differences between humans and machines, explores our overlapping shared future, and questions the choices we will make to get there.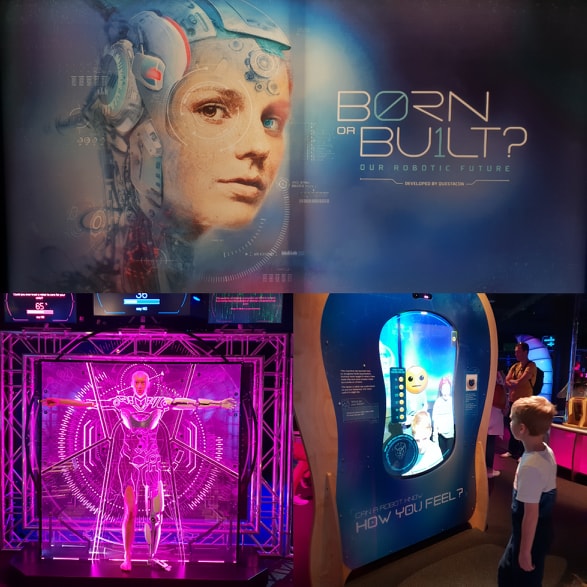 GALLERY 8 – THE MOON
Created as an oasis of calm you can recline and take in all the details of the giant glowing moon. This was a great way to have a bit of a rest and it was pretty cool too!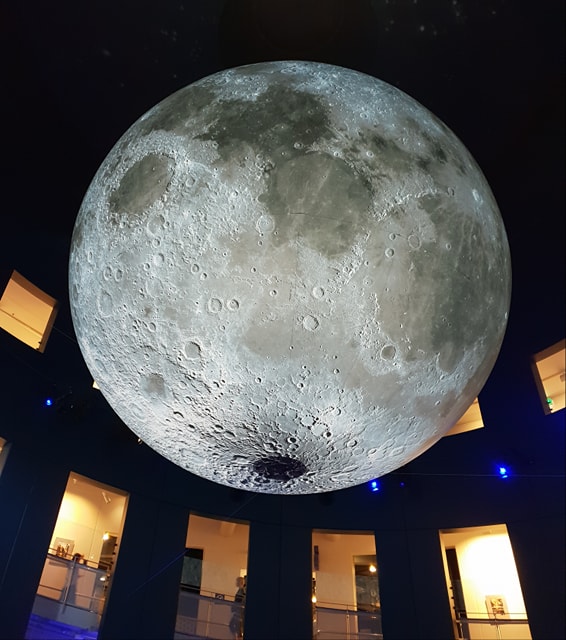 A few other important points:
Questacon is accessible by wheelchair – all galleries can be accessed by ramp and there is a lift
There is parking right outside – we visited on a weekend and it was free
There are baby change facilities and toilets.
There is a cafe on site and water fountains.
There are lockers if you want to store items – these are $2 each.
The shop is very cool and is worth a visit!
---